I'd like to welcome our new entrants to the tournament field today. Detroit, Western Kentucky, South Dakota State, and Harvard have all found their way into the field. And so has South Florida, although that's not because of anything they did, per se. Let's just take a look at the bracket: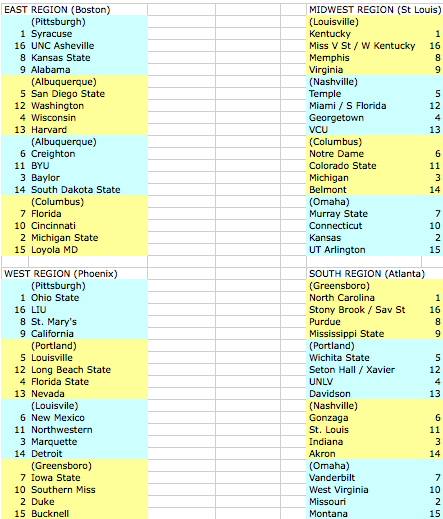 Wait, what?: Ah, some changes since last time! Yes, I shuffled the 1 seeds, mostly because I wanted to see what would happen in some alternate scenarios, but also because I'm starting to question whether the selection committee would really leave a champion (or in this case, co-champion) of the top-rated RPI conference without a 1 seed. As my bracket colleague Kyle pointed out last night, the last 10 years have seen the top-rated conference's champion get a 1 seed in every single instance, even when the team in question has 5 or 6 losses. Ohio State's resume is still excellent, so they move into the fourth 1-seed. Kansas ends up as the odd man out. I would prefer that North Carolina lose the slot, but I have a feeling it's going to be the Jayhawks on the outside looking in.
No thanks, you can keep the 3 seed: The Detroit Titans made the field yesterday after pulling away from Valpo on the Crusaders' home floor. So where do you seed them? RPI-wise, they have a 16-seed quality about them. They did play a rougher non-conference schedule than most, but underachieved throughout the regular season. But one look at this team tells you that it's not a 16-seed type squad. They have way too much talent for that. So we're looking at them this week as a 14 seed, and that just adds to what is an already hellacious 14 seed line. Detroit, Belmont, South Dakota State, and Akron are all very good teams, capable of pulling off a couple of wins in the NCAA tournament. The 3 and 4 seeds in this year's field are going to have a heck of a time with this group. And the likelihood now is that the 13-16 seeds are set, since most of the smaller conferences have either already played their tournament final or will feature teams that won't cause a huge amount of change in where the other squads are. Akron still has to win the MAC, so they could be in trouble, but the other three are set, as are three of the four teams on the 13 line.
Big East / Big Ten Challenge: The top four seed lines are what we call "protected", meaning that teams get certain geographical and matchup advantages in the first round that aren't provided to others. But the challenging process this year has come when trying to seed teams on those lines from the Big East and Big Ten. The process is supposed to place the top three teams from each conference in different regions. But the process is also supposed to allow a one seed to not have any conference foes in their bracket, although some very lowly-seeded teams occasionally sneak in when there are lots of teams from a particular conference. With this bracket, we have three Big East teams in the top 12, and five Big Ten teams. So in order to maintain seeding/bracketing rules, I had to jump Baylor up to the 3 seed in the East Region, causing Georgetown and Wisconsin to both operate as 4 seeds. This will make for an interesting challenge in the committee room this weekend.
Sorry, Hawks: One thing this week has provided above all else is a chance to really go through each team's resume with a fine-tooth comb. And that process has now led to me dropping two teams out of my at-large field. The first was Texas, two days ago, and the Longhorns are still out, although they can really help themselves in the Big 12 Tournament. But today's casualty was the Saint Joseph's Hawks, who lost their spot to the South Florida Bulls. Both resumes are awful, but I like the road win at Louisville a bit more than the two wins at home for the Hawks, and the overall volume of victories is slightly better for South Florida.