Below are our most recent Bracket Projections.  As is the case every week, we are not unanimous on all of the teams or seedings, but have managed to come to this consensus.
-For our most recent video podcast where we collectively build the seed list – CLICK HERE
-For our most recent Under the Radar Video Podcast, where we discuss most of the teams outside the bubble seeded #13 through #16 – CLICK HERE
BRACKET NOTES
A few notes about this field:
– Utah was moved down to #16 overall on the seed list after losing at UCLA Thursday night.  This loss occurred after we recorded the Bracket Rundown podcast.  No other changes were made based on Thursday Night's results.
– All teams were placed on their "natural" seed line.  While a few teams needed to be switched around to a less optimal region for the team within its seed line in order to accommodate the bracketing rules, noone needed to be moved up or down a line this week.
– A switch also had to be made among teams on the 4 seed line in order to obtain "region balance".  The sum total of the Seed List rankings for the top four teams of each region has to be added up after bracketing the top 4 seed lines.  If there is more than a 5 point difference between the highest and lowest of these, the regions are considered out of balance and have to be adjusted.  This occurred and required me to send Butler to the East Region instead of the Midwest, with Louisville heading out West and Utah to the Midwest.  Utah was not allowed to play in the West Region because Arizona was already there.  The net loser in these moves was Louisville, which ended up having their entire tournament on the West Coast.  If they had been one or two spots higher on the Seed List, they would have stayed in the East or Midwest.  This is why, especially among the top 16 teams on the Seed List, even moving up one spot within a seed line can be very important.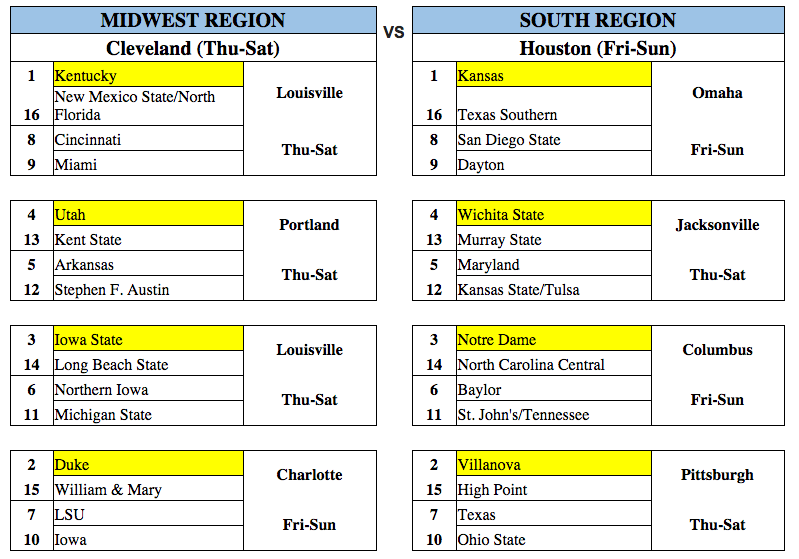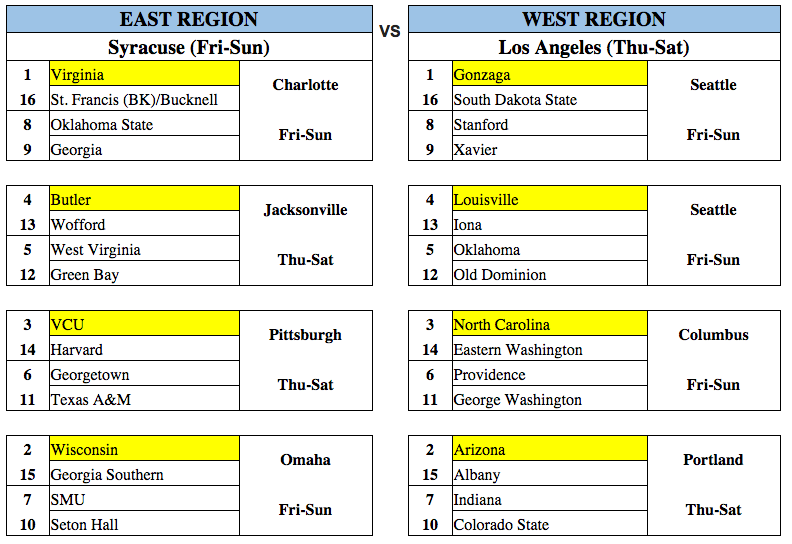 To discuss this, and other matters concerning college basketball, check out our relatively new and currently not very busy message boards.  There aren't many people at the party , but there's plenty of beer for everyone!! – CLICK HERE