-For the Bracket Rundown Video Podcast where we select the teams and put them into the Seed List – CLICK HERE
NOTES ON THE BRACKET
-Once again, the final #1 spot came down to a debate between Villanova and Gonzaga.  Everyone acknowledged that Villanova had the better profile, but David felt Gonzaga had the better team.  Chad, who acted as arbitrator, gave the spot to Villanova.  Nova has looked outstanding 98 percent of the time, and when they play up to their ceiling it looks like they can beat just about anyone, so both teams are really good.  It appears as though we have five #1 seed caliber teams, but as you know there is only room for four.
-Hoops HD continues to love them some Northern Iowa.  They're currently ranked in the top ten, but their profile is missing some of the high caliber wins that we're used to seeing from protected seeds.  Having said that, if they win at the Round House on Saturday, I think the real committee will start looking at them for a #3 seed as well.  This is a very good team that is capable of going deep.
-Notre Dame continues to be a team that sparks argument.  On one hand they've got some big wins in a tough league and look like they could be a #3 seed.  On the other hand, their out of conference schedule is atrocious, and we've seen the selection committee punish teams who have done that in the past, even if they've proven themselves to be good once they hit conference play.  My feeling is that teams do themselves no favors by scheduling OOC cupcakes because they deny themselves a chance of making any sort of a case for themselves, which puts more pressure on them in conference play.  However, if they do make a case for themselves in conference play, then that should suffice.  Most disagree with me, including Warren and Chad, and from the looks of the recent past the real selection committee disagrees as well.  So, Notre Dame ended up on the #4 line.
-Arkansas was funny.  We all liked them, but we all came in not thinking anyone else would like them, so we were all surprised that we all liked them.  They check in as the final protected seed, and you have to figure that losing to Kentucky won't really hurt them in the least.
-Louisville checks in on our #6 line.  We all seemed to agree that they don't look as good without Chris Jones as they looked with him, and even when they had him they still had some work to do to feel safe as a protected seed.
-SMU and VCU don't have strong profiles, but we all agreed that we liked their teams more than their paper, so they both check in on the #6 line.  It will be interesting to see how the real committee handles this because they don't have a lot of high caliber wins, but they have an awful lot of decent wins, and they're high in the human polls, which indicates NABC Advisors, which is one coach from each conference, will like them as well.
-On the #8, #9 and #10 lines we had a hard time agreeing on anyone.  fortunately with they #8 and #9 lines it's practically the same seed since they're playing each other, so it doesn't look that much different than it had if we had all completely agreed.
-Temple is a team that we feel has done just enough, but hasn't blown us a way.  They certainly cannot afford to go into the tank and still feel safe.
-Dayton was a team we were pretty far apart on as well.  Warren liked them because of the number of wins they have, and how they've avoided bad losses for the most part, but David wasn't as big on them because they hadn't really done anything against tournament caliber teams.  The compromise was to put them on the #11 line.
– The only team that moved seed lines was in the First Four where Tulsa dropped down to play Miami while Illinois moved up to play Davidson.  This was because Tulsa could not matchup with SMU in the Round of 64, and Illinois and Miami would have been a regular season rematch, thus two birds were killed with one stone by this switch.
– Once again, while not intentional, we ended up with an amazing piece of bracketing in Louisville in the Midwest Region, with Indiana and Cincinnati scheduled to play in the 8/9 game and the winner to get Kentucky.  The story lines that would happen in these games are too many to even mention.
-THE BUBBLE:  There are more reasons to leave the teams in the First Four out than there are to take them, but we agreed that there were even more reasons to leave out the teams that were not selected.  Next in line were Oregon, Pittsburgh, Boise State, Texas A&M, Stanford, UCLA, Rhode Island, and Minnesota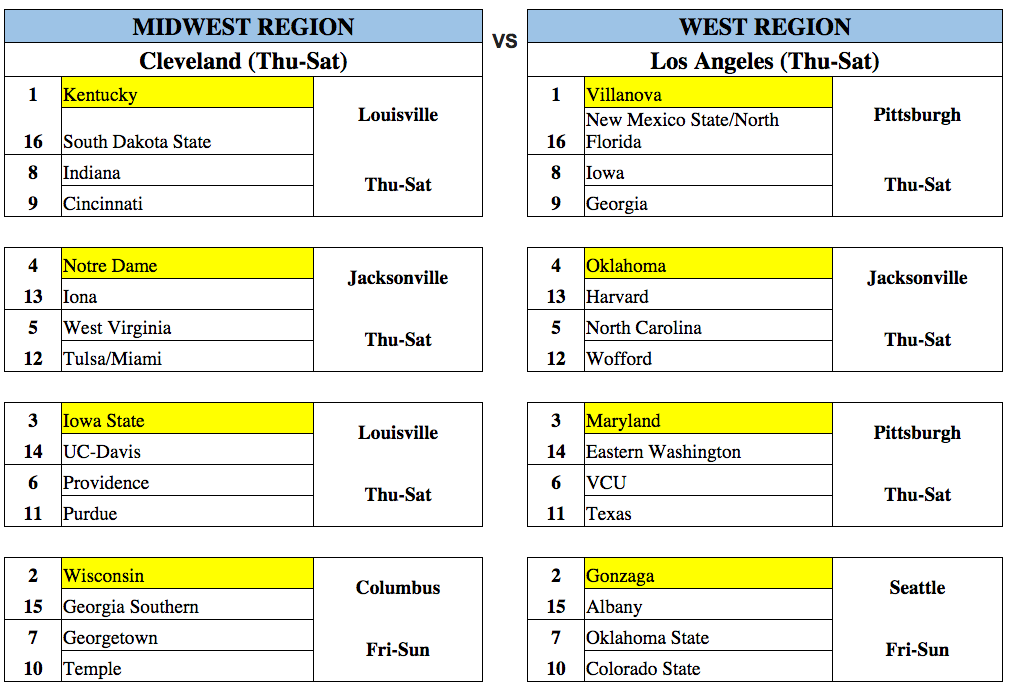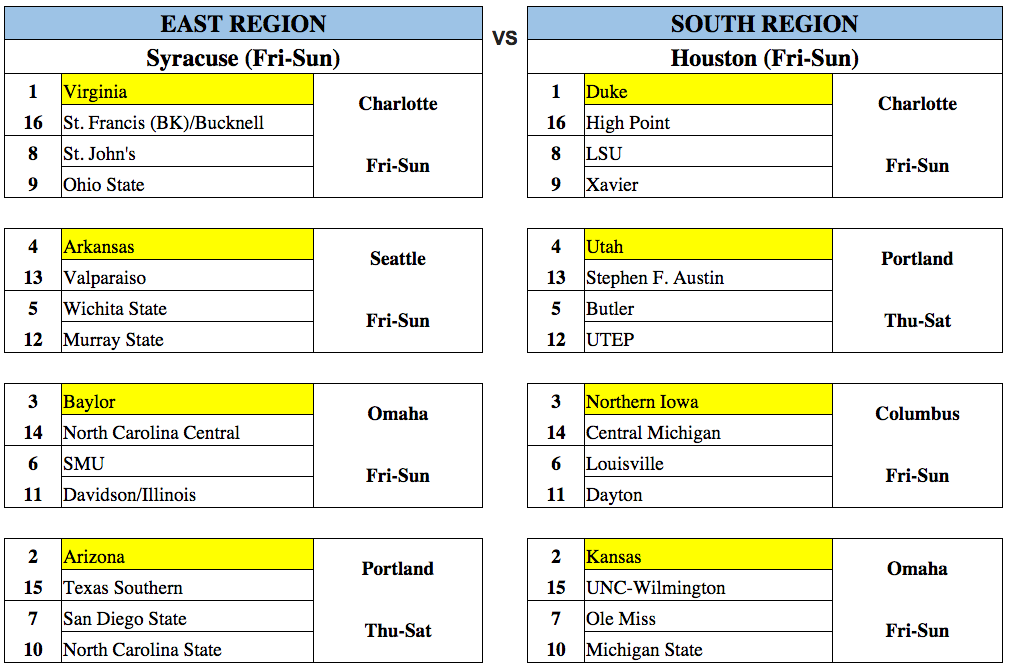 For our latest Under the Radar Podcast where we discuss the teams from the one bid leagues more thoroughly – CLICK HERE
For Chad Sherwood's UTR Game of the Day for Friday, February 27th (and it's HUGELY important) – CLICK HERE