North Florida coach Matthew Driscoll was named Atlantic Sun Coach of the Year last March after leading the Ospreys to their 1st NCAA tourney in school history.  However, he will have some new competition in the conference this year because Kennesaw State has brought in Boston College legend Al Skinner to try and lead the Owls to the postseason for the 1st time in their own history.  It will not be easy due to a brutal schedule, including a trio of road games to start the year against Alabama, LSU, and ASU.  Then again, if anyone knows what it takes to succeed on the basketball court, it is a guy who was an All-American player at UMass, a member of the 1976 ABA champion New York Nets, and the 2001 national COY at BC.  Brand-new HoopsHD writer Jon Teitel begins our 2015 NCAA season preview coverage by chatting with Coach Skinner about playing with Dr. J and winning a tourney game in double-OT.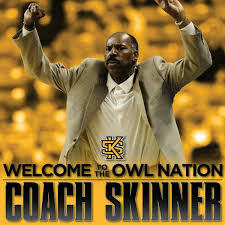 1. In 1971 you were a freshman at UMass while the varsity was led by Julius Erving (who had 32.5 PPG/20.2 RPG during his 2 varsity seasons): was he just unstoppable during scrimmages?  He was a pretty dominating player, to the point that we would play better than the varsity when he was on the bench.  It was great to play against him: he taught me what it took to be a great player.
2. 2 of your teammates on the freshman team were future NCAA championship coach Rick Pitino and future AL Cy Young winner Mike Flanagan: could you tell back then that either of them would become so successful in the future?  Not at all.  I knew that Mike was a good pitcher, but not as good as he actually was.  Rick always had the drive to become a coach because he loved the game.  He has been able to put it all together and have a Hall of Fame career.
3. In December 1973 you recorded the 1st triple-double in school history (28 PTS/18 REB/10 AST in a win over St. Peter's): where does that rank among the greatest performances of your career?  I never knew about that until you mentioned it.  The most important thing is that we won the game: I never cared about stats.
4. As a senior you averaged 18.8 PPG/11 RPG, led the Yankee Conference in scoring, and were named an All-American: did you feel like you were 1 of the best players in the country?  I was proudest of my shooting percentage: I had the highest FG% in school history at the time.  Any good player can score, but I was also happy about my rebounding.
5. In the summer of 1974 you were drafted in the 9th round by the NBA's Boston Celtics, but decided to join the ABA's New York Nets: how much of a factor was the chance to join your former classmate Erving?  It was a big factor because he showed me the way to be successful in the ABA, just like he did in college.  I also thought it would give me the best chance to be a pro athlete.
6. Despite 42 PTS from David Thompson in Game 6 of the 1976 Finals, your team was able to overcome a 22-PT deficit in the 2nd half to pull out a 6-PT win over Denver and clinch the title: how were you able to come all the way back, and what did it mean to you to win the title?  That is probably 1 of my biggest accomplishments.  I had to guard David in the 2nd half and I was embarrassed so I just stood in front of him and face-guarded him to keep him from getting the ball.  We said during 1 timeout that we did not want to go back to Denver, so we were fortunate to win the game.
7. What are your memories of Game 7 of the 1979 Eastern Conference Semifinals with the 76ers (Erving had 34 PTS/8 AST but George Gervin had 33 PTS/12 REB in a 3-PT win by the Spurs)?  There was 1 game in San Antonio where I was guarding George, who is 1 of the best offensive players to ever play the game.  It was 1 of the biggest challenges I ever had trying to guard someone.  Unfortunately, we came out on the short end.
8. In the 1992 NIT as coach at Rhode Island, Jason Alexander made a 3-PT shot with 34 seconds left in a 1-PT 2-OT win over BC: how does your coaching style change in regulation vs. overtime?  In OT I just try to figure out what was successful in the 1st 40 minutes and focus on that.  That was probably 1 of my finest wins as a coach.
9. What are your memories of the 1997 NCAA tourney (Brad Miller scored a career-high 31 PTS in a 7-PT OT win by Purdue)?  We previously beat Purdue by 6 PTS in the 1993 tourney.  I remember that it should have never gone to OT.  We were up 3 at the end of regulation, but did not stay home on the perimeter and Brian Cardinal made a 3-PT shot to send it to OT.  We felt a little deflated going into OT and did not have the same drive that we had during regulation.
10. In 2001 you won the Big East regular season title as coach at BC and were named national COY: what did it mean to you to receive such an outstanding honor?  It was great recognition for the way I did my job, but it just showed that I was able to communicate to my players, as they are the ones who executed on the floor.
11. Take me through the 2001 NCAA tourney:
11A:  Jeff Monaco scored 26 PTS and Justin Sant's 3-PT shot at the buzzer hit the front of the rim in a 3-PT loss by Southern Utah: did you think the shot was going in?  When it is on-line like that you think is going in.
11B:  Troy Bell scored a career-high 32 PTS in a 3-PT loss to USC: what made Bell such a great player?  Troy is 1 of the finest offensive players that I have ever coached.  He had great quickness and great elevation on his jump shot, which is rare for a jump shooter.  He had tremendous concentration: he must have made more 4-PT plays than anyone else in school history, and graduated as the #2 scorer in Big East history.
12. What are your memories of the 2004 NCAA tourney (Jarrett Jack had a steal/breakaway dunk with 5 seconds left to clinch a 3-PT win by eventual national runner-up Georgia Tech)?  That was a well-played game but we just did not execute at the end as well as we should have.  Jack played an excellent game: I did not realize how good he was when we scouted him.  We took pride in winning close games.
13. In 2005 the Eagles became the 1st Big East team to start a season 20-0: how do you keep your team focused for 20 games in a row?  That was going to be our last year in the league.  We mentally understood what we were trying to do and had discipline throughout our team.  We had all the ingredients: leadership in the locker room, the desire to win, etc.
14. Take me through the 2006 NCAA tourney:
14A:  Craig Smith had 25 PTS/13 REB and made a pair of FT with 4.3 seconds left in the 1st OT en route to a 2-OT win over Pacific: where does that rank among the most exciting games you have ever been a part of?  Pacific was 1 of the better-coached teams we played that year so I knew that they presented a big challenge.  It was clearly pleasing to me to win: we did not deviate from the game plan or get distracted.  Pacific did not play like a mid-major: they upset Providence in the 2004 tourney as a #12 seed.
14B:   Sean Williams blocked Kyle Lowry's jumper at the end of regulation, but was called for goaltending with 3 seconds left in a 1-PT OT loss to Villanova: how was Will Sheridan able to slip behind the defense on an inbounds pass for the game-winning shot under the basket?  It was just a mental mistake and we just did not execute well.  Guys were disappointed in the locker room, but more about how we lost than the fact that we lost.
15. You remain the all-time winningest coach in BC history: do you think that anyone will ever break your record, and what do you hope to do in the future?  I would like to think the record will be there for a while.  I would like to get back into coaching and have it end on a high note, but it will take quite an effort to pass me.  I served on the D-1 Coaches Ethics Committee for several years and am very proud of my players' high graduation rates as well.