For Jon's other Season Preview Interviews – CLICK HERE
I thought my family was athletic…until I learned that Remy Abell's aunt is Wilma Rudolph and his cousin is Bo Jackson!  Remy may not be a household name yet himself, but if he can make the Sweet 16 for the 4th time in his career then everyone better start taking notice.  He began his college career at Indiana: as a freshman in the 2012 Sweet 16 he got to face a Kentucky team that ended up winning a national title, then he made it back to the Sweet 16 in 2013 before losing to Syracuse.  After transferring to Xavier he had to sit out the 2014 season, but made it back to the Sweet 16 yet again last March before losing to Arizona.  HoopsHD's Jon Teitel got to chat with Remy about why he transferred and preparing for 1 of the most stacked non-conference schedules in the country.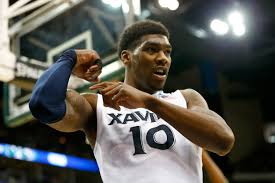 In December 2011 as a player at Indiana, Christian Watford scored 20 PTS including a 3-PT shot at the buzzer in a 1-PT win over top-ranked Kentucky: where does that rank among the most clutch shots that you have ever seen? It is probably #1 and was definitely an amazing shot: I was just happy to be a part of it.
In the 2012 NCAA tourney you scored 6 PTS in a loss to eventual champion Kentucky: where does that Wildcat team rank among the best that you have ever seen, and do you think that they were out for revenge after the earlier loss? That was 1 of the best teams that Kentucky has ever had: a great starting 5 led by Anthony Davis and a solid bench as well. It was a big win for us in December so I assume they wanted some revenge.
After your sophomore year you decided to transfer: why did you want to switch schools, and what made you choose the Musketeers? I just wanted some new scenery and a new feel. The Indiana coaching staff and teammates were great and very supportive of my decision. I really love Xavier: it is a family environment and has a great program with great academics.
You play for Coach Chris Mack: what makes him such a good coach, and what is the most important thing that you have ever learned from him? He just wants everyone to get better and he cares about winning. He is always willing to both teach us and learn himself. He taught me that I can be an energy-giver or an energy-taker: I try to keep getting better than I was yesterday and come ready to work hard.
In the 2015 Big East tourney you scored 10 PTS in a 2-PT win over Georgetown: how were you able to pull out the win after the Hoyas almost overcame a 21-PT 2nd half deficit? We just stuck together as a team. College basketball is a game of runs so we just rallied around each other when the going got tough.
In the 2015 NCAA tourney you scored 5 PTS in an 8-PT loss to Arizona: what did you learn from that game that you think can help you this year? Most people did not expect us to play the Wildcats that close. We did a great job of being ready to play and 1 thing we will take away is that every possession counts. Everyone is hungry to make it back to that point and go even further this year.
Your non-conference schedule is loaded with games against Missouri/Michigan/Alabama/Cincinnati/Auburn/Wake Forest: how are you going to be able to survive such a gauntlet? There are great teams all over the nation and it will be a great test for us. We will be ready to play and we will take the good and the bad to help get prepared for conference play.
You are 1 of 4 seniors on the roster: how much pressure is there on you to be a leader this year? This is my final year and I want to go out with a bang. My teammates will rally behind me and help me out because we all want to win and be a part of something special. I want to take my experience and apply it on the court to help us in both practice and games.
Your aunt is Wilma Rudolph and your cousin is Bo Jackson: what is it like to be part of such an amazingly athletic family, and do you credit at least some of your success to genetics? It is good to know that you have famous athletes in your family. I give some credit to genetics, but I think everything else is a gift from God and I use that gift to the best of my ability.
What are your goals for the upcoming season, and what are your expectations for the upcoming season? Our main goal is to win a Big East championship. We were in the middle of the pack last year before making the title game and we want to get back there and win it because it was not a good feeling after the game in our locker room. The main thing every day is to just be better than yesterday, which is something that I will preach to the team as a senior leader.