For Jon's other Season Preview Interviews – CLICK HERE
Some players are known for doing 1 thing better than anyone else, but Brandon Taylor seems to do a new amazing thing every year.  As a freshman in 2013 he finished 2nd in the Pac-12 with 42 3P%.  In 2014 he was a member of the Pac-12 All-Academic 1st-Team while helping his team get to the NIT.  Last year as a junior he was named 2nd-team All-Pac-12 and helped the Utes reach the Sweet 16 for the 1st time in a decade.  HoopsHD's Jon Teitel got to chat with Brandon about ending Wichita State's winning streak and playing on 1 of the best defenses in the nation.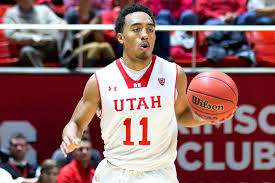 You play for Coach Larry Krystkowiak: what makes him such a good coach, and what is the most important thing that you have ever learned from him? He has a unique style of coaching. He holds his players accountable for their actions and puts everyone in positions to be successful. Shooters on our team are given the green light to shoot, which teaches us to be disciplined.
As a true freshman you ranked #2 in the Pac-12 with 42 3P%: how were you able to come in and contribute right from the start? I actually sat out the 1st 14 games and learned to adapt to the fast pace of the college game. Even after I started playing I was still learning, but Coach had the confidence that I could play as a freshman so I just put everything I learned into the game.
Last December you scored a game-high 17 PTS in a 1-PT OT win over Wichita State: how big a deal was it to beat a team who had won 35 straight regular season games? It was a big deal and was 1 of the best games that I have ever been a part of: the crowd was crazy and it was amazing to snap their winning streak. Nobody in that gym will ever forget that game.
Last year your 57.1 PPG allowed was #8 in the nation: what is the key to playing great defense? There is not 1 single key: we just follow the coaches' plan and take pride in playing defense. If anything, we put more of an emphasis on defense when we are struggling offensively.
In the 2015 Pac-12 tourney Joseph Young scored 25 PTS including a long 3-PT shot with 1.1 seconds left in a 3-PT win by Oregon: did you think the shot was going in, and where does that rank among the most devastating losses of your career? I did not think it was going in because he was so far away from the basket. It was a tough shot and is #1 in my book of the worst losses because we were so close to winning. We let a couple of games get away from us at the end of the regular season last year so we had a bit of a chip on our shoulder. We did not expect Oregon to be a problem for us but I tip my hat to Young for making a tough shot.
In the 2015 NCAA tourney you scored a team-high 15 PTS in a 6-PT loss to eventual champion Duke: did you get the sense at the time that they were good enough to win the title, and what did you learn from that game that you think can help you this year? I learned the importance of controlling my emotions. We were all excited to play on that stage in a huge arena under the bright lights and we made some mistakes.  We need to slow the game down and approach it like we do any other game. They were a good team with arguably 1 of the best college coaches ever in Coach K but I was not sure if they could go all the way.  If we had been tuned in earlier I think our game might have had a different outcome. My 15 PTS did not come until late in the game: I did not have enough maturity that night but it will be 1 of the biggest things for me this year.
Your non-conference schedule includes games against San Diego State/Texas Tech/Wichita State/Duke: which of these games do you feel will present your biggest test? They will all be big in their own way, but the game I am most anxious about is Duke because of the bad taste in my mouth. It will be at Madison Square Garden with a big crowd. We lost at San Diego State last November by 4 PTS, so to have them come to our house will be great, and we also know that Wichita State will be coming for us.
For people who have never attended the big in-state rivalry in person, how intense are your games against BYU? It is very intense: you get crazy text messages from fans/students. It is a beautiful atmosphere and we will probably have a sellout crowd this year. The entire state takes pride in the game.
You return 4 starters from last year: how crucial is all of that experience going to be to your team's success? It will be very crucial: even some of our bench players who have been here a while will help our approach for every game. Now that we have had a taste of getting to the Sweet 16 and we know what it takes to get there, the other seniors and I are itching to get back there because it is our last go-round.
What are your goals for the upcoming season, and what are your expectations for the upcoming season? I do not have any expectations but our goal is to be relentless. I want to be 1 of the best players in the country and I want people around the nation to want to model themselves on our program due to our defense and closeness. We want to play with so much heart and I want to be a leader.