For all of Jon's other Season Preview Interviews – CLICK HERE
Over the past decade BYU has established a virtual pipeline by bringing in the best high school basketball players in the state of Utah, from Tyler Haws to Kyle Collinsworth to Nick Emery.  However, the Utes were able to clog the pipe a few years ago by signing 2012 Utah Mr. Basketball Jordan Loveridge, who showed his versatility immediately by finishing in the top-10 in the Pac-12 in both rebounding and 3-PT shooting as a freshman.  He made the NIT as a sophomore, made the Sweet 16 as a junior, so we shall what he does for an encore as a senior.  HoopsHD's Jon Teitel got to chat with Jordan about the BYU-Utah rivalry and a rematch with the defending champs.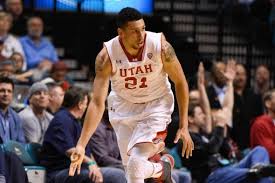 You play for Coach Larry Krystkowiak: what makes him such a good coach, and what is the most important thing that you have ever learned from him? He is so personable with the guys: he treats us like his own kids from day 1. I know that I can trust what he is saying to us. He taught me that playing hard will solve a lot of problems: it takes care of a lot of things on the court.
You had 18 PTS/10 REB in your freshman debut: how were you able to make such a smooth transition from high school to college? You never know what to expect as a freshman, so I just tried to play hard and the ball bounced my way that night.
Last year your 57.1 PPG allowed was #8 in the nation: what is the key to playing great defense? We just had the right mindset: Coach K will play the guys who want to play defense.
In the 2015 Pac-12 tourney Joseph Young scored 25 PTS including a long 3-PT shot with 1.1 seconds left in a 3-PT win by Oregon: did you think the shot was going in, and where does that rank among the most devastating losses of your career? Anytime a great player like that gets a shot in rhythm it is a 50-50 situation. It was tough at 1st after we had made our way back into the game, so it was pretty devastating.
In the 2015 NCAA tourney you scored 5 PTS in a 6-PT loss to eventual champion Duke: did you get the sense that they were good enough to win the title, and what did you learn from that game that you think can help you this year? When you get to the Sweet 16 any team can get the right matchup and win a few games, so we knew that they were good enough to make some things happen. When you play a team like that, every single possession and every little thing matters.
Your non-conference schedule includes games against San Diego State/Texas Tech/Wichita State/Duke: which of these games do you feel will present your biggest test? Every game is tough no matter who we play, but a game that is receiving a lot of attention is the Duke game at Madison Square Garden, which will help us see where we are at.
For people who have never attended the big in-state rivalry in person, how intense are your games against BYU? It is really intense, but more so for the fans because there are not a lot of guys on our team who went to high school in-state.
Last fall you hurt your knee and missed several games: how bad was it, and how is your health at the moment? It was something that I have been dealing with since high school.  We just had to clean up some loose cartilage, and I have not had any problems since then.
You return 4 starters from last year: how crucial is all of that experience going to be to your team's success? I think it will be very crucial. Even during summer workouts you could see the returning guys showing the new guys how to succeed within our program.
What are your goals for the upcoming season, and what are your expectations for the upcoming season? I just want to win as many games as we can, get back to the NCAA tourney, and hopefully make another good run.