For all of Jon's other Season Preview Interviews – CLICK HERE
Ray Sanders knows how to get around: he spent his 1st year of college at Tulane, then transferred to Pensacola State, and is now at Albany.  The 3rd time appears to be the charm, as he started all 33 games last year, lead the team with 45 STL, and was named to the America East All-Defensive Team.  He finished the year in the NCAA tourney thanks to a clutch shot by teammate Peter Hooley, and will try to make it back there this year.  HoopsHD's Jon Teitel got to chat with Ray about starting his career in Tulane and starting the upcoming season in Lexington.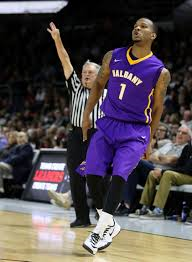 You began your college career at Tulane: why did you decide to transfer, and what made you choose Albany? After I came into Tulane the assistant coach who recruited me went to another school, so I felt that it would be better for me to move on. I did a year of junior college in Florida and then built a relationship with Albany.
You play for Coach Will Brown: what makes him such a good coach, and what is the most important thing that you have ever learned from him? His character is what attracts players to him. He is a great guy to be around and is funny.
Last year you started all 33 games: how were you able to come in and contribute right from the start? I just listened and paid attention to the veterans like Sam Rowley/Peter Hooley. I also tried to display my talent to get some playing time and be the best that I could be.
You led the team with 45 STL: what is the secret to being a good defender? It takes a lot of things. You have to be hungry and have the attitude that nobody will score on you no matter what. I take it very personally when I am on the court.
You finished the year by being named to the America East All-Defensive Team: what did it mean to you to receive such an outstanding honor? It meant a lot that the conference showed me some attention because most guys only get credit for their work on the offensive end. I have to guard Evan Singletary every day in practice so he pushes me to be the best defender that I can be.
In the 2015 America East tourney title game you scored 8 PTS and Peter Hooley made a 3-PT shot from the top of the key with 1.6 seconds left in a 1-PT win over Stony Brook: did you think the shot was going in, and what was the reaction like after the buzzer sounded? I did not know if we were down by 2 or 3 PTS but when I saw Peter let it go I assumed that it was going in. I went crazy and did not know what to do because I thought it was a tie game. Coach Brown gave me a big hug and then I celebrated with my teammates.
In the 2015 NCAA tourney you scored 11 PTS in a 9-PT loss to Oklahoma: what did you learn from that loss that you think can help you this year? As a group we have to rebound better and come together as a team better on defense. We had a chance late in that game but it came down to a possession or 2 that did not go our way. The Sooners played more physical than us in the post but it was 2 great teams battling each other.
Your leading scorer from last year (Sam Rowley) has graduated: how much pressure is there on you as a senior to be 1 of the leaders this year? I do not think there is much pressure because I have a year under my belt. My mindset is to just pick up where I left off and hopefully be more productive. I love the game too much to make it about myself so I will give it my all and try to help us win games.
Your very 1st game of the year is in Lexington: how are you preparing to face the Wildcats? We will go in there with our heads held high and not lacking any confidence. We are hungry and we want to be the best and head back to the NCAA tourney.
What are your goals for the upcoming season, and what are your expectations for the upcoming season? I really want to win another championship and make a deep run in March. It is my last year so I will give it all of my blood/sweat/tears and then live with the results.