For all of our extensive Preseason Coverage – CLICK HERE
It is 1 thing to go undefeated on the road, but as a 2-time gold medalist for USA Basketball Tony Parker has gone undefeated around the world!  He went 5-0 at the 2009 FIBA Americas U16 Championship in Argentina and 8-0 at the 2010 FIBA U17 World Championship in Germany.  He has not done too bad in America either, winning 4 straight Georgia 4A state titles at Miller Grove High School and making the NCAA tourney during each of the past 3 years at UCLA.  HoopsHD's Jon Teitel got to chat with Tony about winning on a controversial goaltending call last March and being the Bruins' only senior this year.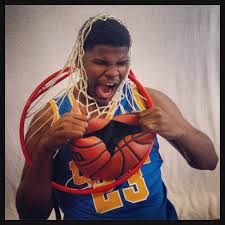 In the 2012 McDonald's All-American Game you scored 10 PTS in a 4-PT loss by the East: which of your teammates impressed you the most (Kyle Anderson/Kris Dunn/TJ Warren/other)? We were just out there having fun but the practices were competitive. TJ played well, as did Shabazz Muhammad.
At Miller Grove High School you won 4 straight Georgia state titles: how was your team able to be so dominant for such a long period of time, and what made you choose UCLA? We were a powerhouse and our coach did a great job. I was the only freshman playing with 7 seniors during my 1st year so it was easy for me to be a role player and just have fun. I think we only lost 1 game during my junior year, and it taught me to play hard defense. It was a good decision to come here and I still talk to the guys who helped recruit me.
You play for Coach Steve Alford: what makes him such a great coach, and what is the most important thing that you have ever learned from him? He is really good guy and was a good player himself, so he loves to work us hard and push us.
Take me through the 2015 NCAA tourney:
You scored 3 PTS and Yanick Moreira was called for goaltending on Bryce Alford's jumper with 13 seconds left in a 1-PT win over SMU: did you think it was the right call, and how did it feel to win a game on a call like that? Moreira had been going after a lot of shots and I thought that he actually goaltended 1 of mine before, so I thought it was the right call. It just worked in our favor.
You scored a career-high 28 PTS (11-14 FG) in a win over UAB: was it just 1 of those scenarios where every shot you put up seemed to go in because you were "in the zone"? I just came out and played as hard as possible: in a tourney you never know if it is going to be your last game.
You had 16 PTS/11 REB in a loss to Gonzaga: what did you learn from that game that you think can help you this year? I just give credit to them for beating us twice last year. They did a good job of controlling the pace so I just have to play harder against teams of that nature.
Your non-conference schedule includes games against UNLV/Kentucky/Gonzaga/North Carolina: which of these games do you feel will present your biggest test? They are all great teams so we will just have to play hard. We cannot take anyone for granted so we have to strive to get better every game.
You lost 2 of your top-3 scorers from last year (Norman Powell/Kevon Looney): how are you going to try to replace all of that offense? We just do like we always do: next man up. We play as a team.
You are the only senior on the roster: how much pressure is there on you to be a leader this year? There is not that much pressure. I love playing basketball so I just will try to enjoy my senior year.
Your father Virgil played college basketball: who is the best athlete in the family? I would say me but he would say him! He is more of a shooter and we are very competitive with each other.
What are your goals for the upcoming season, and what are your expectations for the upcoming season? I want to push our team to be as good as we can be. We need to grow as a team so when we reach March we can have a long run in the postseason. There will be storms along the way and we just have to weather them.