For the rest of our extensive Preseason Coverage – CLICK HERE
There are some college basketball players who just seem like they have been around for 5 years…and there are others who actually have been around that long.  Roosevelt Jones enrolled as a freshman at Butler back in 2011, but due to a wrist injury that forced him to sit out the entire 2013-14 season with a medical redshirt, he begins his final season of college basketball next month.  Those who feared that the injury would end his career were proven wrong last year, as he started all 34 games and was named 2nd-Team All-Big East.  After playing in 3 different conferences during his college career, 1 thing that will not be new this year is that Butler remains in the Big East and remains a strong contender to Villanova for the conference title.  HoopsHD's Jon Teitel got to chat with Roosevelt about overcoming his injury and almost beating Notre Dame in the NCAA tourney last March.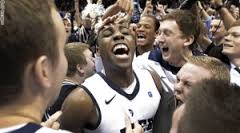 In January 2013 you scored 20 PTS including a steal/10-footer at the buzzer in a 1-PT win over Gonzaga: did you think the shot was going in, and what was the reaction like in your locker room afterward? When I let the shot go I knew that it was going in. The locker room was crazy: we were jumping around and were so excited that we had won. We could not believe what had just happened.
In the 2013 NCAA tourney you scored 8 PTS in a 2-PT loss to Marquette: how close did you come to winning the game? We had a really good scouting report on them from our game earlier in the year in Maui and went back and forth with them all game long. We needed one defensive stop but could not get it. Vander Blue made a 3-PT shot from the corner that I remember bouncing straight up and then dropping in. Marquette changed their defense against us on our final possession of the game and we could not get a shot up.
After being the only player to start all 36 games in 2013, you missed the entire 2013-14 season with a left wrist injury: how difficult was the rehab, and how is your health right now? The toughest thing I have had to deal with so far in my life was that rehab. I did not know if I could get back to my full potential. My mom/dad said to keep my head up and keep working. It took a long road to get back, but I am 100% now.
Last October Chris Holtmann was named interim coach after Brandon Miller was granted a medical leave of absence: how difficult was it to deal with that transition right before the season, and how was your team able to make it work? It was not as difficult as a lot of other people thought that it would be because we were all together as a group. We talked about it and bonded together: we came together with the goal of giving it everything we had each and every day. It probably looked a lot more chaotic from the outside than it actually was.
In January 2015 you scored a career-high 28 PTS (12-19 FG) in a 1-PT loss at Georgetown: what contributed to your success that night? We had a good defensive scouting report on what they liked to do. We ended up using a lot of high ball screens because of the way they liked to pressure, which probably gave me a little more space to work with when I shot my floater. I felt good throughout that game.
You finished the year by leading your team in AST and finished 2nd in PPG/RPG: how do you balance your scoring with your rebounding with your passing? I do not keep track of much of that. I just try to do whatever I can to help my teammates and not get involved in all the numbers.
In the 2015 NCAA tourney you scored 23 PTS in a 3-PT OT loss to Notre Dame: what did you learn from that game that you think can help you this year? We know that we can compete with anyone in the country if we come out and play together and play hard. We had a good game plan and stuck to it. If we follow what the coaches tell us and play hard, then we can compete with anyone.
You have played in 3 different conferences during your career (Horizon/A-10/Big East): how does it feel to not be switching conferences this season?! It is nice to finally have some consistency regarding who we are playing. We know our opponents' tendencies and what they like to do on offense/defense. It makes the preparation for each opponent a little easier when you have some experience to work from.
Your non-conference schedule includes games against Cincinnati/Tennessee/Purdue: which of these games do you feel will present your biggest test? Every game is tough in non-conference play. We are just looking at the next opponent on our schedule and trying not to get caught up looking too far down the road.
What are your goals for the upcoming season, and what are your expectations for the upcoming season? My goal is to play as hard as I can with this team. If we do that then we will get where we need to go. Right now I am not putting expectations on how far we can go: we just need to keep working every day.