READ THIS FIRST!!
-It is important to understand that these brackets are CHECKPOINTS on CURRENT MERIT.  They are not a forecast of what I think things will look like in March, or for that matter how good I actually think teams currently are.
For example, I believe that Iowa State and Villanova are both top ten teams, but they don't have any really big wins yet, so they're seeded below team who have won big games, especially if they've done it away from home.
On the flip side, I do not foresee Syracuse earning a #1 seed, but they won three big games away from home last week, and no one behind him has three wins of that caliber away from home.
-Bracket s this early really aren't practical, but neither are April batting averages in baseball and there are people that like to look at those.  I do them this early for two reasons:  1) It's fun to look at, and 2) This is a season long evaluation process, and doing them this early helps me evaluate.
-It's also impossible to COMPLETELY eliminate suppositions when ranking the teams.  You need to play at least a football season (twelve games) before you have enough data to simply go off the data.  We've played just about half that, as most teams have played six games.
NOTES ON THE BRACKET
-The week of Thanksgiving is one of the biggest weeks of the season, because most teams play more games than they do in any other single week, and so many of them are away from home in tournaments.  Tournaments have a natural structure of winners playing winners, so it's a good chance for them to get quality wins away from home, which is especially important for teams who don't play strong conferences.  So, while the final bracket probably won't look anything like this, a lot of what happened this past week will definitely come into play.
-It's also a week where we see teams that were nowhere near the rankings when the season started explode onto the national scene.  Providence and Xavier come to mind this year.  Monmouth also had a huge week and an argument could be made that they belong in the rankings, but I'm not expecting them to end up there.  But, for now, they have wins against USC, Notre Dame, and UCLA all away from home.  There are teams that make the NCAAs who don't manage three wins away from home that are that good.  Their margin for error is small, but they've put themselves in a great position if they can run over their conference.
-Things are bad for Notre Dame right now.  They're infinitely worse for Wichita State.  At full strength the Shockers are easily a top 25 team, but they're without so many key players due to injury that they're going to have trouble finishing in the upper half of the Missouri Valley as it currently stands.  They lost all three games in the Advocare Classic, and didn't look particularly impressive in any of them.
-UALR and TX Arlington had huge weeks.  Arlington won at Memphis and at Ohio State, and Little Rock picked up notable wins at Tulsa and San Diego State.  Both are currently inside the bubble, but again, it's early.  By the end of the year, the win at Ohio State won't look like much if the Buckeyes keep playing the way they did this past week.
-I think Valparaiso and William & Mary are both good enough to land inside the bubble and not need the automatic bid to make the field.  Having said that, both had awful losses this past weekend.  Valpo went down at Ball State, and W&M fell at Howard.  Those losses are particularly damaging because they won't have a whole lot of opportunities to offset them with quality wins.
-Northeastern was having a bad year until this past weekend, but finally picked up a big win at Miami FL and looked like the kind of team we thought they could be.  That changed the entire complex of their season.  They went from looking like a team who was sweating out weak opponents to being a team with just one loss and a huge win at Miami FL.
-The seed list and notes are located below the bracket.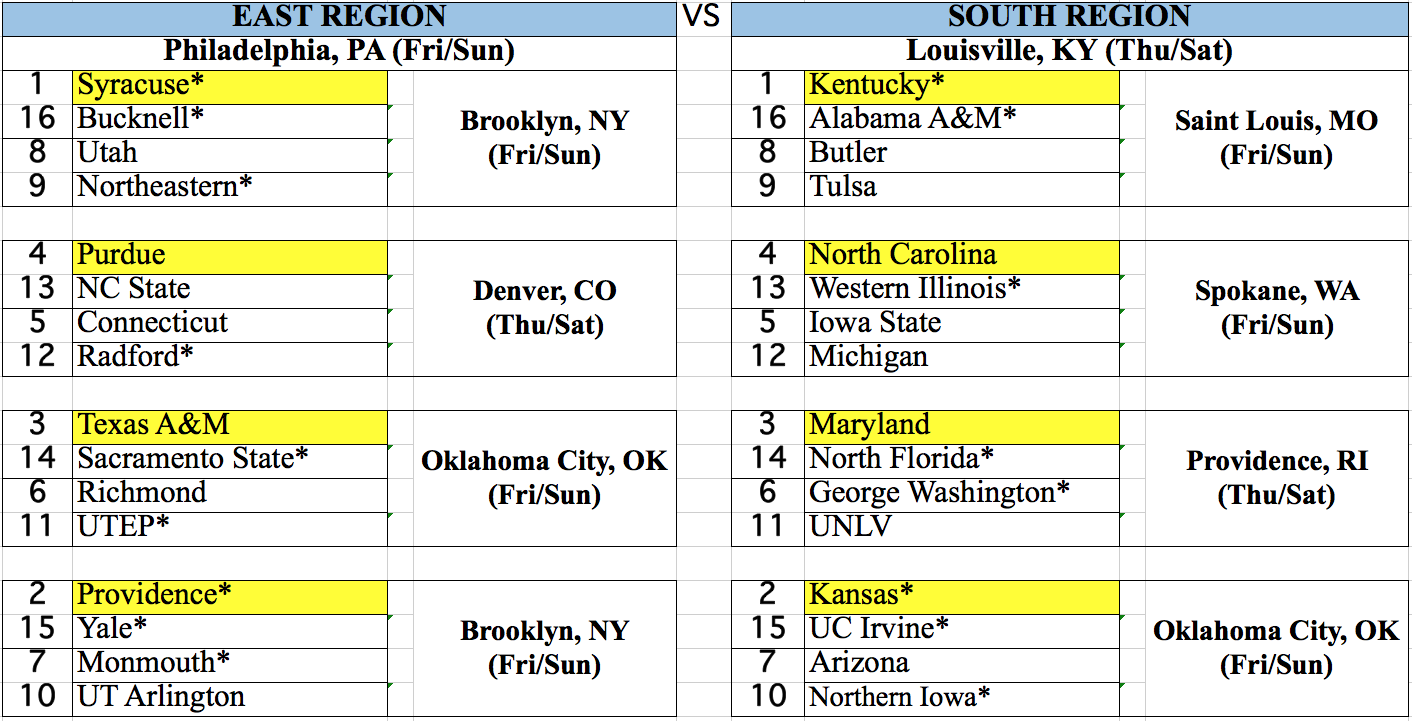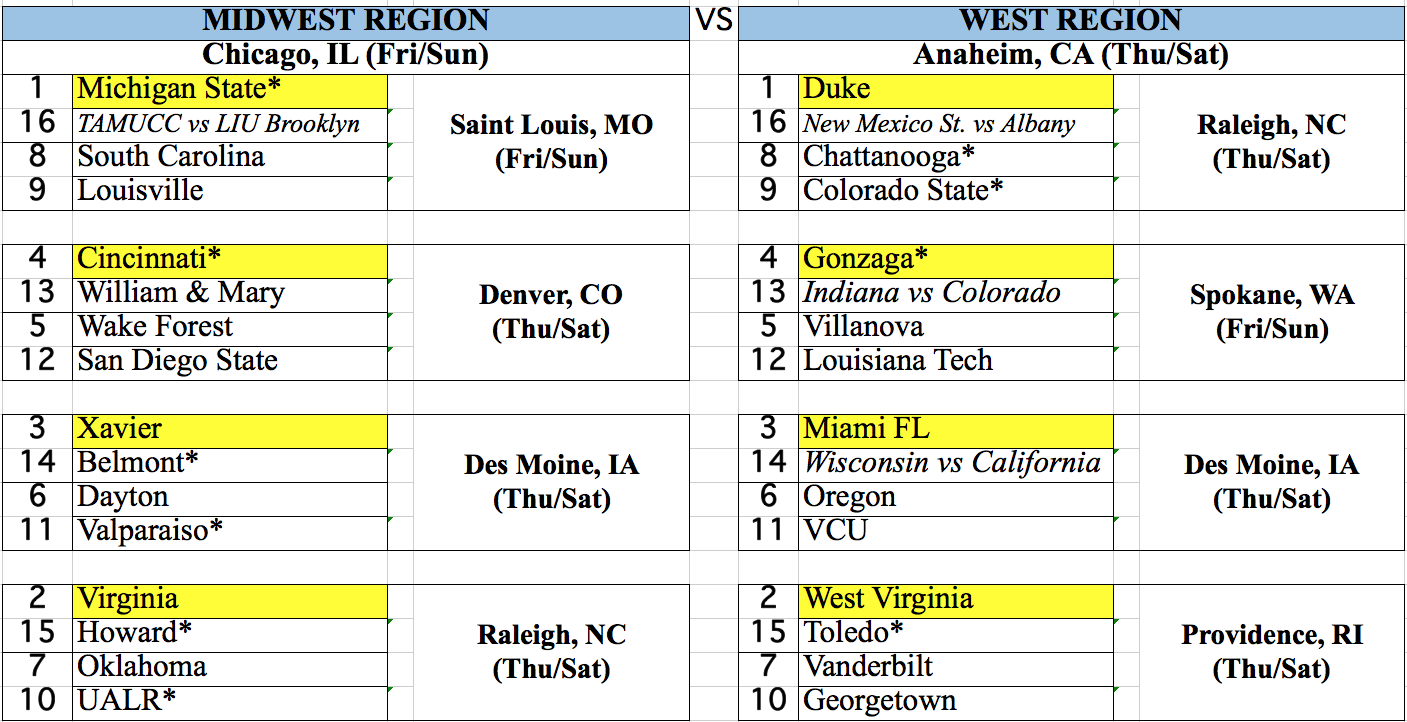 MICHIGAN STATE – win vs Kansas and Providence
SYRACUSE – big wins in Battle 4 Atlantis
KENTUCKY – win vs Duke (N)
Duke – only loss was to Kentucky
KANSAS – neutral floor wins against Vandy and UCLA
PROVIDENCE – win vs Arizona (N). no bad losses
West Virginia – unbeaten. Wins against San Diego St (N), Richmond (N)
Virginia – multiple decent neutral floor wins
Xavier – 4 wins away from home, including @ Michigan and vs Dayton
Maryland – decent wins vs Georgetown (H), Rhody (N), Illinois St. (N)
Texas A&M – neutral wins over Gonzaga and Texas
Miami FL – good wins away from home. Home loss to Northeastern
GONZAGA – neutral floor wins vs UConn and Washiongton
CINCINNATI – unbeaten with win v George Washington
Purdue – unbeaten with decent, but not great wins
North Carolina – some adequate wins, but no big ones
Wake Forest – notable wins against Indiana and UCLA. No bad losses
Connecticut – 2 close losses to Syracuse and Gonzaga. Win vs Michigan
Iowa State – unbeaten with decent wins against Colorado and Illinois
Villanova – unbeaten, but no big wins
GEORGE WASHINGTON – home win vs Virginia. No bad losses
Dayton – decent wins against William & Mary, Iowa, and Monmouth.
Richmond – wins @ Wake Forest and vs Cal. No bad losses.
OREGON – 5 wins, all at home, including Valpo and Baylor
Vanderbilt – neutral floor win vs Wake Forest
Arizona – no bad losses, but best win is vs Boise State (N)
Oklahoma – unbeaten. Best win @ Memphis
MONMOUTH – no bad losses. Wins @UCLA and vs Notre Dame
CHATTANOOGA – no bad losses. Wins @ Georgia and @ Illinois
South Carolina – unbeaten. Neutral floor wins against Hofstra and Tulsa
Butler – no big wins
Utah – no big wins
Louisville – unbeaten, but no big wins
NORTHEASTERN – bad loss to Miami OH, good win against Miami FL
Tulsa
COLORADO STATE – win @ Northern Iowa
NORTHERN IOWA – home wins against North Carolina
LITTLE ROCK – unbeaten. Wins @ San Diego State and Tulsa
Texas Arlington – wins @ Memphis and @ Ohio State
Georgetown – 3 losses by a total of 6pts. Win vs Wisconsin
VALPARAISO – bad loss at Ball St. Decent win @ Oregon St.
UTEP – unbeaten. Neutral wins against Colorado St. and SO Ill
Vcu – no good wins, but no bad losses
Unlv – win vs Indiana
Michigan
San Diego State
RADFORD – win @ Georgetown
Louisiana Tech – unbeaten. Wins against UTA and @ Ohio St.
William & Mary – good win at NC St, bad loss at Howard
NC State – beat LSU
Indiana – No good wins. Losses to Wake Forest and UNLV
WESTERN ILLINOIS – win @ Wisconsin, loss @ Creighton
Wisconsin
Colorado – no bad losses. Win @ Auburn
California – no bad losses, but no good wins
Washington – no bad losses. Neutral floor win vs Texas
Florida – no bad losses, but no good wins
Saint Joseph's – 4-1 with a win vs Old Dominion
Florida State
Alabama
Notre Dame
Hofstra
Iowa
Evansville
Usc – no bad losses. Home wins against Monmouth and New Mexico
Byu
Seton Hall
BELMONT
Creighton
SACRAMENTO STATE – win @ Arizona St.
Rhode Island
Southern Illinois
Saint Louis
NORTH FLORIDA
Northwestern
UC IRVINE
Pittsburgh
Marquette
Baylor – no big wins
Kansas State
Oklahoma State
Unc Wilmington
TOLEDO – 3 div1 wins away from home
Saint Mary's – unbeaten. Best win vs Stanford (H)
Davidson
Washington State
Houston
Clemson
HOWARD – win vs William & Mary (H)
YALE
BUCKNELL – 2 road wins
ALABAMA A&M – 2 road wins, including @ Tulane
NEW MEXICO STATE
ALBANY
TAMUCC
LIU BROOKLYN – only NEC team with winning record