LINKS
-The bracket below makes no attempts to guess the actual committee.  It is simply what David thinks the field should look like if the season ended today.  To see Jon Teitel's bracket and seed list, which does guess the committee – CLICK HERE
-For Chad Sherwood's Under the Radar Game of the Day, as well as the other Highlighted Games – CLICK HERE
NOTES FROM DAVID
-This is the last staff bracket that we will post before conference tournaments begin.  The reason I am posting the last bracket is because I am right more than anyone else on the staff.  You'll see comments below from some of the rest of the staff below, and anyone who makes comments disagree with what I've done is wrong!
-The First Four games actually needed to be flipped.  I had Cincinnati and Michigan ahead of Oregon State and Alabama, but if you look at the bracket you'll notice something very unusual.  All of the 6 v 11 games are on Thursday/Saturday, and all but one of the 5 v 12 games are on Thursday/Saturday.  Oregon State cannot play Arizona, so Cincinnati v Michigan had to go to the one and only Friday/Sunday location.
-I like Texas a lot, and I don't understand why they're not getting more love.  I can only assume it's because of their record, but the majority of their losses have been road losses to protected seeds, and they have some really big wins as well.  I think they'll end up as a protected seed by the time it's all over.
-California has made the biggest jump up my seed list over the last few weeks.  The reason for that is simple.  They went from being a team that had good wins at home, but hardly any wins at all on the road to being a team that had good wins at home and some notable road wins to go along with it.
-Seton Hall is another team that should be valued more than they are.  They just knocked off Xavier, and they're 8-1 in their last nine games.
-The bubble is always weak.  I think we say every year that it is weaker than it was the previous year.  This year is no exception.  The bubble teams from the power conferences that will end up playing their way in will most likely boost their resumes as they go through the rest of the season and conference tournaments.  But, having said that, the exclusion of Louisville and SMU means that two teams will get in that otherwise wouldn't have, so the bubble will be slightly weaker just for that reason alone.
-I also did something that I know Chad hates.  The projected conference champions are all current first placed teams.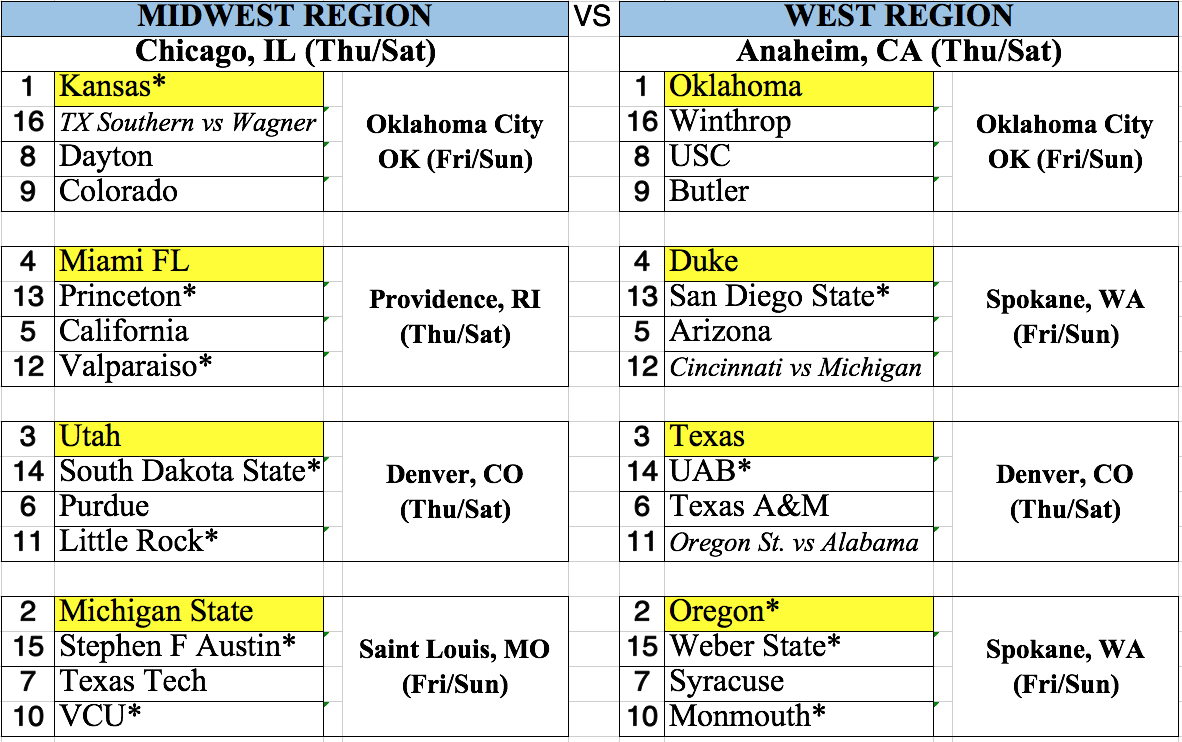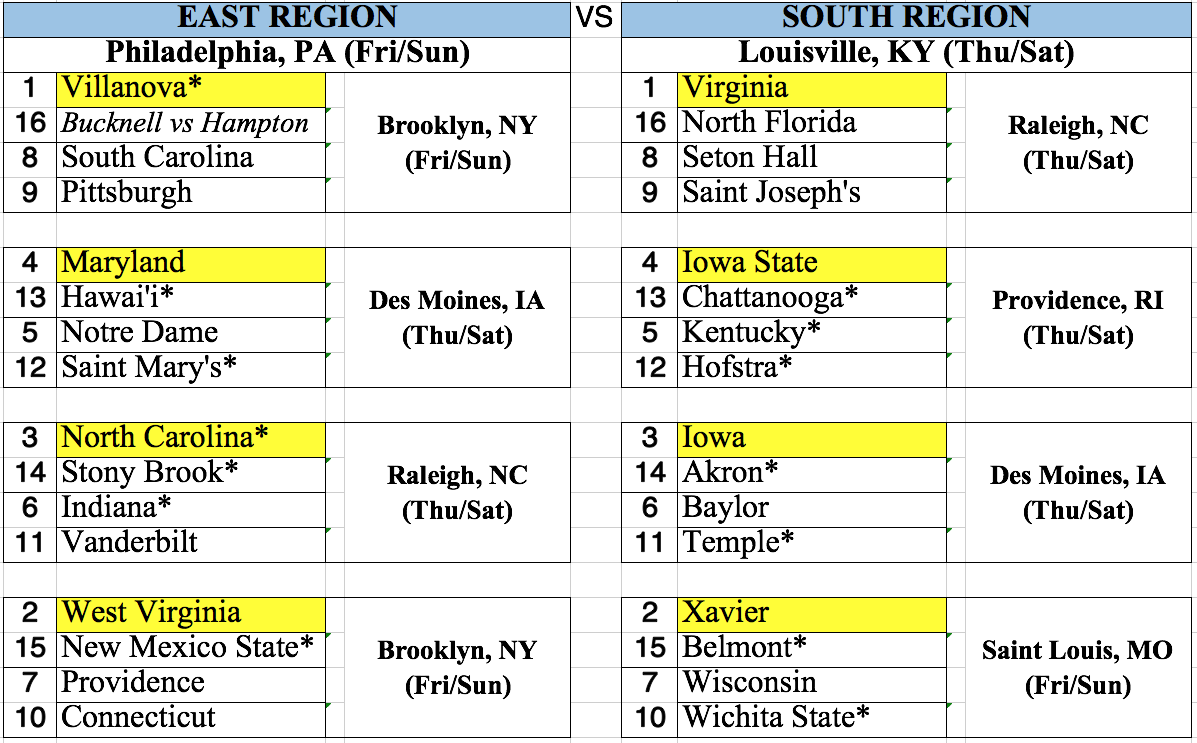 TEAMS THAT WERE NEXT IN LINE: Saint Bonaventure, George Washington, Gonzaga, Georgia Tech, Florida State, Tulsa, BYU, Florida
STAFF COMMENTS
CHAD
-I agree with David on the top 8 teams, and that despite their loss this week Oklahoma belongs as a 1 seed.   I would not, however, have Virginia as a 1 seed.  I know this may sound crazy to some given that they are two games out of first place in their conference, but I really like Michigan State's overall profile better than anyone other that Kansas, Oklahoma and Villanova.  The Spartans would be on my 1 line right now, but it is admittedly a close call with almost all the 2 seeds in contention for that spot.
-I hate agreeing with David, but he is right about Texas and has them exactly where I think they belong.
-All season long I have had Cal way higher ranked than David.  I am shocked that he has them on the 5 line suddenly (I would argue they are a 6 at best and maybe still a 7).  The Golden Bears still don't have a win away from home against a team that is in this field.
-VCU not only in but on the 10 line and inside the First Four makes no sense at all.  Yes, they won at G.W., but the Colonials are not an NCAA Tournament team.  The Rams simply have nothing tournament worthy on their profile and are not outright in first place in their conference.  Even if you have them in as an auto-bid winner, they don't belong above the 12 line.
-Oregon State in the First Four.  I think David and I disagree "slightly" here as I would have them wearing white in the Round of 64.  Three top 20 wins, wins away from home against teams that are in the field or on the bubble (Tulsa and Stanford), 9 Top 100 wins and no bad losses.  There is noone anywhere close to the Bubble with a resume that solid.
-I would have had Michigan out and St. Bonaventure in, but that is a very close call and I fully understand going the other way there.  The other team I would have had in that David left out was Stanford.  I am amazed that David did not even consider them!  The Cardinal have a lot of losses, but they have three Top 20 wins, two more in the Top 50 one of which was on the road, and only one loss outside of the Top 50.  In fact, 10 of their 12 losses were to teams in this field above them, and a 11th was to an SMU team that would also outrank them if they were eligible.  Five wins over teams that are above you in the field and only one loss to a team below you gets you a serious look in my book.
JOHN
-Michigan State and Virginia makes for a fascinating debate – the way things stand right now, I'd personally have Sparty #4 overall and Virginia #5 overall. I just think the Hoos have too many iffy losses (within their conference) for a #1 seed. (I'm also waiting for the punchline from Griggs that losing to Tim Miles doesn't hurt whatsoever)
-I would also argue that Miami deserves better than a 4 seed; I'd even argue that they could be the last 2-seed with 8 wins (could be 9 if Princeton wins the Ivy) against the NCAA Tournament field and 4 wins against teams that could be protected seeds. The Hurricanes are also a co-leader in the ACC thanks to wins against Virginia and Louisville last week; I think they're being judged a little harshly after one bad outing at North Carolina.
-I'm also surprised that Arizona isn't dropping further down the seed list; their only wins against teams that may end up making the field are USC and Oregon State, both of which took place in Tuscon. They have a lot of wins against teams that appear to be in the 51-100 RPI range. Contrast that to a team like California who's blasting teams left and right in Berkeley regardless of quality. If Arizona can't beat California or even Stanford at home this week, I'll be submitting a first ballot that won't include the Wildcats.
-After getting to see a few NCAA Tournament teams up close and personal yesterday, I'd submit that Seton Hall belongs at least a seed line higher and Monmouth a seed line lower. If Monmouth isn't hitting their shots, they don't have the confidence in their inside game that they'll need to spring an upset in the NCAA Tournament. They're certainly resilient – Niagara hit an ungodly 28 out of 29 free throws before missing a crucial pair in the final minute yesterday.
-Butler has a lot of work to do to end up as a 9 seed, but they get another shot at home against Seton Hall (and later Marquette) to bolster their profile. Matchups seem to dictate Butler's level of play; if they face a team like Seton Hall in the Big East tournament, they should be able to get a win. If they match up against a team like Xavier, they're in trouble.
-I don't have any problem with the teams that David left out of the field, either. Gonzaga does have a share of the WCC title, but if they finally beat St. Mary's, they'll wind up with the auto bid. Lose a 3rd time and they'll be NIT bound; beating BYU twice won't be enough this year under such a scenario.