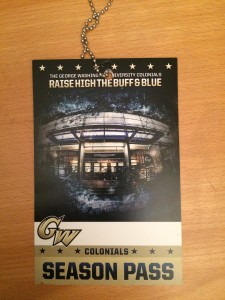 If at first you cannot get a press pass to the NCAA Tourney…get 1 to the NIT quarterfinal game 4 blocks away from your office! I was able to score a press pass for Wednesday's quarterfinal NIT game between Florida and GW (thank you Justin), so I walked the 4 long blocks down G St. NW to get to the Smith Center. After realizing that I had not brought a pen, I walked 4 blocks back to the office and then 4 blocks back to the gym, yet still had time for a couple of pregame pizza slices in the media room. It was a bit jarring to see the Gators come out in their white uniforms despite playing on the road, but that is what happens when you decide to begin a $65 million renovation to your home arena in March. Then again, there were so many Gator fans in the stands dressed in orange and blue, yelling when GW players shot free throws, and doing the "Gator Chomp" after their own team made a free throw, that at times it seemed like a neutral-site game despite the presence of noted DC-area college basketball writer John Feinstein in the front row.
The coaching contrast was evident early: GW coach Mike Lonergan wore his blue blazer and GW tie while gesticulating wildly all game long, and on the other end of the sideline Florida coach Mike White ditched his jacket early and calmly stood in place or squatted down to watch the action on the court unfold. The 1st half was very evenly-matched: the Colonials made 1 more FG (16-15) and 2 more FT (4-2) to earn a 39-36 lead at the break, but the Gators AST advantage (9-3) and balanced scoring (4 players with 6-9 PTS) demonstrated that this game would go down to the wire, which happily it did. Patricio Garino was a 1-man wrecking crew for GW: a couple of jumpers, a couple of layups, and a nifty 1-handed put-back gave him 11 PTS by halftime. Despite not playing a single second, the 1 Florida player who I could not stop staring at was Zach Hodskins, who was born without a left hand/forearm. I never would have believed it, but after watching him dribble between his legs during layup lines and make double-pump reverse layups, I really think that the kid can play D-1 basketball despite having only 1 hand, so kudos to Zach for enlightening me.
The 2nd half was all about the veteran big men for GW: 6'9" JR Tyler Cavanaugh scored 18 of his game-high 23 PTS (including 3-3 from behind the arc) and 6'10" SR Kevin Larsen had 14 PTS/8 REB to finish with a total of 19 PTS/13 REB. The only 2 SEC freshmen that the majority of the nation knows about are Ben Simmons of LSU/Jamal Murray of Kentucky, but Florida has a dynamic duo of their own in KeVaughn Allen (22 PTS on a variety of dunks/layups/threes) and Kevarrius Hayes (14 PTS on 6-7 FG from close range). The Gators only missed 2 FTs all night and only had 1 of their shots blocked, but 29.2 3P% and getting out-rebounded on the road will not win you many postseason games. I got to introduce myself to Feinstein in the media room and tell him that I liked "A Season on the Brink": good times!  I also got to ask each coach a question during the post-game press conference, and if you would like to hear Coach White's response it is the final question/answer located at the following link: http://floridagators.com/watch/?Archive=4040
GW is now 42-6 at home over the past 3 seasons, but I do not know how they are going to do away from home when they travel to MSG on Tuesday to face San Diego State. What I do know is that after watching them beat Virginia in person in November en route to extending their current home winning streak against non-conference opponents to an amazing 24 games in a row, I do not know why any team outside the A-10 would choose to fight DC traffic just to get the chance to come to the Smith Center…and lose.
[acx_slideshow name="GW NIT"]