Buddy Hield is sensational: 2-time Big 12 POY, the favorite for 2016 national POY, and if he has 2 more great games left in him then maybe even a tourney MOP award on Monday night and an eternal place in the hearts of Sooner fans everywhere.  However, when I think about Oklahoma basketball the name that always comes to mind is Wayman Tisdale: 3-time Big 8 POY, the 1st D-1 player to ever be named 1st-team AP All-American in each of his freshman/sophomore/junior seasons, 1984 Olympic gold medalist, and election to the National Collegiate Basketball Hall of Fame in 2009.  After averaging 15.3 PPG during a 12-year NBA career, he retired in 1997 to focus on his first love: music.  He passed away in 2009 at age 44 due to cancer, and the following year the United States Basketball Writers Association renamed its outstanding freshman award as the Wayman Tisdale Award.  With the Sooners ready to play in their 1st Final 4 since 2002, HoopsHD's Jon Teitel got to chat with 2 men who know quite a lot about the legacy of this outstanding player who died too soon: Brian Schodorf (director/producer of "The Wayman Tisdale Story") and Billy Tubbs (Tisdale's college coach).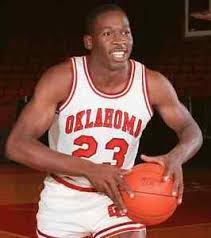 Wayman's father was a well-known pastor in Tulsa, OK, and church was so important to Wayman that Coach Tubbs allegedly changed the team's Sunday practice from the morning to the evening to allow his star player to attend Sunday morning services at his father's church: was he worried that the rest of team would not appreciate doing something like that just to please a freshman, or was it worth accommodating his religious beliefs because he was a McDonald's All-American? Brian Schodorf: I think that story was a bit embellished. They usually did not practice on Sundays anyway but if they did then Coach Tubbs would move it to the evening. Tubbs would often go with him to church to watch him play bass in the church band: he was a great guitar player. Billy Tubbs: I do not really remember that but I would always try to accommodate practices so that people could go to church. Sunday practices were more in line with church…or a Dallas Cowboys game!
In December 1983 he had a career-high 22 REB and broke Wilt Chamberlain's conference record by scoring 61 PTS in a 40-PT win over Texas-San Antonio: where does that rank among the greatest performances you have ever seen? BS: At that point it was definitely the biggest performance in the history of the Big 8. It was not in the NCAA tourney but it is still up there and may still be a conference record. BT: I do not know how many PTS Chamberlain had (52 in his college debut vs. Northwestern  in 1956) but Wayman made the game look so easy that you never realized how many PTS he had scored himself. 1 time he had a chance to break a record and I took him out because I was unaware, but after my SID informed me I put him back in. His turnaround jumper could beat a double or triple-team.
What are your memories of the 1984 NCAA tourney (Tisdale had 36 PTS/11 REB, but Roosevelt Chapman scored 41 PTS in a 4-PT win by Dayton)? BT: Chapman had a great game but we were really disappointed with the loss. We had a 1st round bye but Dayton had our full attention after they beat LSU.
He led the 1984 Olympic team with 6.4 RPG en route to winning a gold medal: what was his secret to being a great rebounder, and what did it mean to him to him to win a gold medal? BS: Those Olympics were tough for him because Coach Bobby Knight challenged him to be a better rebounder/defender. Wayman was a nice guy who always smiled and Knight did not like that, but he found that Wayman was a warrior who could overcome all the yelling in practice to help win it all. Charles Barkley/Karl Malone/John Stockton got cut so making the team showed how good he really was. BT: It is a great honor for anyone to win a gold medal: it was big. What made him such a great rebounder was his strength in a crowd, a knack for knowing where the ball would come off the glass, and being an explosive jumper.
Take me through the 1985 NCAA tourney:
He scored 29 PTS (14-16 FG) in a 6-PT win over Illinois State: was it just 1 of those scenarios where every shot he put up seemed to go in because he was "in the zone"? BT: Every time he shot the ball I felt good about it. I had a lot of confidence in him and playing in his hometown of Tulsa made it very special for him.
He had 23 PTS/11 REB and made the game-winning shot that bounced around the rim several times before going in with 2 seconds left to clinch a 2-PT OT win over Louisiana Tech (led by 20 PTS/16 REB from Karl Malone): did you think the shot was going in? BT: The neat thing about that was since the ball took so much time to get in the hole it took a lot of time off the clock.
He had 11 PTS (on a season-low 10 shots)/12 REB and Anthony Bowie missed a 20-foot shot at the buzzer in a 2-PT loss to Memphis State: did you think the shot was going in, and what was the reaction like when you got back to campus? BT: We felt like we had a team that might win the national championship so it was a big-time disappointment. Memphis had us out-sized and it came down to who could make the plays at the end. Bowie took a nice shot: we played hard despite losing some guys to foul trouble late in the game.
He was a 3-time Big 8 POY and the 1st player to ever be named a 1st-team AP All-American in each of his 1st 3 years: what did it mean to him to win such outstanding honors? BS: It meant a lot to him and he obviously cherished it but he was such a humble guy that it did not change him. It was quite a feat. BT: We took all honors as a team honor: he was great but he had some good players around him. The guys that played with him were very unselfish: I never sensed any jealousy from his teammates as he was getting all his accolades because we won a lot of games. Wayman was definitely a team player so it was me who insisted that the ball go to him inside.
In 1985 he declared early for the draft and was picked 2nd overall by Indiana (1 spot behind his Olympic teammate Patrick Ewing): did he see that as a validation of his college career, or the realization of a lifelong dream of reaching the NBA, or other? BS: He told me that it was 1 of the biggest days of his life. The Indiana fans were holding up signs saying, "We got Wayman!", which made him happy. They wanted to use him as a franchise player to build around. BT: Most players have a goal of making it to the NBA and I think it was big for him to get drafted very high.
What are your memories of Game 7 of 1995 Western Conference Semifinals when he played for Phoenix (Mario Elie made a 3-PT shot with 7.1 seconds left in a 1-PT win on the road by eventual champion Houston)? BS: He went to Phoenix to try and win a championship: your career is defined by where you end up and the players around you. It was his 1st chance to be on a good playoff team. Even though he was 1 of the best power forwards in the league, people had not seen him play very much because he was on some horrible teams, so when he got to Phoenix he felt that he was finally in the NBA. The Suns just could not hit any of their FTs that night when it counted, but Houston had Hakeem Olajuwon/Clyde Drexler and were the defending champs. BT: I think it was a big disappointment for him because he and some of his teammates (like Danny Manning) gave up bigger salary offers to go to Phoenix and try to win a title.
He finished his NBA career with 50.5 FG%, which is just outside the top-100 all-time: what was his secret to being a great shooter? BS: He just had a nice "flipper": a left-handed shot that was real smooth. He was not a 3-PT gunner but was a natural shooter. BT: He was a natural, which says it all. He had the perfect shot to make our offense work at Oklahoma. We had to have a guy on the block who could make a turnaround jumper, so our offense was the perfect one for him despite being a post player who was only 6'6". I had a lot of great players but without that kind of player we would not have a good team.
In 2007 he was diagnosed with cancer and he passed away in 2009 after being elected to the Collegiate Basketball Hall of Fame: what impact did his death have on you, and how do you want him to be remembered the most? BS: Oklahoma made it to the Elite 8 in 1985, but had they gone to the Final 4 and/or won it all then he might have gone down as perhaps the best college player ever. Oklahoma was a football school so he really put the entire program on his back. I have talked to a million people (Michael Jordan, Toby Keith, etc.), and they all said that Wayman was a guy who loved to make other people happy. I think he was the most-liked guy in the history of the NBA. Every time you saw him it was like a party bus…and he was the driver! BT: It had a great impact on me and my family: my son came to Oklahoma at the same time that Wayman ded and they were like brothers. It was tragic to say the least.