All Geno Auriemma does is win championships: seriously. As head coach of the UConn women's basketball team he has won 10 of the last 21 D-1 national titles, tying him with Coach John Wooden for the most in the history of the sport, and could be 1 week away from making it 11 of 22. He became head coach of the US women's national basketball team in 2009, and since then he won a pair of world championships and the 2012 Olympic gold medal. He set an NCAA record several years ago by winning 90 consecutive games and he currently has the highest winning percentage among all active D-1 coaches. He has won 22 conference regular season titles and 21 conference tourney titles. HoopsHD's Jon Teitel got to chat with Doug Bruno (head coach of the DePaul women's team) about his friendship with Auriemma and all the success they have had working together with the US national team.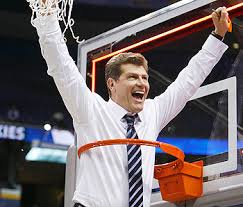 Geno spent several years as an assistant to Debbie Ryan at Virginia: what made her such a great coach? Debbie is first and foremost a great human being. She was very organized and understood the game well. She had a passion for teaching and was a great recruiter.
He became head coach at UConn in 1985: why did he take the job? The reason he took the job was the same as it would be for any assistant coach: he felt ready to become a head coach and move over those 18" on the bench to try it for themselves. He interviewed for the DePaul job in 1984 but they chose someone else, so he went back to Virginia for a year before getting the job at UConn. At the time it was a losing job because they had not had a winning record in a long time and did not have a lot of resources, so most people did not want to touch it.
In the 1995 NCAA tourney title game he had a 6-PT win over Tennessee to clinch his 1st title: how was he able to overcome a 9-PT deficit in the 2nd half with so many starters in foul trouble? He laid a lot of groundwork from 1985-1995. They got increasingly better each season after starting at the bottom: there was no history or tradition to speak of when he started. 1 of the key things you can do as a coach is get your team to the Final 4 before they are good enough to get there themselves. I am not demeaning those players because they were a special team…but I think that they would also say they did not expect to be in that Final 4. That opened up the recruiting doors and he pounced. Some coaches cannot seize the opportunity when the window opens, but he was able to get superstar players like Rebecca Lobo/Jennifer Rizzotti. Overcoming a 2nd half deficit is a tribute to both his players as well as his on-court coaching ability.
In the 2000 NCAA Final 4 he had a win over Penn State in front of more than 20,000 fans en route to winning the title 2 nights later: how on earth did they hold Frances Pomeroy Naismith Award winner Helen Darling scoreless? It just goes back to recruiting. He is an excellent coach and when he could get great players like Nykesha Sales/Diana Taurasi it helped turn Storrs from a place that was ostracized into a place where you wanted to go and win a title. 1 of the Huskies' "dirty little secrets" is that they are so efficient on offense that people do not think they play any defense, but they are always 1 of the best defensive teams in the country. Forget good shots: you cannot even get good looks against them!
In the 2002 NCAA tourney his team made 19 of its 1st 21 shots in a 21-PT win over Old Dominion: was it just 1 of those scenarios where every shot they put up seemed to go in because they were all "in the zone"? You are like a parent and you never want to pick 1 player or 1 team over another, but that was a special team in 2002 with Taurasi/Sue Bird/Swin Cash/Asjha Jones/Tameka Williams. It was 1 of the 1st teams where the forwards had guard skills, which is what the sport has evolved into today. There is still a place in the sport for quality post players because you always need size on the floor, but the more guard skills they have then the more the game gets played in its purest form.
In 2006 he was inducted into the Hall of Fame: where does that rank among the highlights of his career? He does not talk about it at all: he cares more about the people around him. 1 of the proudest parts of his career is the number of alums who come back to watch the current team play when they make the Final 4. Inside his home there is not a single tribute to himself: there are only tributes to his players. As he collects title after title there are more and more of his former players there to support him.
He has led his teams to 5 of the 8 undefeated seasons in women's college basketball history (which could soon be 6 of 9!), and in 2010 he set a record by winning his 90th straight game: how hard is it to keep a team focused for every single game during a streak like that? Nobody in the media wants to hear this but it really is about winning 1 game in a row. He pays great detail to every possession and just wants to win the next game: you try to win 1 game and then try to do it against 89 more times. He wants to make his players better and then the winning will take care of itself. There is a standard of excellence below which he will not let his team fall.
He was coach of team USA at the 2012 Olympics: what did it mean to him to win a gold medal? It was tremendous to win in London: anytime you are asked to represent your country as a coach it is a huge honor. He won world championships in 2010 and 2014 sandwiched around the Olympics: they are like the World Cup of women's basketball so it is noteworthy to view all of them together. We have not lost the Olympics since 1992 so you are talking about 5 in a row but due to the excellence of all our players and coaches who have been involved it gets taken for granted here in the US.
UConn has faced Notre Dame in each of the past 5 Final 4s (winning the last 3 in a row): where does this rivalry rank among the best in the history of the sport? It has become a great rivalry and ranks right up there with UConn-Tennessee and the old Tennessee-Louisiana Tech-Old Dominion battles of the 1980s. The Irish have put themselves in a position to fight for a title every year (which is a credit to Coach Muffet McGraw) but they just happen to keep running into 1 of the best teams in the history of the sport.
He has won 10 national titles (which ties John Wooden for the most in D-1 basketball history), is a 9-time national COY, and his .877 W/L% is the highest among active D-1 coaches: what makes him such a great coach, and how long does he plan on sticking around for? I have never asked him how long he plans to keep coaching. What makes him so great is that he is good to his players and good for his players. He is a much more sincere person than you might gather from a single 10-second video clip. His former players would not be flocking back to share his success if he had not been such a good guy. He puts in the work and effort to build relationships with his players. He works to be a better coach and better recruiter and he is very competitive, which motivates the work. He also has a great staff so you have to beat him as well as his assistants (Chris Dailey/Shea Ralph/Marisa Moseley): you cannot forget that.