Most teams who end up winning an NCAA title depend on their veteran leadership, but they also require fresh infusions of talent, which is why they try to bring in McDonald's All-Americans.  Villanova is no different: Coach Jay Wright already had SR PG Ryan Arcidiacano ready to lead the way this year, but he still recruited FR G Jalen Brunson to become a Wildcat and help them reach the Final 4 for the 1st time since 2009.  Approximately 70 years ago the future phenom freshman on campus in the Main Line was Paul Arizin, although the only thing he could have gotten from McDonald's was a Happy Meal due to the fact that he did not even play much high school basketball after trying/failing to stick with the team as a senior. As a junior he helped his team reach the Elite 8, and as a senior he was named national POY after leading the country with 25.3 PPG.  He continued to dominate in the NBA: 17.2 PPG en route to being named NBA ROY, 2-time scoring champ in 1952 and 1957, the 1956 NBA title as a member of the Warriors, 10 All-Star Games, and induction into the Hall of Fame in 1978.  Arizin passed away in 2006, but HoopsHD's Jon Teitel got to chat with Arizin's friend (and 1954 NCAA Final 4 hero) Frank Blatcher about his great jump shot and his legacy as 1 of the 50 greatest players in NBA history.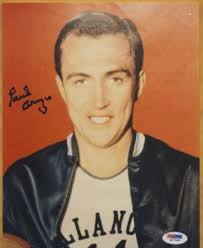 Arizin tried out for the basketball team at La Salle High School as a senior but only played a few games before being cut: why did it take him so long to develop into a great player? He told me that he was never that good in high school so he did not blame the coach. We started playing a lot of ball at "The Plaza" in South Philly after high school and he would regularly score over 25 PPG. The Villanova coach invited him to come to his college to play: Paul told him that he was already there but was just not on the team!
He later developed a jump shot while playing in local pickup games (which few players used at that time): why did he decide to incorporate that into his repertoire, and what made it so effective? He played the pivot during pickup games and you could simply not stop him once he got the ball with his back to the basket. He was just able to hang in the air forever.
In 1950 at Villanova he was named All-American/national POY after leading the nation with 25.3 PPG: what did it mean to him to win such outstanding individual honors? He was very proud of that because nobody worked harder on his game. I was proud of him as well even though I was in the Navy at the time. When I told my own teammates that we were buddies it really impressed them!
In 1952 in the 2nd-ever All-Star Game he scored 26 PTS in 32 minutes en route to leading his East team to a win and being named MVP: how was he able to play his best against the best? I got to play 1-on-1 with him over Christmas break that season. He had developed a 1-handed shot from the outside and made several in a row over me. It was just another arrow in his quiver that made him a complete player. He said that he liked to play against me because I gave him a tough time.
After leading the league in PPG/MPG/FG% for the Warriors in 1952, he missed the following 2 seasons due to joining the Marines during the Korean War: how did he feel about leaving the league, and what impact did the war have on him both on and off the court? He was a solid citizen. I was planning to attend Temple but Paul was the person who helped La Salle get in touch with me, which is how I ended up there.
In the 1956 Finals he scored 26 PTS in a 10-PT win over Ft. Wayne in the decisive Game 5 to clinch the title: what did it mean to him to win a title? He must have been ecstatic because it was the culmination of everything that he had wanted to do. The key ingredient on that team was Tom Gola, who I played with at La Salle.
In the 1960 Eastern Division Finals he scored 22 PTS in a 2-PT loss to Boston in the decisive Game 6 at home: was it frustrating for him to keep running into those legendary Celtics teams in the playoffs every year? I am sure that it was: the Celtics had a magnificent team.
On March 2, 1962 he scored 16 PTS as a teammate of Wilt Chamberlain during his famous 100-PT game in a win over the Knicks: how was he able to finish in double-figures with Wilt getting the ball a majority of the time? Paul probably got his points during the 1st half while it was a regular game because in the 2nd half the team just kept getting the ball to Wilt on every possession.
He chose to retire rather than move with the Warriors to San Francisco, and became a marketing representative for IBM: why was he so opposed to moving, and how did he like working in the real world? He was a regular guy who went to mass every day so he decided that it was better for him to stay in Philly and be near his family/friends.
He also played 3 seasons with the Camden Bullets of the Eastern Professional Basketball League, winning MVP in 1963 and winning the title in 1964: how was he able to be so dominant even after retiring from the NBA? He and I kept playing basketball for a long time after he retired. Had he gone to San Francisco he would have kept playing in the NBA for a couple of more years so Camden was perfect for him.
He was inducted into the Hall of Fame in 1978 and named 1 of the 50 Greatest Players in NBA History in 1996: when people look back on his career, how do you think that he should be remembered the most? He should be remembered 1st of all as a fantastic competitor: even in a pickup game he would run through a screen to try and block my shot! He was the originator who perfected the jump shot and could hang in the air even when the defense knew exactly what he was going to do. He was also a great team player. When the book came out about Wilt having 20,000 women, Wilt mentioned that Paul was a straight arrow both on and off the court. He always gave 110% and was a friend who changed my life by helping me go to La Salle.