We are approximately 10 weeks away from the 2016 NBA draft: sometimes you pick a future Hall of Famer like Tim Duncan or LeBron James…and sometimes you pick Greg Oden.  This year marks the 43rd anniversary of a pick that did turn into a future Hall of Famer: Philly selected Doug Collins from Illinois State.  For all of his positive accomplishments (3-time All-American, 4-time All-Star, coaching Michael Jordan, etc.), many people remember him most for making a pair of go-ahead FTs for team USA with 3 seconds left in the 1972 Olympic gold medal game (before it turned into 1 of the most controversial endings in the history of sports), but the happy ending is that last month Collins was finally elected to the Hall of Fame.  HoopsHD's Jon Teitel recently got to chat with former Illinois State SID Roger Cushman about Collins scoring 57 PTS in a game and being a 3-time Academic All-American.  We congratulate Collins and the rest of the 2016 class of the Hall of Fame!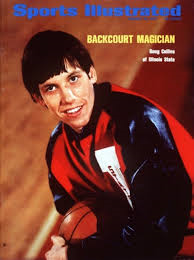 In the controversial 1972 Olympic gold medal basketball game against the Soviet Union, Collins made 2 FTs to give the US a 50–49 lead with 3 seconds left, but after the refs restarted the game's final seconds a couple of times the Soviets made a layup at the buzzer to win the game: what impact did that game have on Doug either on or off the court? The whole experience changed him in a lot of ways. We were just a small college when Doug arrived in the 1960s and he kind of grew with our program. He was an unknown quantity when he went to the Olympics but came back to the US as a celebrity. We always knew that he was good, but when you prove yourself against the best players in the world it just changes your whole outlook. He was a real hero throughout the state of Illinois: almost everywhere we played there was a pregame ceremony recognizing his achievements. Everyone in the US felt that our country had been robbed.  Doug's steal/FTs under immense pressure after recovering from getting clobbered was great…until the travesty occurred, so people liked that he came through in the clutch.
His coach at Illinois State was Will Robinson, the 1st African-American coach in D-1 history: how big a deal was it at the time, and what kind of relationship did the star have with the coach? It was a big deal. Doug was a sophomore when we hired Will and they developed a good relationship. Doug came from Benton, IL (where he was a neighbor of John Malkovich!), and Will would tease him about the lack of African-Americans in Doug's area. Will had coached quite a few players who went on to success in the pros like Spencer Haywood/Mel Daniels. Will had a unique philosophy: instead of recruiting players at specific positions like guards/forwards/centers, he wanted to have shooters/rebounders/playmakers: Doug was his shooter. There is a statue of both of them in front of our arena.
On January 3, 1973 he scored a school-record 57 PTS in a win vs. New Orleans: was it just 1 of those situations where every shot he put up seemed to go in because he was "in the zone"? He was spectacular in that game: we won in OT so we needed every single point he scored. He had another game with 55 PTS so it was nothing unique for him to score a lot: he has 5 of our top-7 all-time scoring performances!
He finished his 3-year varsity career with 2240 PTS: what made him such a great scorer, and do you think that anyone will ever break his record? We had a player named Tarise Bryson who was on pace to break the record before getting injured as a senior. The amazing part is that Doug set the career scoring record after only 2 seasons! From what people said, Doug was always in motion and when he got the ball he had the quickest 1st step that you could imagine. Back then they played in those Converse canvas shoes: I cannot tell you how many shoes he went through every year from tearing them up! He was deadly from the top of the FT circle and was terrific on backdoor plays: he was like a blur. Someone wrote a song about him after the Olympics and it was quite a hit in the local area. He worked hard at improving his reaction time and was great on fast breaks: he was the total package.
He was named All-American and Academic All-American during each of his 3 years: how did he balance his work on the court with his work in the classroom? He had a terrific competitive desire, which I am sure he still has today. He would go to class and some people would call him a jock, so he would make a point of getting a better score in the class than they did! He left before graduating but made sure to pick up his degree after his playing days were over. He is in the Academic All-American Hall of Fame.
He was selected 1st overall by Philly in the 1973 NBA draft: did he see that as a validation of his college career, or the realization of a lifelong dream of reaching the NBA, or other? We all knew that he was great and we were hoping that he would make the NBA, but after the Olympics he was on the cover of Sports Illustrated. By then there was a dawning that he would be really special, and to be drafted #1 in that era from a basketball-obscure place was just amazing. You expect #1 picks to come from blueblood places like Duke/UCLA: we had a very average season and did not even play in the NCAA tourney.
In Game 6 of the 1977 Finals vs. Portland George McGinnis missed a jumper with 4 seconds left in a 2-PT loss to Portland as the Blazers won the title (their only 1 to date): where does that rank among the most devastating losses of his career? I am sure that it must have been a great disappointment because everyone wants to win a championship.
He was a 4-time All-Star during his 8-year NBA career and averaged 17.9 PPG, but only had 3 seasons of 60+ games due to various injuries: how good a player do you think he would have been if he could have stayed healthy? Even with his injuries he still had some great stats: some people think that he could have been like the gold standard for guards at the time (Jerry West). When he was actually able to play he had a terrific career. I do not know if they had weight training back then but his quickness took its toll on his legs. He arrived on campus around 6'2" as a 1-year high school starter but by the time he was a sophomore he had grown to 6'6". Back then you never heard of 6'6" guards: that was the size of the centers!
His career 83.3 FT% remains in the top-100 all-time: what was his secret for making FTs? I do not know about any secrets but he had good hand-eye coordination and practiced a lot. He was motivated and wanted to make himself into the best. He is highly intelligent: I remember our AD telling a story about Doug.  They were watching TV 1 summer and Doug would just keep predicting which players would be drafted by which team over and over: he got the entire 1st round correct!
In the 1989 Eastern Conference 1st round as coach of the Bulls, Michael Jordan made his famous series-winning shot at the buzzer in a 1-PT win at Cleveland in the decisive Game 5 (despite the Cavs winning the season series 6-0): how did he get along with Jordan, and where does that rank among the greatest wins of his career? 1 of my interns ended up becoming the PR guy for the Bulls and our broadcaster later became a broadcaster for the Bulls, so they would let me come in and see the games quite often. Doug is 1 of those guys who never forgets you, even after 20 years.
In the 2012 season Eastern Conference 1st round as coach of the 76ers, he led his team to an upset of the Bulls (the 5th time in NBA history that a #8-seed beat a #1-seed in playoffs): how did his hometown friends feel about him ruining their season?! I imagine they did not like it, but it is a business after all.
He later got into TV: what do you think of him as a broadcaster? I was really happy when he did that. He was such a celebrity as a senior that even I wanted to call him "Sir"! Every time we had a road game all the columnists in the area wanted to arrange an interview with him. I was updating our stats on a plane ride 1 day and Doug asked me if he could try to do it because he wanted to learn. He had a curious mind: he was interested in every facet of the game and you could see how analytical he was, which is why it is no surprise to me that he became an award-winning TV analyst.
When people look back on his career, how do you think he should be remembered the most? I remember him as the best player and as fine an alumni representative that any college could want. He represented us with class as both a player and alum and set a standard that is awfully hard for people to reach, not just as an athlete but also as a student. The court is now named for him so the school honors him in return.