It was quite an eventful spring for the GW basketball program: the men's team finished off March with a 16-PT win over Valparaiso to clinch the NIT title, and in April the women's team hired Jennifer Rizzotti to become its new head coach.  Rizzotti first came to national prominence as the starting PG at UConn when they went 35-0 and won a national title in 1995.  The following year she was named national POY and won the Honda-Broderick Cup as the Collegiate Woman Athlete of the Year.  She was a 2-time All-Star in the American Basketball League, then won back-to-back WNBA titles with the Houston Comets in 1999/2000.  After spending 16 years as head coach at Hartford, she is ready for her new challenge with the Colonials.  HoopsHD's Jon Teitel got to chat with Coach Rizzotti about trying to help her old college coach win a gold medal this summer and the special relationship she has with 1 of her assistant coaches.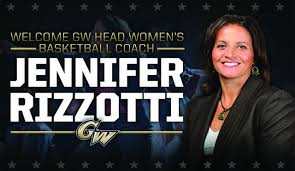 Take me through the 1995 NCAA tourney title game as the starting PG for UConn:
You scored 15 PTS and made a play with 2 minutes left that ended up on the cover of Sports Illustrated (you grabbed a rebound, drove the length of the court against Michelle Marciniak, made a cross-over dribble, and sank a lefty layup to take a lead that your team never gave up): did you realize what you were doing as you were doing it or did your natural instincts just take over? It was definitely natural instincts.
You had a 6-PT win over Tennessee to finish 35-0 and clinch the 1st national title in school history: how were you able to stay focused for every single game, and what did it mean to you to win a title? We remained focused all year and just tried to make every play count down the stretch. We had great leadership and were disappointed after missing the Final 4 the previous year so our seniors were on a mission. Coach Geno Auriemma is a master motivator: we never felt bored or uninspired and everyone was on the same page. To win the ultimate prize was super-rewarding because we had put a lot of work into it. We were the true meaning of the phrase "the whole is greater than the sum of its parts".
In 1996 you set school records with 212 AST/112 STL: what is the key to being a good PG? For me it was about understanding my role and knowing when to set up my teammates because I had great players around me. At 5'5" I was an undersized player and had to compensate by outworking my opponents. My role was to be a spark on both ends of the floor.
In the 1996 Final 4 you scored 17 PTS while playing the entire 45 minutes but Tiffani Johnson blocked your shot from the top of the key with 5 seconds left in a 5-PT OT loss to eventual champion Tennessee: where does that rank among the most devastating losses of your career? It was probably 1 of the worst if not the worst losses, and not just because we did not get to repeat as champions. It also meant that I and our other seniors' season was done and our college careers were over.
You finished the season by being named national POY, Academic All-American of the Year, and won the Frances Pomeroy Naismith Award as the best women's basketball player in the country under 5'6": what did it mean to you to receive such outstanding honors? We were always taught that if the team was successful then the individual accolades would follow: it just showed how good/balanced a team we had. It was nice for me to be valued by the coaching community/media even though I was not the best scorer in the nation: I was proud of that.
Take me through the magical 1999 WNBA Finals with Houston:
In Game 2 you had a 2-PT lead with 2.4 seconds left before Teresa Weatherspoon banked in a 50-footer at the buzzer for a 1-PT win to even the series: where does that rank among the most amazing shots that you have ever seen? It was amazing: it has to be #1 in terms of shots that I ever witnessed in person. We had already won Game 1 so we were getting ready to celebrate winning a championship: when the ball went in it was a shock to all of us. However, my future AD at Hartford saw me play in that series and ended up hiring me, so I guess everything happens for a reason!
In Game 3 you had a 12-PT win over New York to win the 3rd straight title in franchise history: did you just simply have more talent with legends like Cynthia Cooper/Sheryl Swoopes/Tina Thompson? Absolutely: I have never been on a team that had more great players on the court at the same time. Regardless of who else was playing around them, they were all individually talented and could each be the best player on the floor at any point in a game.
You beat New York in the 2000 WNBA Finals to clinch Houston's 4th straight title: what was it like to be part of a dynasty, and was it weird to be teammates with Tiffani Johnson after she ended your college career 4 years earlier? I learned a lot when I turned pro about how to leave things on the court once the game ends. I remember my 1st day in the locker room with the New England Blizzard in the ABL: I saw former Tennessee player Latina Davis and we just laughed about the 1996 title game. It was amazing to be in Houston during that era: the dynasty started well before I got there but I was proud to win a title at every level of my career from high school through the pros.
In 2013 you were inducted into the Women's Basketball Hall of Fame: where does that rank among the highlights of your career? That is up there. I was honestly surprised because there have been so many amazing players who came before me. It was a humbling experience and allowed me to reflect on my entire career as a player/coach.
In April you were named head coach at GW after setting an America East-record with 305 wins in 17 years as head coach at Hartford: why did you make the switch, and what is the biggest difference between the 2 programs so far? I feel that timing is everything. I was very fortunate to have been able to stay at Hartford for a long time: I was able to raise my family and I also got to grow as a coach. I was ready for a new challenge and a change of scenery: I wanted to be in a conference that is among the best in the country and where we can recruit a really high level of student/athlete. The kids at GW are grounded/intellectually stimulated and I look forward to spending a lot of time with them.
You have been helping your college coach Geno Auriemma prepare team USA for the 2016 Olympics: what makes Geno such a great coach, and how did you feel when you heard him describe you as a successful coach because you were "born to do this"? It is a tremendous honor to be respected by the best coach in the game right now. What he has accomplished at UConn is nothing short of amazing: to be able to build a dynasty up there and then sustain it year after year with different players is not easy. It has also been very special for me to see him succeed at the national level by adjusting his style/message to fit the pro game and coach players who did not grow up in his system. It is an honor that he asked me to be a scout and help him try to win another gold medal.
You met your husband Bill Sullivan in college and he became 1 of your assistant coaches at Hartford: what is the best part of having your husband on your staff and what is the "not best" part?! We had a chance to build a tremendous program with a winning tradition at Hartford and we did it the right way with a true commitment to improving our players. To come to another school and try to do it again is great. I share my vision with my life partner and work with him every day. We do not always agree, which can be tough, but I want a staff who challenges me and gives me a new way of thinking. We try to keep the coaching and family relationships separate.