The 2016 US Olympic basketball team is becoming known more for all of the superstars who will NOT be playing in Rio this summer due to injuries and other reasons: LaMarcus Aldridge, Steph Curry, Chris Paul, etc. Fortunately, there are plenty of teenagers ready to represent our country this summer as the 2016 USA Basketball Men's U17 World Championship Team was announced on Tuesday. 1 member of that team who is getting ready to head to Spain is Wendell Carter, Jr., who also happens to be 1 of the best high school juniors in America. Earlier today HoopsHD's Jon Teitel got to chat with Wendell about winning a gold medal in 2015 and when he is going to decide what college to attend in 2017.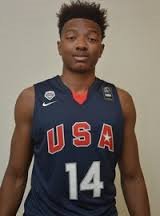 Last summer you won a gold medal with team USA at the FIBA Americas U16 Championship in Argentina: what did it mean to you to win a gold medal? It felt great to play the game I love for my country.
In March you helped lead Pace Academy to its 1st-ever Georgia Class AA state title with 30 PTS/20 REB/3-3 3PM in a win over Manchester: how were you able to play your best when it mattered the most, and how good a 3-PT shooter are you? I guess they were just falling that night! I tried to do all the small things (such as diving for loose balls) and play as hard as I could.
You are 1 of 4 guys on the U17 roster who are 6'10" (along with Jordan Brown/Jaren Jackson Jr./Austin Wiley): how much of an advantage will your team's height be when facing international opponents? It will play a big role. We have a lot of guards who can push it so we just have to run the floor and then we can score with ease.
Your USA Basketball head coach is Don Showalter: what is it like to play for him, and is there any extra pressure knowing that he is a perfect 38-0 as coach of the USA Basketball U16 and U17 teams? He is a phenomenal coach: probably 1 of the best that I have ever played for. It does put pressure on me knowing that he is 38-0, so we just have to play together to keep him undefeated.
You are 1 of the top-ranked recruits in the Class of 2017: what schools are you looking at, and when do you plan to make a final decision? I am looking at several schools including Duke/Kentucky/Harvard/Cal/Georgia/Georgia Tech.  I plan to make my decision on signing day so that I can take my time to make the right decision.
That decision might also involve USA teammate Gary Trent Jr., as you recently said "it's almost guaranteed that we'll be going to college together": how did you 2 become friends, and why do you have such great on-court chemistry? I played with him for the 1st time on the U16 team: we played great together and each of us knocked down a lot of shots.
You have a 3.8 GPA and are active in your school's drama department: how do you balance your basketball with your academics with your acting? I go to my teachers for help when I need it and take advantage of the opportunities that I have. They know that I spend a lot of time on basketball. I have not made acting a priority quite yet but I plan to do it in the future.
You have said that the best player you ever faced is incoming Duke freshman Harry Giles: what makes him such a great player, and how do you think that he will fit into the Blue Devils' style of play? He is a very versatile player who can run the court and finish very well. I think that he will be even bigger and better for Duke after coming back from an injury.
Your father Wendell Sr. played basketball professionally in the Dominican Republic and your mother Kylia played college basketball at Mississippi: who is the best athlete in the family? Probably my dad. My mom only played because she was tall but she was focused more on her education.
Your favorite basketball team is the Cleveland Cavaliers: do you think that they are going to beat Golden State in Game 7 on Sunday night? Cleveland is going to take the title and LeBron is going to do his thing!