Most players in last week's NBA draft were just happy to get picked by a team, especially those in the 1st round who became instant millionaires.  However, a half-century ago some college graduates were so good that they had their choice of which league to play in.  Bob Netolicky finished his college career as an All-American at Drake, but after being drafted by the NBA's San Diego Rockets he decided to join the ABA's Indiana Pacers instead.  He made 4 straight All-Star teams and won 2 ABA titles before finishing his career as 1 of the top-5 rebounders in the history of the  league.  HoopsHD's Jon Teitel recently got to chat with Bob about winning a pair of titles and playing for 2 teams in the same game.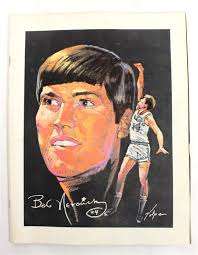 After being named an All-American at Drake you were drafted 18th overall by the San Diego Rockets in 1967 (1 spot behind Phil Jackson) but decided to join the Indiana Pacers: why did you choose the ABA over the NBA? There were only 8 NBA teams back then and they were even behind bowling in the TV ratings! Even in college nobody talked about joining the NBA. It was just about dollars: San Diego sent me a contract for $12,000…and then Indiana offered me $16,000 and a car. The only NBA players who made big money back then were Bill Russell/Wilt Chamberlain.
You were named an All-Star during each of your 1st 4 years from 1968-1971: how were you able to make such a smooth transition from college to the pros? Our coach Slick Leonard once told me that no matter how good you are you always have to keep improving. In high school you are at the bottom of a yardstick, and if you keep getting better then you might be able to reach the top of the yardstick. You always see some amazing college players who never make it: I was just lucky enough to keep improving exponentially because I had some undeveloped talent as a teenager. I did not play in high school but ended up growing about a foot. Art Heyman went to Duke and was 1 of the first big guards who would slash to the hoop, but he basically reached his peak in college (he was named ACC POY/NCAA tourney MOP in 1963).
In Game 6 of the 1970 ABA Finals you had 14 PTS/13 REB in a 4-PT road win over Los Angeles to clinch the title (Roger Brown scored 45 PTS): what did it mean to you to win a title? The 1st 1 is always the best because you never expect to do it. It was a thrill because we had an unusually talented team. Roger was banned from the NBA, which was a real screw-job. I am writing a book with a couple of other guys to tell the real stories: if we had lost Game 7 of the 1969 Eastern Division Semifinals to Kentucky, then our team would have folded!
In Game 6 of the 1972 ABA Finals you scored 7 PTS in a 4-PT road win over New York: how did the 2nd time compare to the 1st time? We felt like we were the best team in the league.  We also felt that we should have beaten Utah in the 1971 Western Division Semifinals and would have won 4-5 titles in a row.
On November 14, 1973 you played for San Antonio in a home loss to Indiana on a last-second shot, but after the Spurs successfully protested the loss to the ABA Commissioner and the final 30 seconds of the game were ordered to be replayed immediately before the next Pacers-Spurs game on December 2, you had already been traded to Indiana so you played the final 30 seconds of regulation and OT for the Pacers: how weird was it to be 1 of the few pro basketball players to ever play for 2 teams in 1 game?! The funny part is that I never even realized that until 20 years later.
In the 1975 Finals you lost to Kentucky in 5 games: where does Artis Gilmore's Game 3 performance (41 PTS/28 REB) rank among the greatest that you have ever seen? There is a big party weekend for ex-Colonels every year, and they love to invite me to remind them of their victory. 1 year I had breakfast with Artis and he reminded me that he beat me 1 time, so I think that series meant more to them than it did to us.
Your 5518 career REB is #5 all-time in ABA history: what is the secret to being a great rebounder? I could jump really high and I had good timing so rebounding was 1 of my strengths. We had 1 game where Mel Daniels had 27 REB…yet I was still able to get 16 of my own. I cannot figure out how some of the big centers in the NBA today can only get 8 RPG. Slick took me out of a game once in the 2nd quarter and was cussing me out at halftime. I had 13 REB in the 1st half and I asked him why he was mad: he said that I should have had 20!
You were known for living a mod lifestyle and having exotic pets: what did you do with a lion and an ocelot? That was back in my college days, which was a different era. My roommate was in Chicago at a pet shop and said we could buy a lion cub for $75.  He asked me if that was okay and I told him to go for it. She was like a big pet at our fraternity house.
You also owned a popular nightclub called "Neto's in the Meadows": did you do it as a good investment or to have a place to hang out after games or something else? I think I had it both ways. It never made me a ton of money but paid itself off. There were not a lot of bars in town so we leased/remodeled it and for 4 years it was incredible. Fans would actually leave our games at halftime to head over and get a seat at the bar. We had a $1 cover charge and would have a line around the corner. We always gave free drinks to our opponents the night before they played us in an attempt to get an edge on the court. It was a different world back then: if there had been cell phone cameras then we might all be in jail!
You have previously said that David Thompson "was probably as good as Michael Jordan" and that if Michael had tried to guard Roger Brown he "probably would have broken both his ankles": how do you compare Hall of Famers from different eras? You just never saw anyone like these guys. Roger's legs were shot by the time he made the pros but back in the day I saw him go head to head with future Hall of Famer Billy Cunningham: Billy scored 12 PTS and Roger had 47! Roger would come back to scrimmage against the current Pacer team when he was in his 40s: he would tell the guys what move he was going to do, then go out and do it and put the ball in the basket. David could jump through the roof but developed a bad drug habit (which hurt a lot of other players as well), and then he had some knee injuries.
You also previously said that you learned more about basketball from guarding Connie Hawkins in 1 game than from an entire season of playing college basketball: what made the "Hawk" such a great player, and what was it that you learned from him? I was blessed with really big hands, which Connie also had, so I watched the way he was able to play by palming/cupping the ball. Very few players can do that.
In 1997 you were named to the ABA All-Time Team: where does that rank among the highlights of your career? It was so much fun to be at the 30th anniversary reunion and was quite an honor. There are some pretty heavy hitters on that list like Julius Erving/George Gervin!