We have already lost so many amazing people in 2016 to violence, disease, and old age, and July is being no kinder with the news that Hall of Famer Nate Thurmond passed away yesterday at the age of 74 after battling leukemia. At Bowling Green he became the only player in MAC history to ever lead the conference in rebounding for 3 consecutive seasons, then continued to prove his rebounding prowess by grabbing 42 in a game against the Pistons in 1965. Rather than just a big guy who hit the boards, he demonstrated his endurance by playing all 63 minutes of a 3-OT game in 1969, then showed off a little of everything in 1974 by becoming the 1st player in NBA history to officially record a quadruple-double. HoopsHD's Jon Teitel had the privilege of interviewing Mr. Thurmond a few years ago, and is proud to share this never-before-published interview below. We send our condolences to his family/friends as we salute 1 of the best players in the history of the sport.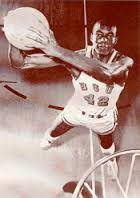 1 of your Akron Central High School teammates was fellow future Hall of Famer Gus Johnson: how dominant was your team back in the day? Gus was a tremendous player even back then: he was a lot better than I was. 1 year we went into the Ohio state playoffs 1with an undefeated record and played a school called Liberty. They pressed us all game long and we did not have a good scheme to get the ball upcourt, which was our downfall in the only loss of our season.
What are your memories of the 1962 NCAA tourney as a player at Bowling Green (you had 21 PTS/14 REB in a 1-PT loss to Butler)? I do not have a lot of memories but I recall that Butler was an even smaller school than us so were kind of shocked by them. When it is 1-and-done in the tourney if you have an off night and the other team is on then they can pull off the upset, which is kind of what happened.
What are your memories of the 1963 NCAA tourney (you had 16 PTS/20 REB in a 5-PT win over Notre Dame)? That was an eye-opener for me because Notre Dame was a much bigger school. When you play against a team from a good conference they play much rougher so there were not as many fouls called that night. It was a credit to our coach.
You were a 3-time 1st-team all-conference pick and an All-American in 1963: what did it mean to you to win such outstanding honors? It just meant that my career was progressing as an individual, but you cannot get all of those accolades unless your team is successful so it was validation on both of those points. It also showed that I had been practicing hard and that it was paying off. I played with some great players, including Butch Komives/Elijah Chapman.
You remain the only player in MAC history to lead the conference in REB for 3 consecutive seasons: did you realize at the time how prolific a player you were, and do you think that anyone will ever break your record? I had worked hard on my game and began to have some success. I hope the record is not broken…but as I get older it does not matter that much to me!
In February 1965 you set a regular-season record that still stands with 18 REB in 1 quarter vs. Baltimore, and in November 1965 you had a career-high 42 REB in a game vs. Detroit (becoming the only players besides Bill Russell/Wilt Chamberlain to ever have more than 40 REB in a game): what was your secret for being a great rebounder? You have to have the "desire to be a center". 1 of your jobs is to rebound the ball, otherwise you do not get to go back on offense. You also need to understand little things like the way the ball bounces off the rim, how to get position, etc., all of which I learned from my high school coach.
In Game 6 of the 1967 Finals you scored 12 PTS in a 3-PT loss at home to Philly: where does that 76ers team (who won a then-record 68 regular season games) rank among the greatest teams that you ever saw? There is no question that they were a really good team but we still could have beaten them in that series. Rick Barry never let me forget the time that we ran a pick-and-roll and instead of passing to him and I ended up taking a shot that was blocked by Wilt. I will say to my dying day that it was goaltending but the refs did not call it that way. I could kind of negate what Wilt was doing, which left us in a 4-on-4. By "negate" I am not saying that I could stop him, but I could at least bring down his output.
In February 1969 you set a record that stood for over a decade by playing all 63 minutes of a 3-OT 5-PT win over the Lakers: how on earth were you able to play the whole game without taking a rest? I was the kind of guy who once I started the season and had 10-15 games under my belt I was in shape and could play a whole game. I perfected the art of learning when I could take a breather. Occasionally I would not go as hard on the offensive boards as a I could have but I would do my thing on the defensive boards. When I was playing with Wilt I remember that he played almost every minute of the entire season and that is the mentality I looked to have. After Wilt left our team had no money left for a good backup center so I did not look to go to the bench.
After being traded to Chicago in September 1974 you had 22 PTS/14 REB/13 AST/career-high 12 BLK in your Bulls' debut (a 5-PT OT win over Atlanta), becoming the 1st player in NBA history to officially record a quadruple-double: how big a deal was it at the time, and were you worried that you had raised the bar too high for your new fans? At the time nobody knew: if my recollection was right it was not even discovered until 2-3 days later! I was trying to prove to the Warriors that they had made a mistake by trading me after I spent 11 years with them. I did raise the bar too high because I was not used to that offense: standing at the foul line and feeding our forwards was not the best use of my talents.
You were named to the All-Defensive team 5 times in a 6-year span from 1969-1974: what was your secret for being a great defender? In high school our coach evaluated us by how we played man-to-man defense: if I scored 20 PTS but my opposing center outscored me then I was a liability to our team. I was not always the highest scorer out there but very seldom did I let my opponent outscore me. My senior year I remember playing in a pro-am game against Bill Russell, who said that it is demoralizing to your opponent if you can score on him and he cannot score on you.