Penn has had only had 1 winning season in the past decade so they are in dire need of some good recruits to help restore the program to its past glory.  1 of those incoming freshmen who hopes to make the Quaker alumni proud is Ryan Betley out of Downingtown West High School.  He committed to Penn after his junior year, then finished his senior year by breaking his school's record for career scoring.  HoopsHD's Jon Teitel got to chat with Ryan about why he chose Penn and what he knows about Coach Steve Donahue.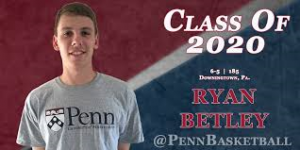 On Twitter you are listed as "Metta World Peace": what made you choose that name? I was just hanging out with some friends and we were thinking about funny Twitter names: he was a tough guy on the court.
You were known for being a shooter at Downingtown West High School: what position did you play in high school, and what position do you think will be your best fit in college? I played SG in high school so I think that will be my best fit. I am 6'5" and can shoot, which allows me to be versatile on defense.
You finished your high school career with 1333 PTS, passing Eddie Barton as the all-time leading scorer in school history: what is the secret to being a great scorer, and do you think that anyone will ever break your record? I think that someone will eventually break my record. You have to be able to shoot the 3: it is an easy way to get a lot of points. It also helps if you can get to the rim and make free throws.
You were a 2-time team captain: what is the key to being a good leader? You need to be vocal in the locker room and competitive on the court. I tried to push my teammates to be better.
You received scholarship offers from several Ivy/Patriot schools: what made you pick Penn? It has great history and a great education: I want to study business and you cannot beat Wharton. I can also see myself fitting into their offense very well.
You announced that you were going to Penn in July of 2015: why did you make your decision so early in the recruiting process? I just wanted to trust my gut. I had liked Penn for a while and did not want to miss out by having someone commit before me. After evaluating some other schools I figured that my best option was to go to Penn.
What do you know about Coach Steve Donahue? I know that he is a Philly-area guy. I also know a lot of people who know him so he is a familiar face around here. He took Cornell to the Sweet 16 and coached at BC after starting his career as a JV coach at Penn.
Last month Coach Donahue announced the rest of your freshman class (AJ Brodeur/Devon Goodman/Ray Jerome/Zack Kaminsky/Jakub Mijakowski): which of them do you know the most about, and how much pressure is there on your class to turn things around for a program that has only had 1 winning season in the past decade? I played AAU ball with Devon so I am closest to him, but a couple of weeks ago I was on campus and got to see most of the other guys: the only 1 I have not met yet is Jakub. We got to hang out for a week, which was nice. I do not think there is pressure on our class: our whole team wants to win and we just want to make the team better and return to that winning tradition that the older alums are used to seeing.
You also played golf in high school: are we going to see you as a 2-sport athlete for the Quakers? I will be a 1-sport athlete.