Penn has had only had 1 winning season in the past decade so they are in dire need of some good recruits to help restore the program to its past glory. 1 of those incoming freshmen who hopes to make the Quaker alumni proud is AJ Brodeur out of Northfield Mount Hermon School. He committed to Penn after his junior year, then finished his senior year by winning a conference title. HoopsHD's Jon Teitel got to chat with AJ about why he chose Penn and what he knows about Coach Steve Donahue.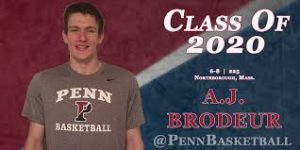 You received offers from schools like GW/Notre Dame: why did you choose Penn? As the recruiting process started to wind down I began looking closer into each school and concluded that the Ivy League was where I wanted to end up. I narrowed it down to Harvard/Penn/Yale and then took visits to all 3 schools. I chose Penn because of all that it had to offer: location, facilities, city, etc. Coach Donahue just finished his 1st year there and I really bought into his vision and what he is doing. I felt that he could help me become who I wanted to be as a player/person.
Coach Donahue 1st offered you scholarship when he was at BC: how have you bonded with him over the past few years and what makes him such a good coach? A lot of my high school's own offense was taken from him, so knowing how the system works and seeing that it also works at the college level definitely makes me feel comfortable. He has kept in contact with me and some of my teammates: it has been a good process.
You committed last July: why did you make your decision so early in the recruiting process? My thought process was to commit before my senior year of high school. I had more information than I needed and felt like I was ready to make my decision. It would not have made sense to me to be playing as if I was uncommitted and still wanted to be recruited: I did not want to waste anyone's time.
You played PF at Northfield Mount Hermon School: what position are you most comfortable at, and what position do you think will be your best fit in college? I feel very comfortable playing the 4 or 5. I played in the post a lot growing up with my back to the basket, but I started to face up more and extend my shooting range during high school. I expect to play the 4 in college but want to play wherever the coach sees fit.
You were team captain as a senior: what is the key to being a good leader? You need good communication skills and have to set a good example: if 1 of these factors is not your strong point then the other 1 can still help. You have to mean business and get things done the right way.
In April you helped lead your team to a NEPSAC Class AAA championship with a 10-PT win over St. Thomas More: what did it mean to you to win a title? I cannot remember the last time I felt prouder: that meant everything to me. We were not expected to do as well this year as we had over the 2 previous years and a lot of people felt that we were past our prime. It was 1 of the greatest experiences that I have ever had.
Penn already has 2 Northfield Mount Hermon alums already on the roster (Jackson Donahue/Colin McManus): are you guys just developing a pipeline from Gill to Philly? That would be nice: I would love to have more NMH guys come to Penn! We are known for sending more basketball players to the Ivy League than any other conference in the country. It is the perfect style of basketball for the Ivy League.
What will it be like to face your former NMH teammate Ian Sistare (who signed with Dartmouth) twice a year? It will be fun to play against him. Ian is the hardest working guy who I have ever met: on the court, off the court, out of season, etc. He makes all of the effort plays.
You also played volleyball in high school: are we going to see you as a 2-sport athlete for the Quakers? I wish! Penn men's volleyball is a club team but if they were a varsity team then I would seriously consider it. I only started playing volleyball in high school, but being 6'8" definitely helped. The skill set translates directly over to basketball (vertical leap/lateral movement) so it is a good off-season workout.
Your mother played college basketball at North Adams State: who is the best athlete in family? She was a good athlete who also did a little track. We will see if I can pass her at some point over the next 4 years: I have my work cut out for me!