Next up on our list of Olympic memories is Leon Wood, who loves the sport so much that after retiring as a player he became an NBA referee.  After scoring 42+ PPG as a high school senior, he demonstrated his versatility by leading the nation in AST as a junior at Cal State Fullerton.  After being selected 10th overall by the 76ers in the 1984 NBA Draft he stayed on the West Coast and won a gold medal with team USA at the Olympics in Los Angeles.  HoopsHD's Jon Teitel got to chat with Leon about winning a gold medal and becoming a ref.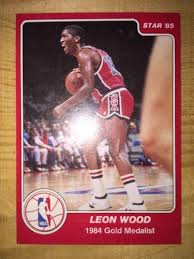 As a senior at St. Monica High School you averaged 42.1 PPG and set a California high school scoring record with 2693 PTS: how were you able to be so dominant, and what is the secret to being a great scorer? My mom went to UCLA so I would take the bus over to Pauley Pavilion in the summer and play against older college/pro players. When I was in 9th grade I got to play against Gus Williams/Paul Westphal/Marques Johnson so going into the school year against my peers I had a lot of confidence. The older guys would slack off me so I got to develop my outside shot.
In 1983 you led the nation with 319 AST at Cal State Fullerton: what is the key to being a great PG? When I transferred from Arizona my coach asked me what my aspirations were. I told him that I wanted to play at the next level and he said I would have to become a PG, which was hard for me to hear after being a scorer for most of my career. However, when you have good players around you who can score, it really allows you to enjoy playing PG.
What are your memories of the 1983 NIT (you had 24 PTS/10 AST in a 4-PT loss to ASU)? I was really looking forward to playing in the postseason as our team got better and better, especially with the chance to go up against my AAU teammate Byron Scott. It was a very close game but they just had a little too much firepower for us.
At the 1983 Pan Am Games you won a gold medal as part of team USA: how were you able to overcome the losses of a couple of great players (Chris Mullin was out after fracturing his foot and Michael Cage had to leave early due to an illness in his family)? It was difficult for me because my own foot injury kept me from trying out but they still named me to the squad. Our toughest game was against Brazil and Oscar Schmidt (the greatest scoring forward I have ever seen) and we only won by a few points. Luckily we had some other great players like Mark Price/Wayman Tisdale/Sam Perkins. Oscar was about 6'8" and could get his shot off very quickly so we put Michael Jordan on him and just tried to lock down everyone else.
In 1984 you won a gold medal as a member of team USA: was it extra-special to play in front of your hometown fans in LA, and where does that team rank among the best that you have ever seen? It was very special: I had to try out along with 80 other guys and Coach Bobby Knight said he would push me to the limit. Each time they announced the cuts they did so in alphabetical order so I had to wait until the very end to see if they would call my name, which was very nerve-racking! We had a 10-game tour against the NBA All-Stars (Magic/Bird/Isiah/etc.) and went 10-0, so we had a lot of confidence going into the Olympics.
After getting drafted by Philadelphia in 1984 you sued the NBA regarding its salary cap and draft provisions, but a judge denied your motion for a preliminary injunction: why did you decide to sue, and why did the judge fail to rule in your favor? My agent knows more about it than I do. The 76ers had 3 1st round picks that year and it was unfair that each of us were forced to sign a minimum deal in order to remain below the salary cap. It was just a procedure to force the team's hand.
In Game 1 of the 1986 Eastern Conference 1st round you scored 5 PTS and Dudley Bradley capped an 18-0 run by the Bullets in the final 4 minutes by banking in a 25-footer at the buzzer in a 1-PT win on the road at Philly: how on earth were you able to make such an incredible comeback, and were you out for revenge against the team that had traded you away only a few months earlier? Philly traded me to Washington and I set new career-highs in scoring during each of my 1st 5 games with my new team. I was the 1st player to wear a headband before the commissioner said I could not wear it! After Gene Shue was fired as head coach, our new coach Kevin Loughery went with the veteran guys and we went on a roll and ended up making the playoffs. Dudley's shot was amazing.
In Game 7 of the 1988 Eastern Conference semifinals your Atlanta teammate Dominique Wilkins scored a game-high 47 PTS, but Larry Bird scored 20 PTS in the 4th quarter to give the Celtics a 2-PT win to clinch the series: what are your memories of that legendary 2-man duel? Dominique went nuts in Game 6 (35 PTS/10 REB) even though Larry had a hell of a game (23 PTS/11 REB in a 2-PT win), so we went into Game 7 just thinking that if we could win at home we could make the conference finals. I see replays of it on TV every so often. Dominique gave it his all to keep us in the game but Larry just matched him in an old-fashioned shootout: it is rare to have 2 guys involved who played the same position and guarded each other most of the game.
You finished in the top-10 in 3P% twice during your career: what is the secret for making shots from behind the arc? I had been making long shots since grammar school even though we did not have a 3-PT line back then. I always felt comfortable shooting from distance but looking back I would have spent more time working on my mid-range game. It is hard to make them if you come into the game off the bench, but I felt just as good as anybody after I got warmed up.
After retiring you became 1 of a handful of ex-NBA players to become an NBA referee: why did you decide to become a ref, and how do you like it? Some guys kind of talked me into doing that after playing overseas in the Philippines: they thought that since I was an ex-player (like Bernie Fryer) I would make a good ref. I signed up to do it for 1 season at the high school level: I found that I liked it but thought it was too slow. The next year the NBA invited me to work some summer league games: it was kind of funny to end up officiating games involving some of my former teammates! After getting hired/having to make calls and then watch Michael Jordan laugh at me was tough: I was not sure if he was making fun of me or not. Now I feel comfortable because the guys from my 1st few years as a ref have retired, but guys like Byron/Doc Rivers went on to become coaches. Most players go into coaching but the ref gig just fell into my lap.