The National Sports Collectors Convention (nsccshow.com) is an annual summer gathering of collectors/dealers who have a passion for trading cards, autographs, and any kind of memorabilia that you can think of. First formed in 1980, it is now the premier collectibles industry event that attracts a majority of the licensing agencies from around the professional sports world. The 37th "National" was held during the 1st week of August at the Atlantic City Convention Center, and next summer it will head back to the Midwest in Chicago. HoopsHD's Jon Teitel attended this year's event and will present photo essay installments of all the college basketball merchandise he saw in person.
We now come to the ACC portion of our show.  Mike Stoner of Stoner Sports & Collectibles (www.stonersports.com) is the king of the mid-Atlantic region: he went to Duke, 1 of his brothers went to North Carolina, and his family/friends are alums of most of the other schools in the conference.  He makes a point to always root for ACC teams…whenever they are not playing the Blue Devils.  Clemson is trying to lead a conference resurgence on the football field, but basketball is still the star of the show due to its rich history.  Here are 3 of my favorite photo collages:
1. This is a pair of signed photos from UNC Hall of Fame coach Dean Smith.  Even though a lot of Dukies hate their neighbors from Tobacco Road, it is impossible to deny the greatness of the namesake of the "Dean Dome".  The poses are great, the signatures are great, and the price is $395.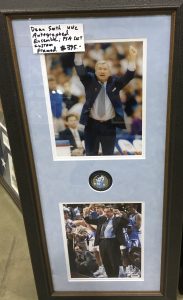 2. Speaking of Coach Smith, this piece is dedicated to his 1st NCAA title team in 1982.  They were so stacked with talent that a ridiculous TWELVE members of the roster were eventually drafted by the NBA.  They beat a pair of #2 teams in the regular season (Kentucky/Virginia) as Michael Jordan was named ACC ROY.  They beat Ralph Sampson by 2 PTS in the ACC title game, then beat Hakeem Olajuwon/Patrick Ewing by a combined 6 PTS in back-to-back Final 4 games as James Worthy was named NCAA tourney MOP.  In addition to a replica championship ring this includes photos of Worthy with the net around his neck, Jordan's famous title-winning shot, and a photo of the entire team.  The shadow box frame makes this a little pricier than normal, but find me 1 Tar Heel fan who would turn down a chance to own this for $325.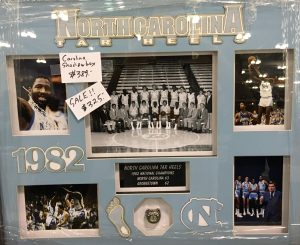 3. Have no fear Duke fans, I saved up something for you too.  The final item is Coach K's most recent NCAA title team from 2015.  They might not have had as strong a bench as the 1982 Tar Heels or as much veteran leadership, but their freshman class (Grayson Allen/Tyus Jones/Justise Winslow/Jahlil Okafor) has to be in the discussion among the best in college basketball history.  They also beat a pair of #2 teams in the regular season (Wisconsin/Virginia) as Okafor was named national ROY.  In the NCAA tourney all they had to do was win 3 straight games against Mark Few/Tom Izzo/Bo Ryan to clinch the title as Tyus Jones was named NCAA tourney MOP.  In addition to a replica championship ring this includes photos of Okafor signaling who is #1, the team hoisting the trophy, and Jones on a ladder as he cuts down the net.  The shadow box frame looks delightful, and any Duke fan would have a Devil of a time saying no to this for $325.