The National Sports Collectors Convention (nsccshow.com) is an annual summer gathering of collectors/dealers who have a passion for trading cards, autographs, and any kind of memorabilia that you can think of. First formed in 1980, it is now the premier collectibles industry event that attracts a majority of the licensing agencies from around the professional sports world. The 37th "National" was held during the 1st week of August at the Atlantic City Convention Center, and next summer it will head back to the Midwest in Chicago. HoopsHD's Jon Teitel attended this year's event and will present photo essay installments of all the college basketball merchandise he saw in person.
There are websites, there are descriptive websites…and then there is Wayne Otto's website.  He may call his company Pro-Am Sports, but when people can find you online at www.gamewornuniforms.com, you kind of know exactly what you are getting.  He usually tries to get his jerseys directly from the team, as that is the easiest way to know that they were worn during a game.  However, the Duke jerseys that caught my eye were acquired from a sales rep for a jersey company called Sand Knit.  The sales rep would show up every fall with a new set of jerseys and then take the old set of jerseys home with him.  The 2 below were part of a set that the guy kept stored in his garage for 28 years!
1. The 1st is a jersey worn by the alluringly alliterative Alaa Abdelnaby.  He moved to the US at age 2 after being born in Egypt, became a McDonald's All-American in 1986, then came to Durham and was named 3rd-team All-ACC while scoring 15.1 PPG as a senior.  In his final game in a Blue Devils jersey he scored 15 PTS in the 1990 NCAA title game, but it was not enough as UNLV rolled to a 103-73 win.  Props to Wikipedia for his hilarious comment on Duke's rigorous academic requirements: "The only way I can make five A's is when I sign my name"!  Props to Abdelnaby for his college shooting prowess: 59.9 career FG%.  After being drafted 25th overall by Portland in the 1990 NBA Draft, he spent 5 years in the league before playing overseas for a couple of years.  13 may be your unlucky number, but it will take $1300 to get your hands on this #30 jersey.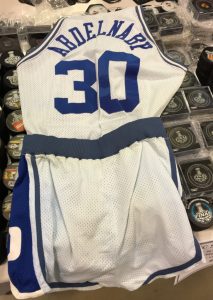 2. 1 of Alaa's fellow teammates was Tommy Amaker, himself a 1983 McDonald's All-American.  He was such a good player as a freshman at Duke that Coach K switched Johnny Dawkins from PG to SG so that he could get both of them onto the court at the same time.  As junior he helped lead the Blue Devils to the 1986 NCAA title game before losing to Louisville. He recorded 18 steals in 6 games that postseason, including 7 in the title game, both of which set records that have since been broken.  That summer he won a gold medal as part of team USA at the FIBA World Championship, then returned to campus to serve as team captain during his senior season.  He finished his career by winning the inaugural NABC Defensive Player of the Year award and was also named 3rd-team All-American.  Amaker set school records in numerous categories (assists, games, etc.) that now belong to other Duke PG legends like Bobby Hurley/Steve Wojciechowski, but until another ACC player has a season of more than 40 games then his name will remain in the conference record book.  His college coaching resume is somehow even more impressive: a pair of NCAA titles as an assistant to Coach K in 1991/1992, an NIT title at Michigan in 2004, and 6 straight postseason appearances at Harvard from 2010-2015.  With 351 career coaching wins at age 51, he might stick around long enough to become a Hall of Fame coach, and if he does then his old #4 college jersey will be a steal at only $2000.