The National Sports Collectors Convention (nsccshow.com) is an annual summer gathering of collectors/dealers who have a passion for trading cards, autographs, and any kind of memorabilia that you can think of. First formed in 1980, it is now the premier collectibles industry event that attracts a majority of the licensing agencies from around the professional sports world. The 37th "National" was held during the 1st week of August at the Atlantic City Convention Center, and next summer it will head back to the Midwest in Chicago. HoopsHD's Jon Teitel attended this year's event and will present photo essay installments of all the college basketball merchandise he saw in person.
If you like autographed photos of your favorite players then you will love Jim DiCandilo of Main Line Autographs (www.mainlineautographs.com).  His formal collecting career began in 1980 when he was a high school senior.  As a kid he would chase down players in person to ask them for an autograph, but now he gets most of his items from agents/show promoters.  Jim's collection is remarkable: Hall of Fame coaches, recent tourney MOPs, famous college basketball moments, etc.  I could have easily listed my top-25 but decided to limit it to 7:
1. The only photo that is not in color happens to be 1 of the most "colorful" images you will ever see of UCLA Hall of Fame coach John Wooden.  With the net hanging around his neck and a sea of players/fans celebrating wildly around him, he has a glimmer in his eye and just the hint of a smile on his face.  I suppose that when you win 10 NCAA titles in 12 years you just get used to it after a while and it really is not that big a deal.  The Wizard of Westwood passed away in 2010 at age 99, but you can own this slice of championship history for the low low cost of $79.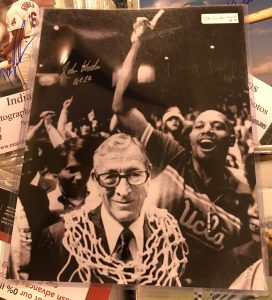 2. When you think about basketball players who were born in Akron, became a McDonald's All-American at St. Vincent-St. Mary High School, were selected in the 1st round of the NBA Draft, and spent part of their career with the Cleveland Cavaliers, the name "LeBron James" comes to mind.  However, he is just following in the footsteps of Jerome Lane, who did everything above before LeBron turned 8 years old.  Lane entered Pitt as a 170-pound freshman in 1985, but by his junior season he became the 1st player 6'6″ or shorter to lead the country in rebounding (13.5 RPG) since 1958.  He was selected 23rd overall by Denver in the 1988 NBA Draft and later played for several teams including the Cavs.  This photo is from a nationally televised game against Providence on January 25, 1988.  After taking a pass on the fast break from PG Sean Miller, Lane drove to the hoop for a thunderous 1-handed dunk that shattered the backboard.  If you do not remember the play then surely you recall color analyst Bill Raftery's famous 4-word description: "Send it in Jerome!"  I do not know how much it cost the school to replace the backboard, but you can have a signed image of 1 of the most famous college dunks ever for a price that will not shatter your wallet: $20.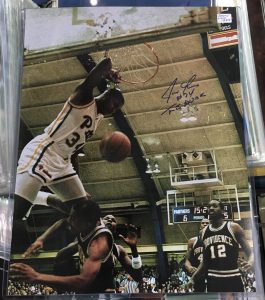 3. Carmelo Anthony spent the past month winning his 3rd straight Olympic gold medal for team USA, but he 1st rose to national acclaim more than a decade earlier as a freshman at Syracuse.  After being name a McDonald's All-American in 2002, he averaged 22.2 PPG/10 RPG, was named national ROY, and led the Orange to their 1st-ever NCAA title in 2003.  He had 20 PTS/10 REB in the title game win over Kansas and was named tourney MOP.  After deciding to turn pro he was selected 3rd overall by Denver in the 2003 NBA draft.  He is a 9-time All-Star, the 2013 NBA scoring champion, and his 24.9 career PPG places him in the top-15 all-time.  It is hard to place a price on the sheer joy we see on his face while wearing his iconic orange headband…but we have to start somewhere so let's call it $79.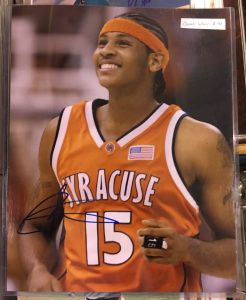 4. Kemba Walker made the 2009 Final 4 as a freshman at UConn and then started all 34 games as a sophomore.  He saved his best performance for his junior year: 1 of the best scorers in the nation at 23.5 PPG, made the game-winning shot at the buzzer to beat Pitt in the Big East tourney en route to being named conference tourney MVP, 1st-team All-American, the Bob Cousy Award as the top PG in the nation, then scored 16 PTS in the NCAA title game while being named tourney MOP.  He left school that spring and was selected 9th overall by Charlotte in the 2011 NBA draft, and last season he scored 22.7 PPG in 7 playoff games for the Hornets.  Sports Illustrated was smart enough to put Kemba on 1 of its regional covers when he was a sophomore, and #15 will double your pleasure at a cost of $30.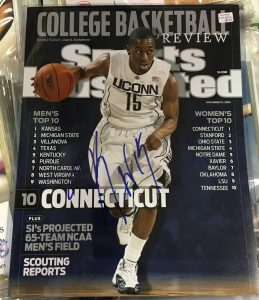 5. I know that it is a strong statement, but Aaron Gordon is probably the greatest dunker to ever not win the All-Star Slam Dunk Contest.  He was MVP of the 2013 McDonald's All-American Game, then went to Arizona and was named Pac-12 ROY in 2014 after starting each of his 38 games for the Wildcats.  After declaring for the NBA draft he was selected 4th overall by Orlando.  My favorite fun fact is that his great-great grandfather was a 7′ tall Native American Osage Indian.  In this photo we see Gordon posing with an Orlando jersey on the night he was drafted.  He decided to wear double-zero as a pro, but the price of this photo is $25.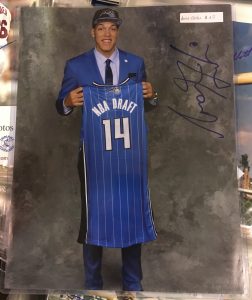 6. The parade of ex-Wildcats continues with Stanley Johnson.  He was a McDonald's All-American in 2014, then went to Arizona and was named Pac-12 ROY in 2015 after starting each of his 38 games for the Wildcats: stop me if this sounds familiar.  After declaring for the NBA draft he was selected 8th overall by Detroit.  In this photo he is seen blowing by a defender as he drives the baseline en route to the basket.  If Johnson ends up as an NBA All-Star, then this will be a steal at $29.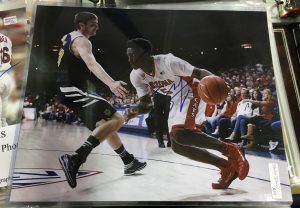 7. Last on the list is the most recent tourney MOP, Villanova PG Ryan Arcidiacono.  As a freshman he was named Big 5 ROY and as a junior he was named Big East co-POY.  Last spring he was named 2nd-team All-Big East and the final assist of his career to Kris Jenkins in the NCAA title game against North Carolina is now 1 of the most famous in the history of the sport.  Normally this would cost you $79, but there is always a deal to be found at the NSCC, and this 1 is listed at half-off for only $39.