The National Sports Collectors Convention (nsccshow.com) is an annual summer gathering of collectors/dealers who have a passion for trading cards, autographs, and any kind of memorabilia that you can think of. First formed in 1980, it is now the premier collectibles industry event that attracts a majority of the licensing agencies from around the professional sports world. The 37th "National" was held during the 1st week of August at the Atlantic City Convention Center, and next summer it will head back to the Midwest in Chicago. HoopsHD's Jon Teitel attended this year's event and will present photo essay installments of all the college basketball merchandise he saw in person.
Season previews begin tomorrow so we will have to finish up with a 3-for-1.  The most expensive college basketball-related item I saw was at the booth of Joe Drelich of East Coast Sports Marketing (start-collecting.com). It also happened to be the best item: a 1981 McDonald's All-American Game ticket stub and program autographed by 18 different people including a high school senior named Michael Jordan and a coach named John Wooden.  For the last 6 years the game has been televised live on ESPN from the United Center in Chicago, but back in 1981 it was not televised at all and took place at Levitt Arena on the campus of Wichita State University.  On 4/11/81 a man named Brent House attended the game, got a bunch of autographs, and eventually realized the pristine prize he had in his personal possession.  A couple of years ago Joe purchased the ticket stub/program in a private sale in western Pennsylvania and he currently has the entire package listed for $20,000.  Here are 3 images of this 1-of-a-kind treasure:
1. This is the cover of the program and the ticket stub itself.  Joe said that none of the top Jordan collectors have this stub, which is probably why he has been offered $5500 just for that piece alone.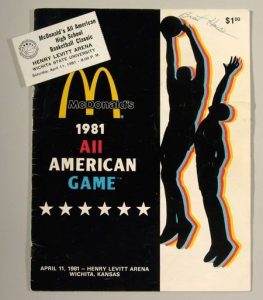 2. This is a close-up of Jordan's image inside the program that he autographed.  What makes this such a desirable item is that fact that it contains a "pre-career" autograph that is an "early exemplar": everyone wants a guy's signature once he is a Hall of Famer, but far few try to get it when the guy is just a high school senior.  Joe said that this autograph has been photographed by representatives of every major collectible company including Jimmy Spence (founder/president of JSA Autograph Authentication Services).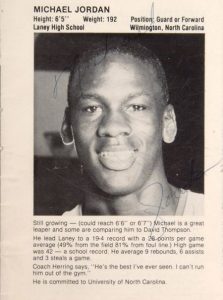 3. This is the scorecard that was actually scored by hand at the game that evening.  As you can see by all the scribbling next to Jordan's name he had a pretty good night (a McDonald's Game-record 30 PTS, including the winning FT with 11 seconds left in a 1-PT win by the East), but somehow the John Wooden MVP award was shared by Adrian Branch (24 PTS) and Aubrey Sherrod (19 PTS).  There were also a pair of future Hall of Famers who joined Jordan that night: Patrick Ewing/Chris Mullin.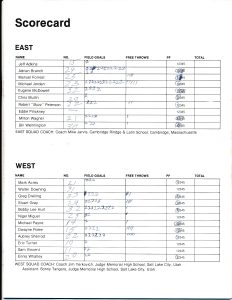 If you like jewelry then you should talk to Scott Welkowsky of Out of this World Memorabilia (www.ringsofchampions.com).  There was not a lot of stuff for under $100, but then again he has stuff that was owned by champions.  Here are 4 of my favorites:
1. My most vivid memory of Antoine Walker was watching him join Paul Pierce to help lead the Celtics to the 2002 Eastern Conference Finals, but 6 years prior to that he helped lead Kentucky to the 1996 NCAA title.  He had 11 PTS/9 REB in a 76-67 win  over Kentucky, then turned pro and was selected 6th overall by Boston.  This original game-worn jersey was signed by Walker and inscribed "1996 NCAA Champs!": it is on sale for $2500. 
2. Speaking of the Wildcats, here are a pair of genuine championship game rings.  The 1 on the left is from 2014 when Coach John Calipari reached the title game before a 60-54 loss to UConn.  The 1 on the right is a 10-carat gold ring from 1998 when Tubby Smith reached the title game and then finished strong with a 78-69 win over Utah.  If you like finishing 2nd then the 1 on the left is $1850; if you like finishing 1st then the 1 on the right is $5500.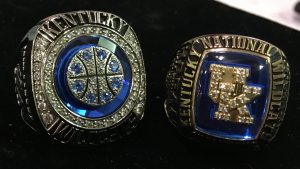 3. Forget a Rolex: this is the watch that will impress your friends.  This shiny watch was awarded to the 1992 Duke coaches and staff in honor of their 2nd consecutive NCAA title.  I doubt that Coach K hocked this 1 because he was short on cash, but it will cost you $375 to find out.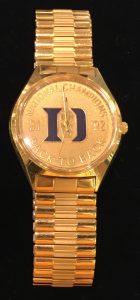 Sal Dichiera of Amazing Adventures (http://stores.ebay.com/amazing-adventures) took me on an amazing adventure back in time.  Here are 4 of my favorites from the 1940s/1950s:
1. This is a schedule for the UCLA basketball team from the 1957-1958 season.  You think that strong non-conference scheduling is a new thing: check out a December 1957 trio of games against Oklahoma/Michigan State/Ohio State!  These types of schedules came with the original program cover art, but the company who made them eventually went out of business.  Sal deals with a lot of paper collectibles: to find something so paper-thin from the archives is very rare, which is why this 1 is available for $150.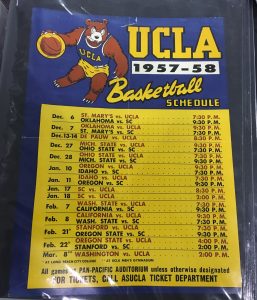 2. However, the kings of California college basketball during the 1950s were located several hours north of UCLA at the University of San Francisco.  The Dons won back-to-back NCAA titles in 1955/1956 led by a pair of future Hall of Famers in KC Jones/Bill Russell.  This photo of various players on the team from the 1954 school yearbook includes Jones up top and Russell palming a pair of basketballs right in the middle where he belongs.  Sal was able to get his hands on a 4-year set of yearbooks, and they can be transferred to your own hot little hands for $600.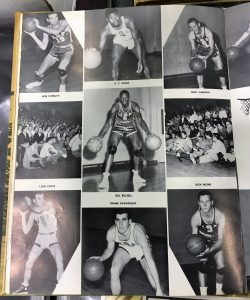 3. The NCAA tourney is now the biggest spectacle in the sport, but back in the day the NIT was where everyone wanted to end their season.  This is a program from the 1944 NIT: an 8-team field that concluded with St. John's defending its home court with a 47-39 title game win over DePaul in Madison Square Garden.  The handwritten scores of the quarterfinal games on the left side of the page are a bit annoying, but the interior wide shot of MSG and the trophy front and center are quite lovely.  This program may have only cost 15 cents during WWII, but until WWIII rears its ugly head it will take $150 to bring this home.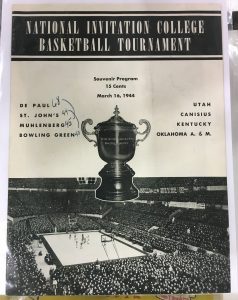 4. If you think Kris Jenkins gave us an exciting NCAA title game last spring…you are correct, but back in 1944 we had another doozy with Utah beating Dartmouth 42-40 in OT.  The 8-team field featured Dartmouth/Catholic/Ohio State/Temple in the East and Utah/Iowa State/Pepperdine/Missouri out West.  This program from the Eastern Regional shows a woman standing on a book to place a crown on the head of a tall basketball player who is bending down so that she can reach high enough.  Feel free to keep waiting for Dartmouth to make another title game if you have some time on your hands, but if not then send Sal a check for $150 immediately.