CLICK HERE for all of Hoops HD's preseason previews, articles, and interviews
We continue our 2016-17 season preview interview series with new San Francisco assistant coach Derrick Phelps.  You might remember him from such championships as the 1993 North Carolina Tar Heels, thanks to the most talked-about timeout in NCAA tourney history.  In addition to winning an NCAA title as a player for Dean Smith, he also won a CIT title last spring as an assistant to Kyle Smith at Columbia.  Coach Smith headed west after being hired as head coach of the Dons last March, and he brought along his assistant to help him build a contender in the WCC.  HoopsHD's Jon Teitel got to chat with Coach Phelps about winning a title and building a coaching resume.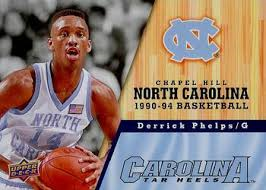 In 1990 you were named a McDonald's All-American: which of your fellow honorees impressed you the most (Grant Hill/Ed O'Bannon/Khalid Reeves/other)? At the time it was O'Bannon, for sure. I played against Grant in college when he was at Duke and Khalid was my teammate in high school so I went against him every day in practice. My future Tar Heel teammates Eric Montross/Clifford Rozier were impressive as well. It was a real big year for NYC that year: we had 4 McDonald's All-Americans.
You played for Coach Dean Smith at North Carolina: what made him such a great coach, and what was the most important thing that you ever learned from him? He was always prepared for any situation that you could think of. In practice we prepared every day for different situations based on time/score. He always watched a lot of film and would bring me in to look at whoever I would have to defend in our next game. As a PG I was an extension of him on the court so I had a special connection with him. When I was a freshman my teammate King Rice told me that when you get into a rhythm/flow you will end up calling a play in the heat of the moment before Coach Smith would call out the very same play.  It eventually happened, which was very special to me.
In the 1993 NCAA title game you scored 9 PTS in a 6-PT win over Michigan: what was your reaction when you saw Chris Webber signal for his infamous timeout, and what did it mean to you to win a title? My 1st reaction was that the game was over because we were going to get 2 FTs and the ball back. We knew that they did not have any more timeouts so I was shocked to see Webber call a timeout. You prepare the whole preseason/regular season to win a title so accomplishing your goal with the guys you run hard with every day is great. It was 1 of the best things to ever happen to me on the court.
In the 1994 NCAA tourney you scored 3 PTS before Danya Abrams hit you in the head and knocked you out of the game with a concussion in a 3-PT loss to BC: how much did teams worry about concussions 2 decades ago, and do you think that you would have won the game if that play never happened? Of course I think that if I kept playing that we would have won the game! We had a lot of good young guys like Jeff McInnis/Jerry Stackhouse/Rasheed Wallace so I wanted to help us compete as a senior leader. I never watch the tape of that game: it was the last game of my college career so it still leaves a sour taste in my mouth. I thought that I was fine and passed most part of the concussion protocol but there was 1 part that I simply could not complete before the timeout ended. I remember exactly what it was more than 2 decades later: the doctor said that I had to count back from 100 by 7 and I could just not do it. It was a real sore situation for me because right after the game I was able to do the counting.
You graduated in 1994 with a school-record 247 career STL: what is your secret for being a great defender? I do not think there is a secret: you just need to take pride in playing defense. I loved the challenge of guarding guys and had a good anticipation of when to reach for the ball and where it would be so that I could jump into the passing lane. I knew how to guard within our system and was aware of all the shortcuts. When I try to coach defense now I find it is sometimes hard to explain to our players about seeing something or having the natural feel of how close to get to your opponent.
You played pro basketball for more than a decade overseas: what is the biggest difference between college ball and pro ball? Biggers guys are more skilled overseas: they can put the ball on the floor or pull up for a 3. It is more physical in the pros and they know when to be physical. Older guys know how to play the game better and do a lot more things, while college kids primarily use their athleticism and are more 1-dimensional. There is not too much dunking in Europe.
After winning a CIT title at Columbia last spring as an assistant to head coach Kyle Smith, you joined him when he took a new job as head coach of San Francisco: why did you follow him 3000 miles west, and how has the transition been so far? As a coach I try to be more well-rounded so the key for me was the opportunity to learn about the West Coast. I would love to become a head coach 1 day and I love coaching with Kyle. It was fun to win at Columbia with high-academic kids, but I have never recruited out here so I think that it will be good for my resume. I think that eventually I will be able to coach anywhere in the world.
You have only 1 junior and 1 senior on the roster: how does your approach change when you are coaching a young team vs. when you have an experienced team? The key is to install your culture and show the young guys what was successful for us in the past at Columbia. We have guys who will compete and are much longer/more athletic. We will pressure opponents and run the floor, and as the young players grow with us they will become even more dangerous over the next couple of years. It is tough to lose so much experience but we are building for the future.
Your non-conference schedule includes a game against Utah: how do you prepare for such a big test? Hopefully by the time we play them in late-December in Hawaii during the Diamond Head Classic we will be a little more seasoned. It will be a good test to see where we are at but we will just prepare as we normally do and try to get better each and every game. We just want to compete and give our players the mindset that it is a good challenge for us.
What are your goals for the upcoming season, and what are your expectations for the upcoming season? We have not really discussed all of our goals yet but we want to stay healthy, improve every game, and try to win a WCC title. We cannot get ahead of ourselves so we will just use the model of 1 game at a time.