CLICK HERE for all of the Hoops HD preseason articles, interviews, and previews
We continue our 2016-17 season preview interview series with new Arkansas-Little Rock head coach Wes Flanigan. He took over in March after working as associate head coach to Chris Beard for last year's 30-win season, and is very familiar with the area after being born/raised in Little Rock.  He attended college at Auburn where he became 1 of the best PGs in Tiger history.  HoopsHD's Jon Teitel got to chat with Coach Flanigan about winning an NCAA tourney game in double-OT and then having his dream come true.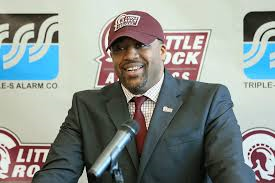 You played basketball at Auburn where your 573 career AST remains #2 in school history: what is your secret for being a good PG? You need a good feel for the game and for your teammates. I had some teammates who could finish plays and shoot the ball, so they made me look good.
You received the Cliff Hare Award as the university's top student-athlete: how much importance do you place on academics? That all started with my upbringing: in our household I always wanted to get good grades so that I did not let my parents down. It helped to have a coaching mentor who instilled a lot of that in me.
Your father Al was the assistant coach of your high school team: how much of an impact did he have on your own decision to become a coach? He was my mentor/role model: it was my dad rather than Michael Jordan! My dream was to become an NBA player and I worked hard to reach that goal: if it were not for an injury I might have had that opportunity. In the back of my mind I knew that I wanted to become a coach after I was done playing because I wanted to be just like my dad.
As an assistant at Northwest Mississippi Community College you worked with both the men's and women's teams: what is the biggest difference between coaching men and women? The speed of the game/athleticism is different. The women were much more of a sponge to what I was teaching: they trusted me and would run through a brick wall for me. The men are a little harder to coach because they are more stubborn/rebellious.
Take me through the 2016 NCAA tourney as an associate head coach under Chris Beard at Arkansas-Little Rock:
You had a 2-PT 2-OT win over Purdue for the school's 1st tourney win in 30 years: how were you able to overcome a 14-PT 2nd half deficit, and where does Josh Hagins' game-tying 3-PT shot at the end of regulation rank among the most clutch shots that you have ever seen? Everything started with mental toughness: Chris instilled a sense of pride in both our program and our city. There were numerous games last year when we were down double-digits so Purdue was not any different: we just stuck with the process. Josh's shot will probably go down as the biggest shot in our program's history. It was not a surprise to us: we saw it each and every day. He was probably responsible for about 5 wins on his own that season by making plays for his team and that shot was a prime example of how much he meant to us.
You finished your season with a loss to Iowa State: what do you think your team learned from that game that can help them this year? We have 6 seniors coming back with a bitter taste in their mouth, so I think they want to get back to that point and then get to the next level. We will approach things the same but those seniors learned that each and every game is important.
In March you were named head coach and said that it was a dream come true since you were born/raised in Little Rock: how has the dream gone over the past 6 months? It has been great: every day I wake up and live my dream. I love this city because it meant so much to me and set the stage for who I am today. There are not many opportunities in this profession for guys to go home and become a head coach so I am very fortunate. I woke up at 5AM today to hit the recruiting road and I have no regrets. We look forward to sustaining some consistency.
Last year your team won a conference-record 30 games and won its 1st-ever outright Sun Belt regular season title: how much pressure is there on you to approach last year's dream season? I do not call it pressure. In high school I was able to win a state championship after we lost all of our starters from the previous year.  I took over for Moochie Norris at Auburn and we were still able to win 20 games. I think that I am prepared and we have a great group of seniors. I am going to have fun with it because I have a great staff.
Your non-conference schedule includes games against Tulsa/Florida: which of these games do you feel will present your biggest test? I think that every game is a challenge at this level. We cannot just walk out on the floor and feel like we are going to dominate a team. The challenge is to try to win every game on the schedule.
Your roster has 7 players from Arkansas as well as international players from Canada/Kosovo: what sort of recruiting philosophy do you have in terms of geography? Since I am from here it is a huge priority to try and keep as many players in-state as we can. However, we want to win championships so we will recruit whoever we can to help us do that no matter where they come from.
What are your goals for the upcoming season, and what are your expectations for the upcoming season? We expect to give ourselves a chance to win a conference title. We want to have fun and make sure that our guys have a great experience. We will approach every game like it is our last game.