CLICK HERE for all of the Hoops HD preseason interviews, articles, and previews
We continue our 2016-17 season preview interview series with Marquette assistant coach Brett Nelson. He first gained fame at Florida, where he arrived as a McDonald's All-American in 1999, helped the Gators make the NCAA title game in 2000, and was named All-American in 2001.  He graduated in 2004 with the most 3PM (274) and 2nd-most STL (199) in school history. After previous coaching stops at Ball State/Drake/Arkansas/Marshall, he begins his 3rd year working for the Golden Eagles under head coach Steve Wojciechowski.  HoopsHD's Jon Teitel got to chat with Coach Nelson about playing for an NCAA title and being a great 3-PT shooter.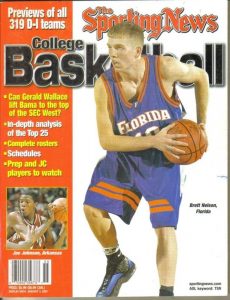 You had 11 AST for the West in a 141-128 win over the East in the 1999 McDonald's All-American Game (which set a record for the highest scoring game in McDonald's history): which of your teammates impressed you the most (Jonathan Bender/Carlos Boozer/other)? I think Bender set a record with 31 PTS so he was by far the most impressive guy I saw that night, even though injuries later ruined his NBA career.
In the 2000 NCAA title game as a player for Billy Donovan at Florida you scored 11 PTS in a loss to Michigan State: how close did you come to winning it all? We got hot at the right time and played really well throughout the tourney. We played well against the Spartans but they were lights out that night and deserved to win the game. They deserve all the credit and had a great group of seniors.
In the 2002 NCAA tourney you scored 13 PTS despite playing with a broken cheekbone in a 1-PT 2-OT loss to Creighton: did you think that your 12-foot jumper in the final second was going in, and where does that rank among the most devastating losses of your career? It was really disappointing. I got a good look at the shot but it just did not go in. We had chances to put them away during the game but failed to do so. We had a good year so to lose in double-OT at the buzzer was tough to swallow.
You were top-10 in STL in the SEC for 3 straight years while averaging 11 PPG during your college career: how were you able to balance your offense with your defense? The way that we played pressure defense allowed me to be in a good position to get a lot of STL, and Coach Donovan gave us a lot of freedom on the offensive end. I think that to be considered a good player you have to be a 2-way player. I was lucky enough to have good coaches/teammates who put me in a position to succeed.
In 2001 you led the conference with 45.3 3P%: what is your secret for making shots from behind the arc? Confidence. You obviously need to put the time in to become a good shooter so I spent a lot of time in the gym. I felt that was my best year at Florida.
That same year you were named an All-American: what did it mean to you to win such an outstanding honor? I did not pay too much attention to that at the time but I know that it is a great honor. We had a lot of injuries that year and we really overachieved despite only having 7 guys playing for a big portion of SEC play. We really came together as a group, which is what I was happy about.
You currently work as an assistant to Marquette head coach Steve Wojciechowski: what makes him such a good coach, and what is the most important thing that you have ever learned from him? His passion for the game and the fact that he truly cares for the players. He is a great leader and has the ability to get everyone on the same page. I have been around a lot of good coaches during my career but he gets me excited to come to work every day.
You have severel big-time transfers on your roster including Luke Fischer (Indiana), Katin Reinhardt (USC), and Andrew Rowsey (UNC-Asheville): what is the key to having everyone come together and bond as a team? That will be a huge key to our season. Luke will be a big part of our rebounding. Andrew really produced at Asheville and has become a better defender: we also expect him to be a threat from the outside. Katin has produced at a high level and had a good summer for us: he can score but is also a passer who can make the right plays. All 3 of them will be really important for us but we also have a lot of depth which will bring out the best in people to see who can compete the best.
Your non-conference schedule includes games against a pair of Big 10 (Michigan/Wisconsin) and SEC (Vanderbilt/Georgia) schools: which of these games do you feel will present your biggest test? All of those games are going to be tough. Wisconsin is a preseason top-10 team, and Vandy is our season opener in Annapolis with a new coach in Bryce Drew so they are a bit of an unknown. Georgia has a lot of good players returning, and Michigan coach John Beilien is 1 of the best in the country. We will just focus on the next game at hand.
What are your goals for the upcoming season, and what are your expectations for the upcoming season? We expect our guys to play hard every single day during games/practice as well as in the weight room. We need to come together to try to reach our goals of winning the Big East and making the NCAA tourney. However, we must not get ahead of ourselves: if we just take it 1 game at a time then the results should take care of themselves.