CLICK HERE for all of the Hoops HD preseason interviews, articles, and conference previews
We continue our 2016-17 season preview interview series with Chattanooga coach Matt McCall.  Most college graduates hope to find a good job when they graduate but McCall has them all beat: after Florida coach Billy Donovan hired him as director of basketball operations in 2006 he proceeded to win back-to-back NCAA titles with the Gators.  Most assistant coaches hope to have quick success when they become a head coach but McCall has them all beat as well: after being hired away from Florida as head coach at Chattanooga last year he proceeded to win 29 games and be named SoCon COY.  HoopsHD's Jon Teitel got to chat with Coach McCall about working for Coach Donovan and the benefits of having 6 seniors on the roster.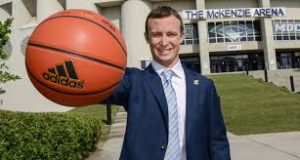 You went to college at Florida and later served as director of basketball operations during their back-to-back NCAA titles in 2006 & 2007: what was the most important thing that you ever learned from Coach Billy Donovan? The level of humility at which Coach Donovan did his job is what made it so special: it was never about him but was only about our team getting better. I think that is why he has been able to continue to have success now that he is at Oklahoma City. I keep trying to emulate him in my own position as coach: Xs and Os are important but the biggest thing I took from him is how he treated people.
You were an assistant coach at Florida in the 2013 NCAA tourney when you beat 1 of the greatest Cinderellas ever in #15-seed FGCU: what does it take to avoid an upset in March? It is all about your focus: you cannot worry about the name on the front of the jersey. Every team who makes the NCAA tourney deserves to be there: you must do your job on each and every possession and cannot focus on the hoopla. There is so much parity in the sport: a lot of "mid-major" teams like ourselves have veteran teams with seniors who could play at most programs around the country.
Last year you were hired as head coach at Chattanooga and you proceeded to win 29 games, make the NCAA tourney, and be named conference COY: how were you able to come in and be so successful right from the start? It goes back to the players. We had unbelievable chemistry with guys who bought in and put the team 1st. When you couple that with talent you have the chance to do something special. I give our guys a lot of credit for coming together rather than transferring somewhere else and going their separate ways. There are a lot of steps along the way and I am still learning each and every day. We have a lot of guys back this season and there will be a target on our backs, so we have to welcome the fact that we will get every team's best shot.
In the 2016 SoCon tourney title game Greg Pryor scored 13 PTS in a 6-PT win over East Tennessee State en route to being named conference tourney MVP: how crucial were the 4 technical FTs that Greg got to shoot with 4 minutes left when Ge'Lawn Guyn/Coach Steve Forbes lost their cool? 1 of the things I am proudest of with this group is their ability to handle adversity. We knew that ETSU would make a run at some point during the game.  I want the ball in Greg's hands with the game on the line because I know that he can make those FTs. There are a lot of talented PGs in the country…but I am hard-pressed to find a tougher 1 than Greg.
In the 2016 NCAA tourney you lost to Indiana: what do you think your team learned from that game that can help them this year? The Hoosiers are extremely well-coached and talented from top to bottom. We were not satisfied in just getting there: we need to get better so that we can get back there and then try to advance. We have a long way to go but our guys are hungry.
Your non-conference schedule includes games against Tennessee/North Carolina/Vanderbilt: which of these games do you feel will present your biggest test? Every game is a test but opening the season against a Tennessee team with a lot of unknowns will be a big challenge. The Tar Heels are a top-5 team in the country and Vanderbilt is a unique place to play with a lot of good players. We will just take it 1 game at a time.
You have 4 guys from Tennessee on your roster: how hard is it to compete with Josh Pastner/Rick Barnes/Kermit Davis/Tubby Smith on the in-state recruiting trail? We try to identify the right guys who are a good fit for our team and for our style of play. We like high-character kids who are about the same things that we are about.
PF Justin Tuoyo transferred from VCU a couple of years ago and is the 2-time reigning conference DPOY: what makes him such a great defender? I have been around a lot of good shot-blockers but I put Justin in the same category as Joakim Noah. He has unbelievable timing/instincts to erase shots so our opponents are always thinking about him.  He has grown as a player/person: he is not just a defensive guy but has been able to expand his game.
Justin is also 1 of 6 seniors on the roster: how crucial will all of that experience be to your team's success this year? Having veterans was a big part of our success last year and being able to bring a senior off the bench will be a big benefit. We need our young guys to develop and have an impact early in the season but it is a luxury to have so many seniors.
What are your goals for the upcoming season, and what are your expectations for the upcoming season? Our goals are to get better every single day. We want to get to the NCAA tourney and then advance when we get there. However, we cannot focus on a conference title right now otherwise we will set ourselves up for failure. We are not defending anything: that is in the past and we are trying to chase a new title.