Below is Chad's Bracket Projection through all games played on January 29, 2017 and notes regarding same.  Scroll down below the bracket for comments from other staff here at Hoops HD and replies.
NOTES
– Baylor was my #1 overall team, followed closely by Villanova, Kansas and Gonzaga.  In the end, it did not make too much of a difference as the Regions each would play in are clear, especially with Baylor being closer to Memphis and Kansas to Kansas City.
– Kentucky's 0-2 week (and moreso the Tennessee loss than the Kansas one) dropped them down to the 3 line for now.  With a lot of wins likely ahead in the SEC, I can see them easily getting back to the 2 line, if not higher.
– Oregon has done nothing of note on the road, and added their worst loss of the season at Colorado this weekend.  I had them as my #17 team overall, but they are outside of the "Protected Seed" range for now.
– Creighton is the toughest team to seed as their resume would warrant a much higher spot than the 8 line.  However, until they prove to me that they can beat a quality opponent without Mo Watson, I just can't move them higher than this.
– Everyone from the 9 line down had me holding my nose.  I can make a case for each of those teams that they do not deserve an at-large bid.  But I had to put teams in.
– Tennessee, on the strength of the Kentucky win, found their way into my field.  They and Oklahoma State are two of the fastest rising teams right now.  If they can keep winning the games they are supposed to win, they have a great chance to be in the Dance.
– I brought VCU back into my field off of their home win over Dayton.  I still do not like their profile much, but there they are.  They were my second to last team in, just ahead of Texas Tech.
– My top four teams out, in order, were Miami, Wichita State, California and Wake Forest.  My next four were Michigan, Georgia, Utah and Auburn.  I also very generously considered TCU, Rhode Island, Memphis, Georgetown, Pitt, Providence, Illinois, Ohio State, Alabama, Houston and Syracuse.
– My favorite matchup in this bracket is the first round game in the Midwest between Kansas State and South Carolina, Frank Martin's current and former teams.  I also set up a potential Villanova-Virginia rematch in the East Region Final.  After watching Sunday's thriller between the two teams, I don't think anyone would mind seeing that rematch.  Marquette and Virginia fans might not like the idea of Clemson being a 10 seed and playing in Greenville, but the rules not only allow, but in this case would support that positioning.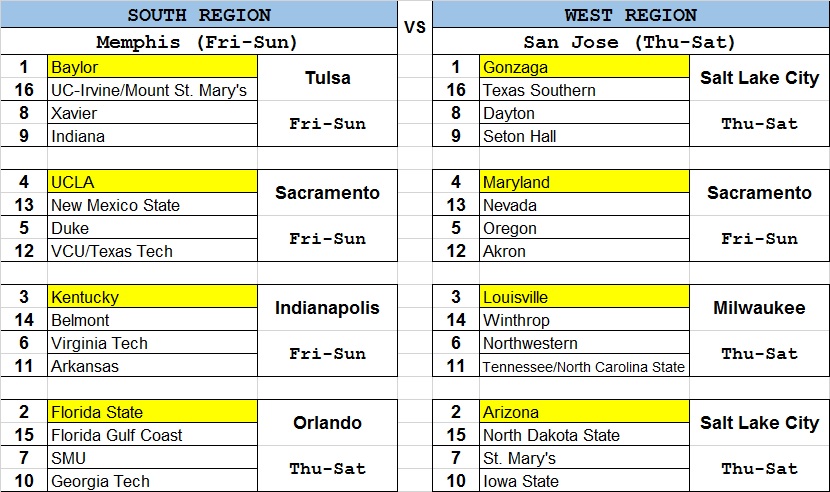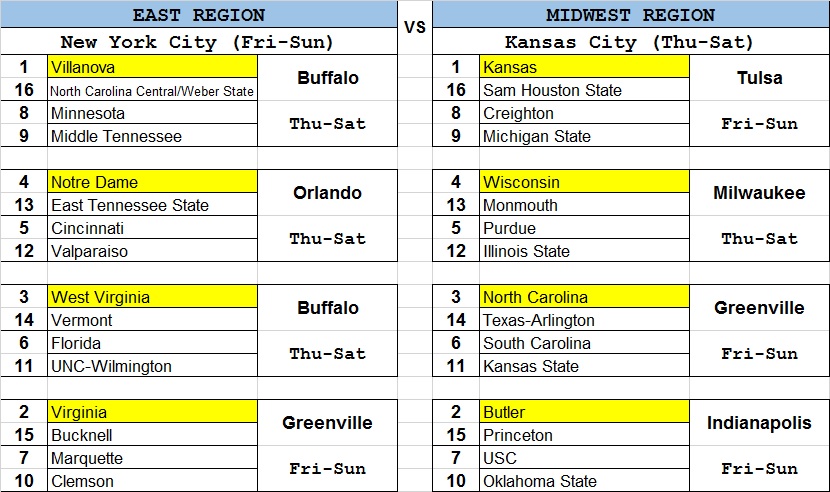 COMMENTS FROM DAVID
-I really hate agreeing with Chad, but there isn't too much here to disagree with.
-UNC Wilmington is on his #11 line, and I'm assuming they're inside his bubble because he has a First Four game on the #12 line.  Like I said, I hate agreeing with Chad, but I do agree with this despite their loss at William & Mary on Saturday.  I don't know how the real committee will analyze that, and I'm not sure how Chad analyzed it either, but my thinking is that one conference loss throughout an entire season still demonstrates dominance.  Whether they run the table or lose one game, they've still demonstrated an ability to dominate the league, and still deserve to be placed inside the bubble if you felt they should have been there before.
-I really like this Virginia team.  They didn't get it done at Villanova, but they almost did.  They have two road wins against protected seeds already, which indicates that they are a #1 seed caliber team.  I think it's also important to note that there are games during the regular season that are more difficult to win than any NCAA Tournament game a team will play.  If you think about it, it's harder to beat a #1 seed on their floor than it is to beat them on a neutral floor.  So, when a team plays a game that's harder to win than any NCAA Tournament game, I tend to not hold it against them at all if they lose.  It's probably statistically more likely for a team to make the Final Four, or even win it all, than it is for them to win a single game at Villanova, or Kansas, or maybe one or two other places.  Villanova is unbeaten at home this year, I believe only had one home loss last year, and was unbeaten the year before.  In fact, Nova is 57-2 at home in their last 59 games, and it's not like they've been playing cupcakes either.  So, when a team like Virginia goes and loses a game like that, I kind of just throw it off the profile and treat it as a net zero loss.  You can't hold a loss against a team when the game they lost was harder to win than any NCAA Tournament game that they'll play.  And…Virginia ALMOST won it!!  Look out for the Hoos down the stretch.  They're not currently on Chad's #1 line, but a case could be made that they belong up there, and I think by the end of the year they'll be a #1 seed.
-Georgia Tech is scattershot depending on how one chooses to evaluate them.  Their team sheet actually looks pretty good (by bubble team standards).  They have eight losses, but four are two likely protected seeds, and three others were on the road to teams that aren't great, but are at least decent at home.  And they have good wins, most notably against North Carolina, Florida State, and now Notre Dame.  They also have road wins against VCU and NC State.  If you were to tell someone that about just any team, they'd tell you they were in the field for sure.  But, the power ratings don't like Georgia Tech.  There are various reasons why, but the biggest is their margin for victory, or to put it more accurately their margin of defeat.  In some of Georgia Tech's losses, they certainly did not mess around when it came to losing the games.  I personally begin with wins and losses.  I'm not a Vegas oddsmaker.  I'm an assessor of merit, so I like Georgia Tech.  Others on the Hoops HD staff assess the overall strength and potential of a team, and they cannot stand Georgia Tech.  Conference standings aren't determined by where a team is in the power rankings.  They're determined on the merit of wins and losses.  Winning is what advances a team in the tournament, and losing is what knocks a team out of it.  When you look at Georgia Tech's wins and losses, they look like they belong in.  Hence, I agree with his selection.  I do like the power rankings, including the Elo Chess rankings that are seldom used, but I like them almost as a secondary tool.  By that I mean I don't look at a power ranking to determine a specific team's merit, but rather to determine the merits of the teams that have played a specific team.  In other words, if a team is high in the power rankings, I'll use that reference to give credit to the teams that have beaten them.  Perhaps this would be good dialogue for a podcast!!
-And, I really hate agreeing with Chad.  He's wrong about a lot of things.  I just don't have time to get into any more of it.
COMMENTS FROM JOHN
– I don't have too much of a problem with Chad's first 3 lines, but it looks like Chad is not going to agree with the Puppet as far as Big Ten teams like Maryland and Wisconsin having bloated records. Like Butler, Maryland has a couple of baffling losses (both of which were at home, unlike Butler). The Terps are a perfect 8-0 away from home, including wins against Kansas State, Georgetown, Michigan and Minnesota.
– It was easy to see why I was accused of making a recency pick with Cincinnati, but I'd still argue that they deserve a protected seed. They're not necessarily blowing teams away in the American like Gonzaga is in the WCC, but only SMU has shown they can legitimately beat Cincinnati so far. Their best wins out-of-conference were at Iowa State (historically a very tough place to win) and against Xavier at home. There's no shame in losing at Butler, and the only other loss was against Rhode Island at the Mohegan Sun. Their toughest remaining games are at Tulsa, at SMU, at UCF, at home against Memphis and at UConn. If they stay unbeaten and win at SMU, I'd say their ceiling is a 2 seed. (And note to UC students – you are allowed to go to other home games this year, not just the Shootout!)
– On the other hand, while Chad did give Oregon a brief penalty for losing to Colorado, he did show some mercy by sending them to Sacramento. However, giving them Akron and possibly next-door neighbor Nevada may be a little punitive. They did win at Utah, and Colorado was the first game they lost with most of their full lineup in game shape.
– I believe it was on their BTN telecast last night where someone said that Northwestern won six B1G games in a row for the first time in 8 decades. They're about to enter their toughest 4-game stretch of the season with road games at Purdue and Wisconsin and home games against Illinois and Maryland. Even a 2-2 record would justify keeping Northwestern this high at the 6-line. If they can somehow steal a win at either Purdue or Wisconsin – let me ask Northwestern fans this: Would you prefer Milwaukee or Indianapolis?
– I know they're in a tailspin without Watson, but I still get the feeling Chad is rushing to punish Creighton. Winning at Butler would be gravy, but the big game this week is at home against Xavier. Sadly, Watson AND Edmond Sumner both have torn ACLs (Sumner's injury was confirmed by Xavier this afternoon), and Xavier is now going to have to prove that they can win without Edmond Summer thanks to his season-ending injury against the Johnnies. The silver lining for Xavier is that their freshman PG Quentin Goodin has been improving quite a bit from the beginning of the year, but he's about to face a major test this week with pressure teams like Seton Hall (home) and Creighton (away).
– With his 10-line, Chad will be setting off a firestorm among our committee with teams like Georgia Tech, Oklahoma State and Clemson. Georgia Tech has some nice wins and some respectable losses, but the computers do NOT like this team at all. I would have waited a couple of weeks before putting Oklahoma State in the field, but they have recovered nicely after starting 0-6 in the Big 12. I don't remember the last time a program started that awful in conference play (albeit with a frontloaded schedule) and got an at-large bid, if ever. We can ask our resident historian Kyle Lamb when he appears on tonight's podcast.
– I'm also laughing that Chad is so impressed with Clemson's win at Pitt to put them on the 10-line. Suddenly, Miami (who also won handily at Pitt) doesn't look as bad after decisively beating North Carolina at home. The Canes don't really have any bad losses – losing at Syracuse and at Wake Forest isn't as bad as what other bubble teams have. (Next year, could you at least schedule some better buy games? A noncon SOS of 249 is not good, but still not as offensive as Chad's Texas Tech pick).
– The other elephant in the room is Chad's Tennessee pick for his field. Their overall record is hideous (and this is without Michigan Agricultural College on their unis), but having a noncon SOS of 10 is something valuable to have in your back pocket. I applaud them for scheduling tough in-state opponents like Chattanooga and East Tennessee State. However, their only opportunities the rest of the way to get signature wins will be at Kentucky and at South Carolina. If they can't win either of those 2 games, they'd better run the table the rest of the way (especially when your other road games are at Auburn, Mississippi State and LSU). Don't overlook Georgia, Vandy or Alabama at home, either.
– I don't have any issues with his autobid placement this week.