Last weekend Kelsey Plum became the all-time leading scorer in women's D-1 history, but this is the story of the woman whose record she broke.  Jackie Stiles was a star since her days at Claflin High School, where she was MVP of the High School All-American Game and won more than a dozen state titles in track and field.  At Southwest Missouri State she scored more than 1000 PTS as a senior and won the Broderick Cup as the Collegiate Woman Athlete of the Year.  After being selected 4th overall in the 2001 WNBA Draft she was named ROY for the Portland Fire, but due to numerous injuries she was forced to retire way too soon.  In 2013 she returned to her alma mater as assistant coach for the Lady Bears and in 2016 she was inducted into the Women's Basketball Hall of Fame.  HoopsHD's Jon Teitel got to chat with Jackie earlier this year about beating a #1-seed in the NCAA tourney and whether she thought her scoring record would ever be broken.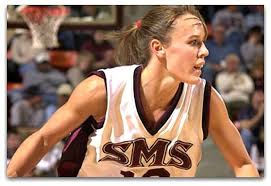 At Claflin High School you were an All-American basketball player and set a state record by winning 14 individual titles in track and field: which sport were you best at, and which 1 did you enjoy the most? I would have to say that I was better at basketball but a lot of other people think that track was my best sport. My passion was for basketball and I put most of my energy toward that. I loved every second that I was on the court, whereas I had a love-hate relationship with track!
On March 10, 2000, as a player at Missouri State you scored a career-high 56 PTS in a win over Evansville, which remains the 4th-highest ever in a D-1 game: was it just 1 of those scenarios where every shot you put up seemed to go in because you were "in the zone"? A little side-story: they had beaten us at their place earlier that year and I had played awful. A huge number of fraternity guys came out to heckle me and just yelled "Overrated!" at me the whole time. We lost and I had a hard time blocking it out so when we played them again in the conference tourney I was just on another level of focus. Everything slowed down and I was totally in the moment. My teammates also helped me get into the flow and get some good looks early.
As a senior in 2001 you won the Broderick Cup as the Collegiate Woman Athlete of the Year: what did it mean to you to receive such an outstanding honor? Never in my wildest dreams did I imagine receiving an award like that: I was competing against women such as an Olympic gold medal swimmer! I was truly honored to be included in an amazing group of athletes.
You also became the only D-1 women's basketball player to score 1000+ PTS in a season and graduated as the all-time leading scorer in D-1 women's history with 3393 PTS: what is the secret to being a great scorer, and do you think that anyone will ever break your record? Scoring was always my gift: I had a laser-like focus on the rim. It also takes repetition, getting into the gym every day, playing pickup games and 1-on-1 to learn how to get your shot. You also need great teammates/coaches. I have a feeling that Kelsey Plum will do it this season and I know that records are meant to be broken. She is a phenomenal player/person and it will be well-deserved if she ends up breaking my record.
In the 2001 Sweet 16 you scored 41 PTS/15-22 FG in a 10-PT upset of #1-seed Duke only 1 week after suffering a concussion in a win over Toledo: how were you able to play your best when it mattered the most? Just my drive to win and do whatever it took to help our team advance. It was such a special 4 years as a Lady Bear and we did not want our careers to end that night. Once we beat Duke we knew that there would be nothing standing in the way of our dream to get to the Final 4.
After being selected 4th overall by Portland in the 2001 WNBA Draft you finished the season by being named ROY: how were you able to make such a smooth transition from college to the pros? My 1st few games I felt that I was struggling and I questioned my skills: it just took time to adjust to the speed/athleticism. I was always an underdog during my career but after getting picked 4th there were a lot of expectations put on me and people wondered if I could be a 2-guard since I was so short. I remember there was 1 specific game where I had a breakout game, which gave me the confidence to play at that level.
Your WNBA career only lasted 1 more season due to an injury (1 of many during your career that resulted in more than a dozen surgeries): how frustrating was it to not be able to go out on your own terms? Very! I remember telling my 2nd grade teacher that I would become a pro basketball player someday…even before the WNBA was created! I had put all my eggs in that basket and once I lost the opportunity to play I wondered who I was. It was very hard and I tried everything in my power to return to the court…but it was just not meant to be. I sacrificed my personal life early on and missed some family reunions, but after I saw that they stood by me during difficult times I tried to become a better sister/daughter. I am now very happy to help others reach their goals/dreams.
Your sister Roxanne won a pair of state titles at Claflin High School and later played basketball at Missouri State: who is the best athlete in the family? She is pretty good and I am definitely jealous that she won a pair of state titles. We are both 5'8": I have a picture of her wearing her Missouri State uniform in my office and everyone thinks that it is me! She ran track as well and my dad made her a sprinter: he was our coach. She is going to become a surgeon in the future: I am so proud of all that she has accomplished.
In 2016 you were inducted into the Women's Basketball Hall of Fame: where does that rank among the highlights of your career? It is definitely up there. What made it so special is that I had probably 60 people from my alma mater who shared that moment with me, which made it a night that I will never forget.
You currently work as an assistant coach at your alma mater: how do you like the job, and what do you hope to do in the future? I genuinely love it! At 1st I thought that nothing could compare to my playing career in terms of passion, but after becoming an assistant I knew that this was what the next chapter of my life was supposed to be. I get up every day and try to make our program the best it can possibly be: I just want to leave it as a better place.