Last Saturday Vanderbilt lost to Arkansas in the SEC semifinals but was still good enough to earn an at-large bid to this week's NCAA tournament. The Commodores became the 1st team to ever make the NCAA tourney with 15 losses, mostly because their strength of schedule was 1 of the best in the nation.  They will face #8-seed Northwestern in a West Region match-up on Thursday afternoon in Salt Lake City. Yesterday HoopsHD's Jon Teitel got to speak with SR PF Luke Kornet about being an Academic All-American and following in his father's footsteps.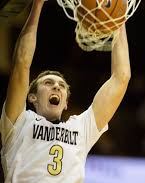 In the 1988 NCAA tourney your father Frank (an All-SEC player at Vandy) had 20 PTS/10 REB in a 3-PT win over Utah State and then played 40 minutes in a 6-PT OT win over Pitt that was helped by Barry Goheen's 24-footer at the end of regulation: who is the best athlete in the family, and does he talk about that tourney run all the time?! My dad probably would have qualified back in the day and was a good athlete. I have heard about it but he talks more about the Sweet 16 game when they lost to Danny Manning and eventual champion Kansas.
You grew 7" as a high school senior in Texas: how did that affect your game, and what made you choose the Commodores? I was very behind athletically so it was difficult for me to even run/jump. It took awhile for me to improve: it was a big switch to go from playing on the wing to guarding ball screens and battling in the post for rebounds. I had to develop my body before I could play against D-1 players and become a solid big man. Both of my parents went to Vanderbilt and I was pretty familiar with the place. It was an obvious choice to me because it is such a good school.
You play for Coach Bryce Drew: what makes him such a great coach, and how many times have you seen video of his famous shot from 1998? He is great at setting the tone for the whole program. He works very hard but is always trying to figure out the best way for us to get better and grow on a daily basis. I have seen his shot quite a few times but he does not talk about it a lot: it is the media who mentions it all of the time.
In January of 2016 you had a triple-double (11 PTS/11 REB/school-record 10 BLK) in a win over Auburn: where does that rank among the best all-around performances of your career? It is probably my best game from a blatant statistical standpoint, but I feel that I have had some better games in terms of big games against good teams, such as Senior Night when we beat Florida. There were other games where I played a smaller role but helped us get a big win.
You faced a ton of NCAA tourney teams in non-conference play including Bucknell/Butler/Dayton/Iowa State/Marquette/Middle Tennessee/Minnesota: how brutal was that schedule, and which of these teams impressed you the most? It was difficult because it seemed like we could not go more than 1 game before having to face another tourney-caliber team. It was hard to build up any momentum due to all of those constant tests, although it did help us improve. Middle Tennessee was a very talented team: they do not get a fair say because they are a mid-major but it will be fun to see them play a 5-12 game vs. Minnesota, who we also played this year. I think it will be a pretty cool match-up to watch.
You started conference play 5-7 before winning 7 of your next 8 games: how were you able to turn things around so dramatically in February? It finally started clicking for us even while we were losing. We began to play a higher quality of basketball so we felt like we were getting better rather than simply getting discouraged by focusing on the results. It kept building on itself and we fought through the losses and then started to string together some wins: our attitude was important.
You have beaten Florida 3 times in the past 7 weeks: what advice do you have for your fellow in-state tourney team East Tennessee State who gets to play them on Thursday? The Gators are a team that you never look forward to playing. They have talent all over the court and are fast so 1 big thing is to keep their guards out of the lane.  You have to grind out a lot of possessions and expect a fight for 40 minutes, and you cannot get discouraged when they make a run.
In the 2016 1st 4 you had 8 PTS/9 REB in a loss to Wichita State: what did you learn from that loss that you think will help you this time around? I learned that we have to give a full 40-minute performance. The Shockers did not break away from us until the final 8 minutes so you cannot get overconfident if you make a run early: you have to stay committed and not let your emotions get the best of you.
Earlier this month you were named 2nd-team Academic All-American due to your 3.71 GPA in a double-major of computer science/math: how do you balance your work on the court with your work in the classroom, and what is your plan after you graduate this spring? Early on it seemed like I just went from class to practice to homework. You can never let yourself fall behind: you definitely have to get your work done whenever you can. It was not easy at first but I was committed to never slipping in my schoolwork. I am planning to play basketball for as long as I can, hopefully in the NBA or professionally somewhere else. After that I might take a computer science job, or become a coach, or work for a non-profit.
How do you feel about getting a #9-seed, and what do you know about Northwestern? I think a #9 is great for us: I heard that we were predicted to be anywhere from a #8 to missing the tourney entirely. Northwestern has been pretty amazing this year: they are a well-balanced team without many weaknesses. It will be a tough/physical game: I expect them to be fully locked-in for 40 minutes so we will have to be focused as well.