HoopsHD is always hovering around the edge of legitimacy (see Puppet, The), but thanks to the good folks at the Big 10 we kicked it up a notch last month with a media credential to the Big 10 Tourney in DC. From his prime perch in the 3rd row Jon Teitel has been bringing you daily updates of all the action from the Verizon Center via a series of photo essays. Championship Sunday brought us a pair of heavyweights with Michigan vs. Wisconsin battling for an automatic bid to the NCAA tourney, but since we are already a month behind let's get right to the photos.
We have the red and we have the blue:
Let's tip it off: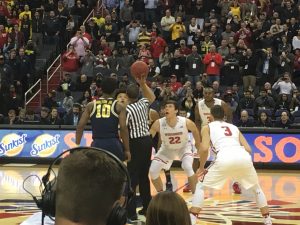 The arena had some pockets of Badger faithful but was overwhelmingly a sea of maize and blue, including the band: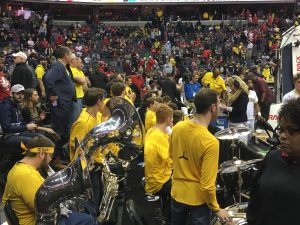 When the final horn sounded and the Wolverines found themselves on top with a 71-56 win, it was time to celebrate: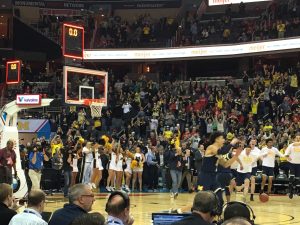 A lot:
There was barely any breathing room for Coach Beilein but many indications of what he had won:
Then it was time to hand out the hardware, with a trophy for the whole team due in large part to the work of tourney MVP Derrick Walton Jr.:
After that it was some final kind words from the coach before the 1 thing that might ruin their great day (getting back onto an airplane):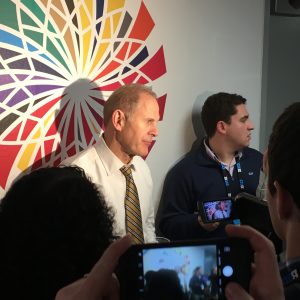 It was fantastic to get such a great view of 1 of the best basketball conferences in the nation, so thanks to the Big 10 for hooking me up, hope you enjoyed the photos, and stay tuned for an upcoming series of photo essays from the Final 4 in Arizona!