English poet John Milton gained fame for writing "Paradise Lost", but a modern-day Milton (Doyle) is trying to find his way to paradise…and all he needs is an NBA team to draft him this June. He has shown much progress over the past 4 years: MVC ROY in 2014, a CBI title in 2015, and the 1st player in Loyola history to be named 1st-Team All-MVC in 2017. He began his college career in Kansas, ended it earlier this month in Portsmouth, and would love to begin the next stage of his career in the Bay Area playing alongside the great Kevin Durant. HoopsHD's Jon Teitel got to speak with Milton yesterday about what sets him apart from the rest of the guards in this draft and what he would bring to an NBA team.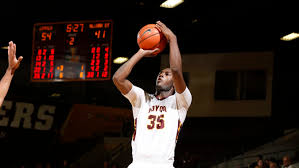 You originally committed to FIU, then signed with Kansas before transferring to Loyola-Chicago: how difficult was it to keep changing schools before ever playing in an actual game? It was very difficult. FIU coach Isiah Thomas was fired in 2012, so it was a blessing to go to Kansas under Coach Bill Self. It was tough to leave the Jayhawks but I had a great 4 years at Loyola so I guess it all worked out for me.
In 2014 you were named conference ROY: how were you able to come in and contribute right from the start? I learned a lot sitting out during my redshirt year. I got to learn the system and watch a lot of film. I also competed against the rest of the guys every day in practice, which made me feel comfortable once I began to play actual games.
In the 2015 CBI title game you scored 13 PTS in a 1-PT win at Louisiana-Monroe: how were you able to play your best when it mattered the most, and what did it mean to you to win a title? It meant a lot to win a title. We had a lot of practice on how to handle pressure situations and focused on end-of-game strategy, so we were relaxed down the stretch even thought it was such a close game. We just went out and played our game.
In January you had a career-high 35 PTS/11 REB in a win at Bradley: where does that rank among the best all-around games of your career? I would rank it 2nd or 3rd because I think that I had 1 or 2 better all-around games. However, I felt like I could not miss that night so it was definitely 1 of the most enjoyable games of my career!
You finished last season 2nd in the MVC with 55 STL: what is the key to playing good defense? You have to know what the other team wants to do based on their tendencies. You can never be too prepared so I tried to watch a lot of film, know what sets our opponents liked to run, and stay active.
You also became the 1st player in program history to be named 1st-Team All-MVC: what did it mean to you to receive such an outstanding honor? It meant a lot. When Coach Porter Moser 1st recruited he talked about how to set the tone. I will always cherish that honor because it showed all of the hard work that I put in over the past 4 years.
Earlier this month you played at the Portsmouth Invitational: how good was the competition, and which of your teammates impressed you the most (Amida Brimah/Obinna Oleka/Xavier Johnson/Jamel Artis/Canyon Barry/TJ Williams/Scoochie Smith)? The competition was great: all of the players there are so accomplished. I was impressed by all of my teammates but I enjoyed playing with Brimah the most because we did not have anyone that tall on our team in college: I could just pass the ball to him in the post and watch him do his thing.
What part of your skill set makes you different from other guards in this year's draft? I have a high IQ on the court and know how to find guys in the right position to make plays. As a bigger guard I can also look over my defender and see the floor better than smaller guys can.
Do you have a favorite NBA team/current player, and how amazing would it be to end up joining them? I do not have a favorite team at the moment. I used to like the Oklahoma City Thunder…until Kevin Durant left. I have studied his game for years an admire his scoring ability so I would love to play with him in Golden State.
You have been labeled by some as a "draft sleeper" and there is a bit of a buzz around your name as someone to keep an eye on: which NBA player is your game most similar to, and what would you be able to bring to an NBA team? My game is probably most similar to Damian Lillard: his scoring ability, the way he creates space, etc. I can pass the ball, play defense, and help a team out in any way possible. I am willing to do the dirty work and step up during the biggest moments.