Peter Jok finished his Iowa career as 1 of the best shooters in school history: his 216 3PM is #4 in Hawkeye history and his 88.1 FT% is #1 all-time.  As a result the awards started rolling in: 1st-team All-Big Ten, AP Honorable Mention All-American, and 1 of 5 finalists for Jerry West Shooting Guard of the Year.  Now he is preparing for the next stage of his long journey: the 2017 NBA Draft on June 22nd.  HoopsHD's Jon Teitel recently got to chat with Peter about being the best scorer in the Big 10 and what it would mean to him to get drafted next month.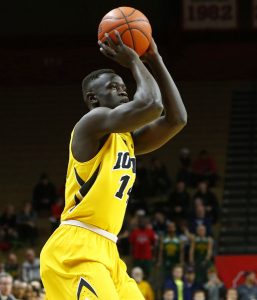 You were born in Sudan where your father was a general for the People's Liberation Army: how did you 1st get into basketball, and how difficult was your transition after moving to the US? I first got into basketball because of my friends back in 5th grade: I only joined the metro team for our elementary school to hang out with my friends. My current guardian had wanted me to play for his AAU team along with his son and a bunch of his friends: they were called the Riders. At first I only played for him because he would take us out to McDonald's after practices, but then I started falling in love with the game. The transition was difficult at first because of the weather, but I have adapted as the years went by. The community we were living in also made it a lot easier for me to adapt to my new life.
Last November you scored a career-high 42 PTS/8-11 3PM for Iowa in an 8-PT loss to Memphis: was it just 1 of those scenarios where every shot you put up seemed to go in because you were "in the zone"? Yes and no. The night before that game I had a bad game as we got manhandled by Virginia so I stayed up all night watching film of that game as well as of Memphis. My mindset going into the Memphis game was to go for 50 PTS. I got hot pretty early and my teammates kept finding me so it did not hurt that I was making everything.
In the 2017 NIT you scored 22 PTS/5-10 3PM in a 2-PT OT loss to TCU in the final game of your career: how close did you come to beating the eventual champs? We came very close. They played great in that game and I knew afterwards that they were going to win it all. We had a few possessions that did not go our way…but that is the game of basketball.
As a senior you led the Big 10 with 19.9 PPG: what is the key to being a great scorer? The key is knowing your strengths/weaknesses on offense and always taking what the defense gives you. Make the game simple and do not try to do too much. You also need to have the right mindset: never let a missed shot get to you. Shooters shoot and scorers score.
You also led the conference with 91.1 FT%: what is the secret to making FTs? To be honest I do not think there is really any secret: it is all about your mindset and not overthinking it when you are on the line. When you are shooting by yourself you do not think about everything around you, so when you are on that line just shoot it. I also try to take less dribbles than some other players and keep it simple.
You were named 1st-team All-Conference and honorable mention All-American: what did it mean to you to win such outstanding honors? It was a blessing to earn all of those honors but I did not reach all of the goals I had set for the season.
1 of your biggest strengths is outside shooting (career 37.8 3P%): what did it mean to you to win the 2017 College 3-PT Contest on your 23rd birthday? I was not picked to win it by any of the announcers so that gave me extra motivation to win.  I have been an underdog my whole life so it always feels good when you can achieve something that people do not think you can.
Your brother Jo Jo played college football, your brother Dau played basketball at Penn, your uncle was Manute Bol, and Luol Deng is 1 of your mother's cousins: who is the best athlete in the family? That is a tough one. I would have to say either Jo Jo (who has 2 football state championships) or Luol (who is one of the elite lock-down defenders in the NBA).
Do you have a favorite NBA team/current player, and how amazing would it be to end up joining them? I used to be a big Lakers fan because Kobe Bryant is my all-time favorite player, but now I like to watch the Clippers (because of Jamal Crawford) and the Wariors (because of Klay Thompson). It would be amazing to play with either of those 2 teams, especially Golden State because I have a similar game to Klay and would learn so much from him.
What would it mean to you to get drafted: a validation of your college career, the realization of a lifelong dream of reaching the NBA, or other? I would call my college career a process. From the first day that I stepped onto campus until now everything has been a process. I got better every year both on and off the court. I went from being a lost freshmen who thought basketball was all about scoring to becoming the leader/captain of the team. It was a great 4 years and I would not go back and change anything. Being drafted would mean everything just because of the journey I have been through, and to be able to beat all the odds would mean a lot. Additionally, it would be a blessing to be able to take care of my family and help people back home in South Sudan.