The most (in)famous father in next month's draft is turning out to be LaVar Ball, but his son Lonzo is not the only draft prospect whose dad you should know. Shane Hammink's father Geert was a 1st round pick by Orlando in the 1993 NBA Draft and played professional basketball for more than a decade. Shane's own basketball career began overseas at the Canarias Basketball Academy and as part of the Netherlands' national team. After starting his college career at his dad's alma mater of LSU, he transferred to Valparaiso and helped his team reach the 2016 NIT title game. HoopsHD's Jon Teitel recently got to chat with Shane about trying to follow in his father's footsteps and what sets him apart from other shooting guards in the draft.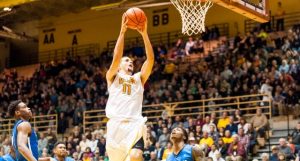 You were born and raised in the Netherlands and have played for their national basketball team: how big is basketball in your home country, and how is the national team looking these days? It is not that big, as soccer is the most popular sport, but basketball is getting there. Our national team made the European Championships a couple of years ago so we are pretty good, and I think we will remain solid after I return to join the team in the years ahead.
Your father Geert was a 1st round pick by Orlando in the 1993 NBA Draft (2 spots behind Sam Cassell): is he prouder of his time in the NBA or his role as a member of the Indiana Hoosiers in the movie "Blue Chips"?! That movie was awesome…but I think he is prouder of making the NBA. I was pretty young at the time he was drafted but I have been told that I attended a couple of his games. He told me about playing with Shaquille O'Neal and how dominant he was. I remember watching my dad play an All-Star game in Germany once: he had a nice shooting touch.
You previously played at a basketball academy in Spain's Canary Islands: what is the biggest difference between basketball in the US vs. basketball overseas? The speed/athleticism is the biggest difference. Basketball has become pretty big in Europe so the quality of the game is pretty similar to America, but in the US the players fly down the court and can jump out of the gym.
You began your career at your dad's alma mater of LSU before transferring to Valparaiso: why did you decide to switch, and what made you choose the Crusaders? It was not a great fit for me and I wanted to go somewhere that I could play more minutes. I talked to Coach Bryce Drew and I liked what he told me about my game, which is why I decided to come here.
In the 2016 NIT title game you scored 9 PTS in a loss to GW: what was it like to play in Madison Square Garden, and how close did you come to winning the title? It was amazing to play on the same court that guys like Carmelo Anthony do. We did not play well as a team and GW was the better team that day.
Last February you scored a career-high 25 PTS/9-15 FG in a 10-PT win at Wright State: was it just 1 of those situations where every shot you put up seemed to go in because you were "in the zone"? Kind of, but I was just playing well and fed off of my teammates so it all worked out. It was our 1st game without our best player (Alec Peters) so we did what we had to do as a team to get the win.
After shooting only 50 FT% during 2 years at LSU, you were #6 in the Horizon League last year with 80.8 FT%: how were you able to improve so much over the past 2 years? Just getting into the gym, working hard, and improving my confidence. I never shot FTs that well growing up and would just pray that I made them, but now when I step to the line I am much more confident.
You have also added a 3-PT shot to your arsenal after only making 5 during your time in Baton Rouge: what is your secret for making shots from behind the arc? There is no secret: just like with FTs you have to work on your shot and improve your confidence. I started something like 1-20 last year from 3-PT range but then everything eventually started falling for me. I knew that I could shoot so I just kept going to the gym and my teammates kept telling me that my shots would start going in at some point.
What part of your skill set makes you different from other guards in this year's draft, and what would you be able to bring to an NBA team? I am pretty tall for a guard at 6'7". I can shoot as well as drive to create shots for other people. I will do whatever a coach asks me to. I always dreamed of going to the NBA as a kid but it never became a real possibility until this season.
Do you have a favorite NBA team/current player, and which NBA player is your game most similar to? My favorite player is LeBron James. I do not have a favorite team but I think that Golden State is the best team due to all of their great shooters. I see myself as a taller version of Manu Ginobili: I love his Eurostep.