9 years ago NJIT went 0-29 but only 5 years later they were winning a regular season title…in the Great West Conference.  Now they have a 2000-PT scorer who could be only weeks away from realizing his dream of making it to the NBA.  Damon Lynn proved that he can play with the big boys after leading his team to a 2-PT road upset of Michigan in December of 2014.  His college career came to a sudden end due to an Achilles injury in January of 2017, but not before the 5'11" PG had become 1 of the best 3-PT shooters in NCAA history.  HoopsHD's Jon Teitel got to chat with Damon about being an All-American and breaking his school's scoring record.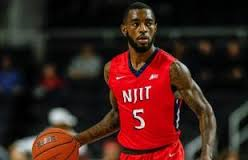 You are 5'11": do you see your height as an advantage or disadvantage on the court? I feel that height is not in direct correlation with your basketball skills.  After all, 5'11" is an average height on the street.
You led NJIT with 17.2 PPG as a freshman: how were you able to come in and contribute right from the start? My coaching staff told me that the only difference between high school and college basketball was the speed. They always pressed me to stay confident and play my game.
In December of 2014 you scored 20 PTS including 6 3PM in an upset at Michigan: where does that rank among the biggest wins in your career/school history? It is probably #1 in school history. Michigan was my favorite team growing up: I remember them making it to the NCAA title game in 2013 before losing to Louisville. It was a lot of fun to play on that big stage in Ann Arbor: we put our school on the map.
In the 2015 CIT semifinals you had 16 PTS/4 STL in a 7-PT loss at NAU: how close did you come to making the title game? That was heartbreaking to get all the way to the semifinals and then lose. It was a challenge to play on the road at 7000' elevation, but we proved a lot to ourselves and had a great season with some great memories.
You finished your sophomore season by being named AP honorable mention All-American: what did it mean to you to receive such an outstanding honor? It means a lot to be recognized because I was under-recruited coming out of high school. It is still motivation for me at the end of the day.
The following season you switched from an Independent to the Atlantic Sun Conference: what was the best part of joining a conference, and what was the worst part? The worst part was that we did not know how things would work during our 1st year. When you face an opponent 2-3 times you have to use your game plan to a T because each team knows what their opponent will be doing. The best part was taking a lot of trips to Florida, which helped bring us together.
On January 21st you tore your Achilles in a game at Florida Gulf Coast: did you think that your college career was over, and how is your health these days? My mind was racing 1000 miles/hour but I eventually told myself that I would be able to come back. I tried to keep a positive mindset and hope for the best. I just started jogging recently and expect to be 100% by August.
Despite your injury you still broke the school record by scoring 2153 PTS: what is the key to being a great scorer, and do you think that anyone will ever break your record? It is a little cliché but the key is just having a short-term memory and keeping an even keel. You need to have a lot of heart because when you are a scorer the defense will throw everything at you. You also need to be a good teammate otherwise your own teammates will not put you in a position to be great. I would love to see someone light it up and break my record someday, but it is hard to do in college.
Your 434 career 3PM is #5 in NCAA history: what is your secret for making shots from behind the arc? Repetition: you have to practice because it makes everything better. I had to play PG as a smaller guy and learn how to get my shot off faster, and I just excelled at it.
What is the next step in your journey, and what do you hope to do in the future? The next step is to find an agent: I have spoken to a few guys and hope to make a decision next week. My goal is to play in the NBA and now I have to plan the route to get there. I have dreamed about it my entire life so I want to chase that dream.