USA Basketball recently announced the 12 finalists for its U19 World Cup Team as they go for a 3rd-consecutive gold medal next month in Egypt.  The team, coached by John Calipari, is a mix of college players (Josh Okogie from Georgia Tech), youngsters from the Class of 2018 (Cameron Reddish from the Westtown School), and 2017 McDonald's All-Americans (Brandon McCoy).  If they have any doubts about their future, they only need look to the 2015 U19 veterans who spent last week getting selected in the 1st round of the NBA draft (Terrance Ferguson/Harry Giles/Josh Jackson/Jayson Tatum/Caleb Swanigan).  Earlier today HoopsHD's Jon Teitel got to chat with Brandon about representing his country this summer and heading to UNLV this fall.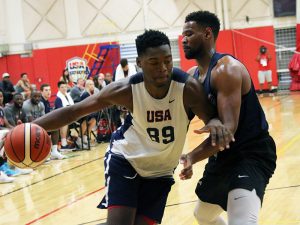 (photo courtesy USAB.com)
In the 8th grade you decided to move from Chicago to San Diego to live with your uncle and join his club basketball team (Ground Up): what impact did that decision have on your life either on or off the court? It had a major impact on my life but more so off the court. Learning basketball is the easy part but coming out here to learn how to become a man was the most important part. I am more mature and take life seriously: I just had a friend who died the other day so I try to approach every game like it might be my last.
Last March in the McDonald's All-American Game you had 13 PTS/4 STL and a pair of BLK on the final possession to clinch a 2-PT win for the West: how exciting was it to win the game with so much of your family/friends in the stands? It was overwhelming to come back to my hometown on that kind of stage. I was nowhere near that good when I started playing basketball several years ago but I want to keep working hard to improve.
In April you chose UNLV over schools like Michigan State (your "favorite school growing up") and Oregon (who just made the Final 4): how hard a decision was it for you? It was very hard because they all have great coaches like Tom Izzo/Dana Altman who care about their players. They were all neck and neck but I felt at home at UNLV because they connected so well with both me and my family.
UNLV coach Marvin Menzies has a long track record of developing big men and has a longtime personal relationship with your guardian Sean Manning: what is the most important factor that you feel makes him the right coach for you? What really hit it off for me is when he told me that even after basketball I will remain part of his family. I know that basketball will just be a small part of my life but it is nice to know he cares about his players whether they end up playing pro basketball or doing something else.
I have seen different websites list you as a PF or C: what position will you be playing for team USA? I will probably play the 5 for the USA. Honestly it does not matter because I do not categorize myself by positions: I just want to win.
Last Thursday you were named 1 of the 12 finalists for the 2017 USA Basketball Men's U19 World Cup Team that is getting ready to head to Egypt: what does it mean to you to represent your country, and are you going to get to see the Pyramids? My mom would go overseas for 9 months at a time when she was in the military, which taught me how much she sacrificed on behalf of her country. The big thing for me is to try and win a gold medal…but AFTER that I would love to go see the Pyramids!
Team USA coach John Calipari has a couple of Kentucky players on the roster: how do you like playing for him? I did not know what to expect at 1st but he has taught me a lot both on and off the court. He does not want us to be robots out on the court: he just lets us play.
You previously said that going to college sets up the kind of career that people will have in the future: how do you hope your college experience will help shape your own future? When I go to college I want to make as many friends/connections as I can. Basketball does not run my life but I want my time in college to help me reach my ultimate dream of making the NBA.
You had to move around a lot growing up since your mother was in the Army: will that have any impact on whether you will stay in Vegas next spring? It played a role in my decision to move to San Diego but will not play a role in my decision about how long to stay in college. UNLV was once a big-name school and they have had plenty of lottery picks in the past.
Your dad played basketball at Southern: who is the best athlete in the family? He was a Juco All-American and could have made the NBA, so I am glad for everything that he has taught me. I got my height from both of my parents so I am very thankful to them for that as well.