Jim Barton made basketball look easy at Dartmouth, which is why his name is still all over the record book 3 decades after he graduated: 18 FGM in a game, 98 3PM in a season, and 89.5 FT% in a career.  He remains the all-time leading scorer in school history and has continued to succeed off the court via a career involving financial markets.  HoopsHD's Jon Teitel got to chat with Jim about his spectacular shooting stroke and how close he came to making the NCAA tourney.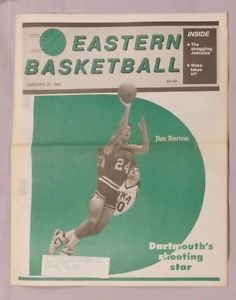 You grew up in Memphis: what made you choose Dartmouth? They started recruiting me between my junior and senior years of high school, which was very early back then. While it does not seem like a very big deal now, I tore the ligaments in 1 of my ankles that summer, which made several schools delay/hesitate recruiting me. Dartmouth's 1st-year coach Paul Cormier (who later returned to Dartmouth as head coach in 2010) and his staff never wavered in their interest in me during that time. Although it is not allowed today, the staff came down to visit me over 10 times from that summer through my senior year. That commitment to me impacted/swayed me even with other schools came in later in my senior season to recruit me. What really resonated with me was the opportunity to be an instrumental piece of the puzzle in taking Dartmouth from 1 of the worst 10 teams in D-1 to a level of relevancy in the Ivy League and beyond. As you can see, I think we accomplished just that.
Your coach back in the 1980s was Paul Cormier: could you have ever imagined that he would be back on the sideline in Hanover almost 3 decades later? No, I would not have thought that his coaching journey would have returned him to Dartmouth. The Big Green was really fortunate to have him back on the sidelines again.
As a freshman you set an NCAA record by making 94.2% of your FTs and you still hold the school record for career FT shooting with 89.5%: what is the key to making FTs? It sounds cliché but the key is practicing the same routine over and over and taking it seriously from the pre-shot routine all the way through the shot execution. That means practicing them when your legs are fresh as well as when you are dog-tired. The same can be said for any skill in basketball or any other sport for that matter. There is truly no easier shot in basketball than a free throw so why not take advantage of it!
In February 1987 you set a school record with 48 PTS (18-29 FG) in a 2-PT OT loss at Brown: was it just 1 of those situations where every shot you put up seemed to go in because you were "in the zone", and did you think it was the same for Patrick Lynch (who set a Bears record with 8 3PM)? I think we were both in the zone during that game and were both tough to defend. There were a few other games where I just seemed to be in another zone, including my 40-PT game against Miami when we faced Tito Horford (father of Al) in his very 1st collegiate game, as well as games against Boston College, Iowa, and Memphis State.
In 1989 you split the season series and finished 1 game behind eventual Ivy champ Princeton: how close did you come to winning the conference, and could you believe that the Tigers almost upset #1-seed Georgetown in the 1st round of the NCAA tourney? In the preseason both my junior and senior years we were picked to win the Ivy League but unfortunately we fell short each year by 1 game. We controlled our own destiny in both cases and just ended each season with a crushing loss. In my senior year we were 2 games behind Princeton going into the final 2 games of the season: we beat them in 1 of those games but they beat Harvard in the other to advance. I am not surprised that Princeton played Georgetown well: they play a style that is difficult to defend if you are not used to seeing it. Imagine playing against them like we did my freshman and sophomore year…without a shot clock! Needless to say Princeton had a great opportunity to knock off the #1 seed and almost did exactly that. They represented the Ivy League well and the conference has been quite successful subsequently, which reflects positively on the high quality of basketball played in the Ivy League.
Your 242 career 3PM remains a school record, as does your streak of 65 straight games with at least 1 3PM: what was your secret for making shots from behind the arc? Someone pointed out that I am in the top-25 in NCAA history in both 3PM as well as 3P%, which is a pretty rare combination according to the source. I credit my shooting/scoring success to having coaches and teammates who worked to get me open, along with the fact that I worked hard to do the same. As far as my 3-PT accuracy I spent hours practicing not only shooting but working to get the ball into and out of my hands quickly. That was probably 1 of my hallmarks: 1of my coaches used to call the quickness of my shots a "volleyball setup shot" because it was in and out of my hands instantaneously. Practicing game-like situations, and specifically shooting when you are exhausted, prepares your body and muscle memory to perform at a high level at all times. I used to play this game called "Beat Bird" where I would run from the 3-PT line on 1 wing to the 3-PT line on the other wing. The traditional game was played as +1 for each made shot and -1 for each missed shot and you played to +10 (a win) or –10 (a loss). I got to a point where we varied the game to +1 for each made shot and -2 for each missed shot, which made it even more challenging. My improvement came from constantly challenging myself to do things better, which meant upping the ante once I reached a plateau.
Your 2158 career PTS is #2 all-time in the Ivy League behind Bill Bradley: did you realize at the time how prolific a player you were, and how on earth were you never named conference POY? I never really thought about the cumulative points I was scoring relative to Ivy history. I do not think it ever came up until my senior year once I scored my 2000th PT. Bill Bradley was a childhood idol of mine: I never saw him play but I read a book about his senior year at Princeton called "A Sense of Where You Are", which impacted me greatly. It was all about Bill, from his practice habits to his work ethic, and provided a great playbook for how to practice successfully. Like my teams, I came in 2nd in the POY voting during both my junior and senior years, but I do not really know why I never won it.
Your alma mater has not won 20 games in a season and/or made the NCAA tourney since 1959: what will it take for them to get back to the Madness? They made the CIT in 2015, which was their 1st trip to a postseason tourney in a long time. I think Coach Cormier got the program moving in the right direction and I believe that the administration/alumni have taken note that basketball is a sport that can positively increase visibility for the school as a whole: just look at what it has done for Cornell/Harvard over the past few years. There is a collective/centralized dedication to the basketball program by those 3 groups that I have not witnessed historically, so I do not think that we are too far away from seeing Dartmouth "dance"!
You were a history major: how did you end up as Head of Portfolio Risk Management at Southeastern Asset Management in Memphis, and what do you hope to do in the future? The great thing about going to a liberal arts school like Dartmouth is that you learn how to think, rather than just acquire a specific skill or figure out what to think about. I was always a very strong math student so rather than continue working on that strength I chose to develop areas where I was less comfortable like reading comprehension/writing. History was a building block or round-out for skill development but I have always been interested in financial markets. Upon graduation I was offered a job to play basketball in Germany as well as a job to work for Louis Dreyfus Trading (1 of the world's largest commodity trading firms). Thanks to Louis Dreyfus' flexibility I was able to accept both offers: LD deferred my start date until I completed my basketball career, no matter how long it lasted. After playing pro basketball for a little over a year I started working for Dreyfus: first in Kansas City, then in Connecticut, and finally in Memphis. While in Memphis I was offered an opportunity to work for Southeastern Asset Management, which I have now done for more than 2 decades. I enjoy my career and love coaching youth basketball, which I have done for all 3 of my children. My wife Alison and I also give our time/energy to charitable endeavors in the Memphis area, which is important to both of us.
When people look back on your career, how do you want to be remembered the most? That I had a strong work ethic, was a good teammate, competed all the time, had a good sense/feel for the game of basketball, knew how to score, and was a great shooter.