HoopsHD begins its annual season preview series by focusing on new Coppin State head coach Juan Dixon.  This year marks the 15th anniversary of 1 of the highlights of Coach Dixon's career: winning the 2002 NCAA title as a member of the Maryland Terrapins and the MOP award as the best player in the tourney.  After graduating with the most 3PM in school history, he was drafted in the 1st round of the 2002 NBA draft by the Wizards and spent a decade in the NBA/overseas.  The Eagles are hoping he can bring some of his March Magic back to his hometown of Baltimore, where his aunt Sheila served as the city's 1st female mayor.  HoopsHD's Jon Teitel got to chat with Walt Williams about his fellow Maryland All-American and what made him such a great player.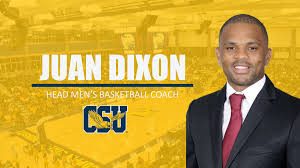 Maryland coach Gary Williams 1st noticed Juan at an AAU tourney in Georgia when he dove for a ball while his team was down by 20 PTS with 2 minutes to go: what made Williams such a great coach? Hustle was a huge part of Juan's makeup: he would not have been half the player he was if he did not play so hard. His toughness helped him get to the next level but he also had quickness and fantastic skills. Gary grabbed that intensity out of all of his players so we always played hard. He emphasized our effort level but would not get on our case if we missed a shot.
Take me through the 2001 NCAA tourney:
Juan scored 13 PTS in a 10-PT win over Georgetown: what did it mean to you to see your alma mater beat a team that used to be 1 of your main archrivals until the schools discontinued the annual series in 1980? We are the top 2 teams in the area so we always hoped for the opportunity to get bragging rights in the DMV. 1 of my biggest regrets is that I did not get to play against them more.
Maryland was up by 22 PTS in the 1st half of the Final 4 before eventual champion Duke came all the way back to win by double-digits: where does that rank among the most devastating losses of his career? We were controlling the game until Duke became more aggressive and the referees allowed them to be a lot more hands-y.
In 2002 he was named ACC Athlete of the Year/1st-team All-American: what did it mean to him to win such outstanding honors? I think it meant a great deal to him after he overcame some personal battles and had the confidence in himself and a coach who believed in him. He was not a top player coming into college but the coaching staff taught him how to play and it resulted in him becoming a great player.
In the 2002 NCAA tourney title game he scored 18 PTS to beat Indiana en route to being named tourney MOP: what did it mean to him to win the title, and how did being named MOP change his life? That is something that you will have the rest of your life. It was a veteran-laden team in an era of 1-and-done players who were heavily recruited. Gary chose to recruit guys who would stay in the program for 4 years and he helped them grow so that they would be great as seniors who played together as a team. They had players at every position across the board and they bought into what Gary was saying. Juan rose to the occasion and made big shots down the stretch.
He remains the all-time leading scorer in school history: did he realize at the time how prolific a player he was, and do you think that anyone will ever break his record? The best players do not usually stick around anymore…but if someone comes in and has a good freshman year and remains consistent for all 4 years then I think it could be done. You also need to stay healthy and be valuable to the team.
His 333 career STL remains in the top-20 all-time in D-1 history: what was his secret to being a great defender? He was a scrappy player: if he was just a scorer then he would not have made it to the NBA because he was just not big enough to be a SG. 1 thing he did as he got older was to understand what would occur before it happened due to his great anticipation. Coach Williams always had an aggressive mentality so the 2 of them were a perfect match.
In the summer of 2002 he was drafted 17th overall by Washington (6 spots ahead of Tayshaun Prince): did he see that as a validation of his college career, or the realization of a lifelong dream of reaching the NBA, or other? It was a dream come true for me when I was a 1st round pick a decade before that so I assume it was the same for him. It is great to reach the pinnacle but it is short-lived because you have to put in a lot of work to survive when facing the best players in the world. You have to do a lot of work on your own to last as long as he did. 1 of the biggest reasons I went to Maryland was the chance to play in front of my family/friends.
In Game 4 of the 2005 Eastern Conference quarterfinals he scored a career-high 35 PTS (in 31 minutes off the bench) in a 7-PT win over Chicago: was it just 1 of those situations where every shot he put up seemed to go in because he was "in the zone"? He was definitely in the zone but he was able to get into the flow longer because he kept making important shots. Everything worked out for him on that particular night and the coach had a comfort level that allowed him to stay out there.
After leaving the NBA he played in Greece/Spain/Turkey: how does pro basketball overseas compare to college basketball? The foreign game is more team-oriented. In college you have to rely on your coaches a lot but in the NBA it is a bunch of superstars who want to prove that they are the best, so there is more of an isolation game then there is ball movement until you find the open guy (like they do so well in San Antonio).
His older brother Phil was a D-3 basketball All-American, his half-brother Jermaine played at Pitt, and his 2nd cousin Brandon Driver played football at San Jose State: who is the best athlete in the family, and do you credit at least some of his success to genetics? Phil was a good player but Juan was more athletic. Juan did not have the best vertical leap but could move quickly and change directions, which allowed him to get into passing lanes.