There are a lot of great basketball coaches in Los Angeles but there is little doubt that the 1 who was the best player is Cheryl Miller, currently working as the women's basketball coach at Cal State LA.  We are running out of Hall of Fames into which to induct her: Basketball Hall of Fame in 1995, Women's Basketball Hall of Fame in 1999, and FIBA Hall of Fame in 2010.  The reasons why are pretty obvious: 2-time national high school POY, 3-time national college POY and 2-time NCAA tourney MVP at USC, and 1984 Olympic gold medalist.  She has not been too shabby as a coach either: NCAA tourney appearances during each of her 2 years as coach at her alma mater and a trip to the 1998 WNBA Finals as coach of the Phoenix Mercury.  HoopsHD's Jon Teitel got to chat with Coach Miller about her legendary playing career and how she likes being a coach.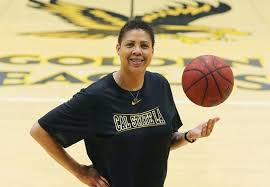 As a 6'2" player at Riverside Polytechnic High you won 4 consecutive state titles, scored a state-record 105 PTS in a 1982 win over Norte Vista High School, and made what are believed to be the 1st 2 dunks by a woman in organized competition: how on earth did you score triple digits, and what was the reaction like when you dunked in a game? I had previously scored 60-65 PTS in a game, after which my brother Reggie was joking around and wondering if I could score 100. It was 1 of those special nights when everything went in: the basket looked huge and I had 80 PTS by halftime. I looked at my coach in the locker room and he said, "I think you are going to do this!" The dunk occurred at a home game when I got a breakaway. Dunking was not easy for me because I have small hands. It was not like a Brittany Griner dunk: THAT is a dunk! I remember backpedaling after I dunked and seeing my dad in the crowd: his jaw just dropped. The whole crowd was going crazy as well.
You were the most heavily recruited female athlete of all time with 250+ scholarship offers: what made you choose USC? When I was a high school senior you had to pay your own way to fly to colleges for recruiting visits, so from a financial standpoint we just could not afford to fly all over the country. I am a daddy's girl and wanted to stay close to home. I remember the McGee twins walking into my living room and sitting down very close to me on the couch while Coach Linda Sharp talked to my dad in the kitchen. Paula leaned toward me and said, "You can play 2 years with us or 2 years against us", and after that I was sold. It was a no-brainer for me with the prestige/history of the Trojans. She did not get a lot of credit for it but Coach Sharp was a great recruiter. Only 1-2 of her phone calls to me were about basketball: the majority were about other things in my life like academics/prom, which meant the world to me.
In the 1983 NCAA tourney title game you scored 27 PTS but missed the front end of 1-and-1 with 6 seconds left and a 2-PT lead over Louisiana Tech: did you think that Kim Mulkey's 18-foot jumper at the buzzer was going in, and what did it mean to you to be named tourney MOP as a freshman? After I missed the FT my mind started spinning. Kim just took off in another gear: I was trailing her down the court and when she took the shot I was kicking myself because I thought that I had cost our team the championship. I grabbed the rebound after she missed and just kicked the ball as hard as I could. I could not believe that I was named MOP: my teammates did so much for me so that award could have gone to any of us. It reminded me of all the hard work that I had put in since I was a little girl playing against my brothers.
In the 1984 NCAA tourney title game you scored 16 PTS and were named tourney MOP yet again after an 11-PT win over Tennessee: what was the crowd like at Pauley Pavilion? There are only a couple of Bruins in my life who I adore: my brother Reggie and Ann Meyers Drysdale. I had never had a decent game at Pauley during my 1st 2 years of college so to win a title there and climb up on the rim was a little "extra, extra". It was also special because we beat 1 of the best coaches ever in Pat Summitt.
A few months later you helped team USA win an Olympic gold medal: what was it like playing for Coach Summitt, and how devastating was it to miss out on the 1988 Olympics due to a right knee injury? I figured that Coach Summitt did not like me after the title game and thought that I was cocky/arrogant. Our Olympic practices were tougher than our games: we learned so much about discipline and directing our emotions in a positive way so that they would not become a distraction. By the time we arrived at the Olympics Coach Summitt and I had reached a meeting of the minds. I got on her bad side after 1 practice where I kicked the ball after getting low-bridged. We were in the locker room at halftime and she was just chewing out every single player but for some reason she skipped over me, which made me feel that there is a God! Then she said, "Oh, I forgot 1 person, how could I forget Cheryl Miller!?"…and she benched me for the entire 2nd half. A day or 2 later she came into my room and asked me how we were going to work this out. I told her that I played to win, just like she did, but that we went about it differently: I was more passionate while she was more controlled. After that it was great. It was a big deal to miss out in 1988. Look at a guy like Derrick Rose: before his injuries he was phenomenal. However, back in the 1980s when I played we did not have the medical technology available for me to come back and be the same player I was before my injury, which was the most devastating thing.
In the 1986 NCAA tourney title game you scored 16 PTS before fouling out in a loss to Texas: where does that undefeated Longhorns team rank among the best that you have ever seen? To this day I have never watched that game and I never will. Clarissa Davis was a great athlete and Jody Conradt was a great coach: they were a phenomenal team who went 12 deep.
You finished your college career as a 4-time All-American/3-time national POY: do you feel like you are the best women's college basketball player ever? I feel that I am 1 of many. When I look at the great players who came before me like Ann (whom I patterned my game after), Lynette Woodard, Nancy Lieberman, etc., I just tried not to embarrass myself.
After graduating you were offered a job with the Harlem Globetrotters: how close did you come to accepting the offer, and do you ever wonder how good a pro you would have been had you been healthy? My handles were shaky so there was no way that I could have been a Globetrotter, although I had personality in spades. Lynette was the perfect woman for that position at the time. For some reason it was just meant to be: if I had remained healthy and ended up playing pro overseas then a lot of other doors in my life (like broadcasting/coaching) might have closed.
In 1995 you were inducted into the Basketball Hall of Fame: where does that rank among the highlights of your career? When I 1st learned that I was a nominee I felt that it would be cool but did not think that I would ever be elected. They said they would give me a final answer in 72 hours…which were the longest 72 hours of my life. When they finally called back 3 days later I remember them saying "Congratulations" but the rest of the conversation was a blur. All I heard was screaming: I was worried that the neighbors were in trouble…and then I realized that it was me who was screaming! It was a thrill for my parents to be a part of that because they had made so many sacrifices for us. You get to select who walks you down the aisle: I wanted Ann but she was already taken so I asked 1 of my other idols (Dr. J), who agreed to do it. As we were walking up to the podium he asked me if I was cold because my knees were shaking and my teeth were chattering so much!
You made the 1998 WNBA Finals as head coach/GM of the Phoenix Mercury: how close did you come to beating a Houston team that went 27-3 during the regular season, and what was it like to face Finals MVP/former college teammate Cynthia Cooper? There are certain games that haunt you and Game 2 of that series is 1 of them. I think we were up by 9-10 PTS with a few minutes to go and I could almost hear the champagne corks popping in the locker room, but then Cynthia/Sheryl Swoopes/Tina Thompson shifted into a whole other realm of greatness. I think that Cynthia is the hardest-working/most-underrated Hall of Famer that I have ever met.
Your brother Darrell played pro baseball, your sister Tammy played college volleyball, and your brother Reggie was a Hall of Fame NBA player: who is the best athlete in the family? There is no question: I am! When you are talking about bragging rights in the Miller family, heck yeah!
Last year you were hired as head coach at Cal State Los Angeles: why did you take the job, and what do you hope to do in the future? I spent a couple of years coaching at Langston University in Oklahoma: I did not realize how difficult it would be but I was glad to have the opportunity. It is nice to come back to LA: we played our summer league Olympic Development games here so it kind of feels like coming full-circle. It is wonderful to sleep in your old bed. You have to set the bar high to develop a culture of accountability/passion/discipline. I try to instill perfection in an imperfect game and develop that mentality in a group of young women: you push and then applaud. I know what worked for me as a player: I did not have a problem with coaches who got in my face but I did not like it when they stayed in my face. You have to tell them how special they are and what they need to do. I hear that there is a different breed of athlete today and I can see some entitlement issues, but they want to win so my job is to show them how to win in the right way.