CLICK HERE for all of Jon's interviews, and the rest of our extensive and continuous preseason coverage
Most schools are lucky enough to have 1 coach with an NCAA tourney win under his belt, but Creighton has doubled its pleasure with a pair of such coaches.  Head coach Greg McDermott has won a few himself, and his assistant Steve Merfeld has 1 of the most amazing upsets in NCAA tourney history when his #15-seed Hampton Pirates had a 1-PT upset of Iowa State in 2001.  He later became head coach at Evansville and an assistant at Bradley before joining the Bluejays' staff in 2010.  HoopsHD's Jon Teitel got to chat with Coach Merfeld about his most shining of moments, and we wish him an early happy birthday later this month!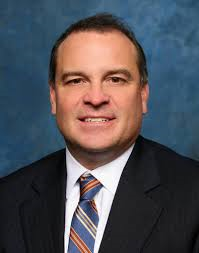 From 1986-1996 you were an assistant at Bowling Green for Coach Jim Larranaga: what makes him such a great coach, and what is the most important thing you ever learned from? I learned all of my fundamentals/beliefs about how the game should be played from him. His strengths are his confidence, his ability to adapt to his players, and his fundamental soundness in his approach to his players.
You are a highly-regarded recruiter who helped sign eventual NBA lottery pick Antonio Daniels: what is the secret to being a good recruiter, and could you tell at the time you recruited Daniels that he would turn into a lottery pick? Antonio was a late-developer but he always had great basketball instincts that you just cannot teach. He was a gym rat who had a complete understanding of the game with a great ability to make others better: very similar characteristics to Magic Johnson. The 1 thing I really look for is a kid's ability to pass the ball, as that usually means they have good vision (which is underrated on the defensive end).
Take me through the 2001 NCAA tourney (the 1st NCAA tourney in Hampton history):
Tarvis Williams had 16 PTS/13 REB in a 1-PT upset of #2-seed Iowa State: how did that game change your life, and do you ever get tired of watching the video of yourself being lifted up in the air during the post-game celebration? Looking back more than a decade later, Tarvis and our other kids just believed that they would win. It did not change my life (as I am an even-keel person) but it was an unbelievable experience that I enjoy reminiscing about.
Williams scored 16 PTS in a loss to Georgetown: where does he rank among the best players you have ever coached, and what was the reaction like when you got back to campus? There was no doubt in our mind that we would win that game as well so we were devastated by the loss. Tarvis was a dominating frontcourt player who is definitely among the top-5 players that I have ever coached. He twice led the nation in BLK: he could bounce and go right back up. The campus atmosphere was great even though many of the students were just satisfied that we got to the tourney. We had a confident/humble group of players who were not arrogant.
In the opener the following season, Tommy Adams scored 20 PTS in an 8-PT win over UNC in Chapel Hill: how on earth were you able to beat the Tar Heels at their place, and how did it compare to the tourney win? We had lost about 75% of our scoring but still had a number of good players. Much like the year before our players expected to win so there was no big celebration afterward but it set the tone for the rest of the season.
In 2002 you were named MEAC COY: what did it mean to you to win such an outstanding individual honor? There are a lot of people who need to be recognized in helping me along the way. We had good players but something else that is often overlooked is the administration. We had a great AD at Hampton who later became head of the MEAC and he provided us with the resources to be successful.
What are your memories of the 2002 NCAA tourney (Adams scored a tourney-school record 23 PTS in a loss to #2-seed UConn)? It was very similar to the Iowa State game in that we played well after falling behind by double digits. We cut it to 4 PTS with a few minutes left until a foul call went against us. I am very proud of that 2nd group: that may have been even more impressive than the win the previous year.
In 2002 you were hired as head coach at Evansville, where you ended up coaching 2009 1-AAA Scholar-Athlete of the Year Jason Holsinger: why did you take the job at Evansville, and how much importance do you place on academics? The Evansville situation was an opportunity to move into 1 of the best mid-major leagues in the country. I was blessed to coach 2 Academic All-Americans (Clint Cuffle and Jason). My undergraduate degree is in education, which is what college is all about.
In the opening round of the 2007 MVC tourney Matt Webster scored 29 PTS in a 5-PT OT loss to Drake (thanks to the Bulldogs making a tourney-record 15 3-PT shots): was it  just 1 of those games where every shot Drake took went in because they were all "in the zone"? Drake was incredible: banking shots in, having scrubs make threes, etc. Matt missed some FTs at the end of regulation but still had a great game. I am very proud of what we did at Evansville: we improved 100 spots in the RPI in a 5-year period.
In 2010 you were hired as an assistant coach to Greg McDermott at Creighton: how do you like the job so far, and what do you hope to do in the future? This is an awesome place: there are very few mid-major programs that finish in the top-15 in the country in attendance and get to play in a relatively new building that has hosted an NCAA Regional. I enjoy where I am right now and enjoy working for Greg…but I would certainly like to be a head coach again someday if I knew it was a place where I could be successful.