CLICK HERE for all of Jon's interviews, and the rest of our extensive and continuous preseason coverage
Holly Warlick was born to be the coach of the Lady Vols.  Born in Knoxville, she attended Tennessee and was a 3-time All-American PG.  After working a few years elsewhere as an assistant coach, she returned to her hometown in 1985 as an assistant to her former coach Pat Summitt.  She spent more than 25 years in that role (making it to a spectacular 16 Final Fours) before being hired as the team's new head coach in 2012.  She was inducted into the Women's Basketball Hall of Fame in 2001 and has won at least 1 NCAA tourney game during each of her 1st 5 years as head coach.  HoopsHD's Jon Teitel got to chat with Coach Warlick about her famous former boss and 1 of the best rivalries in women's basketball history.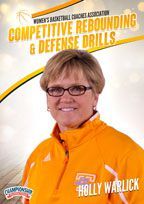 You were born in Knoxville and originally got a scholarship to Tennessee to run the 400 meters: how did you end up walking onto the basketball team, and how much of an advantage was your speed on the court? Coach Pat Summitt had open tryouts so I just gave it a shot. I went to camp with some of the players who were already on the team so that helped me relax. I played 6-on-6 basketball in high school so playing 5-on-5 in college was new to me. My 2 best attributes were my speed/defense. I missed like 7 layups in my 1st game against Kentucky…but my teammate scored 51 PTS by following up all of my misses! Pat wanted us to run and go so that is what I was taught to do.
You were a 3-time All-American PG: what did it mean to you to receive such outstanding honors? You are a reflection of your team. That was huge for me because I loved the game and it was unbelievable to get an award like that. My biggest thing was how the team was doing but I was very appreciative. I learned quite a bit about what it meant to play hard as best you can so I played with a lot of effort/energy.
You set several school records during your career and your 141 STL in 1979 remains #1 in school history: how did you balance your offense with your defense? I was not a go-to offense player so that was not my forte! After my 1st game Pat called me in and said she needed me to be a great leader and an extension of her on the court. I was not a shooter so I understood that real quickly. Defense is just about effort/heart/energy, which is how I played the game my entire life. My dad used to say that if I did not have at least a couple of fouls then I was not being aggressive enough. I loved playing defense and got great results: it came naturally to me.
You were named to the 1980 US Olympic Team: what was your reaction when you learned of the US boycott, and do you think that your team would have won the gold medal? Of course we would have won a gold medal! I was angry/disappointed that politics had to get involved with athletics. I did not agree with it back then and do not know if I agree with it now but I guess things happen for a reason. What was so disheartening is that I had worked so hard for 4 years to get to that point. I had never set a goal of playing international basketball but once you get involved you realize that the Olympics are the highlight. I have a participation medal but it was a major missed opportunity for me. I would love to wear a gold medal like the majority of our other USA Basketball athletes have done.
You played for the Nebraska Wranglers in the Women's Professional Basketball League and won the title in 1981: what was US women's pro basketball like back in the day, and what did it mean to you to win a title? That was our goal in the WBL: it was like the WNBA now and there were not many opportunities to go overseas to play pro basketball. I got to do something I loved and got paid to do it so I would have kept doing it until my legs fell off! It was a great experience for me and winning a championship was the icing on the cake. A lot of kids did not get paid when the owners ran out of money so that part was not good, but they still played for the game they loved. The league folded after that and then I needed to go out and get a job.
In 1985 you returned to your alma mater as an assistant to Coach Summitt and in 2012 you took over for her as head coach: what was the biggest difference between playing for Pat vs. working for her, and what is it like to follow a legend? It was challenging to play for her because she pushed you to the limit. She brought the best of out of us: you might not like her at 1st but you would end up loving her. I always thought that she was extremely fair and gave everyone an opportunity to grow. She taught me the parallels of how basketball and life go together. She was very demanding as a coach and as her assistant I got to see how hard she worked and what she put into it, which made me want to work that much harder. 1 thing she did for me was give me a lot of responsibilities to prepare me for what I am doing now, which not a lot of other coaches are willing to do. She was always open to suggestion, which is why I stayed more than 20 years. She gave us so much freedom that we loved working with her. I do not really think about following in her footsteps because I could not see myself in any other place. I just think about continuing to do what Pat taught me, which keeps it in perspective. I stay involved with the kids who chose to come here: sometimes it does not feel like a job so much as an opportunity. At the end of the day we just want to make sure our kids are improving on the court and in the classroom. Winning is fun but I also enjoy the other parts of being a coach too.
In the 1998 NCAA tourney you won your 3rd straight title and finished the season undefeated: do you consider that to be 1 of the best teams in women's history? I do. We had an unbelievable team so we just sat back and watched because they played the game so well. They were highly intelligent: if we tweaked something they could pick it up right away. They practiced hard and played well together: it is hard to find a team with multiple superstars who do not care about taking all of the credit. It was a fun team to be around.
In 2001 you were inducted into the Women's Basketball Hall of Fame: where does that rank among the highlights of your career? Personally it is 1 of the best moments of my life and I will always cherish it. I hope that it says I made a difference in the game. I give Pat and the university credit for giving us the exposure and challenging us with a tough schedule: not too many schools put women's basketball up as 1 of the best sports on campus.
During the height of the UConn-Tennessee rivalry it featured the 2 coaches with the most titles in women's basketball history, but was discontinued in 2007: how fierce were those battles against Geno Auriemma, and do you think that we will ever see the rivalry renewed in the future? We always had great games against them both at home and on the road. They were 2 coaches who were driven to perfection. Every game was exciting whether it was close or a blow-out. I think we might see them again in the future if we can work out the logistics.
You have been to 3 Final 4s as a player and 16 as an assistant, but lost to Louisville in the 2nd round last March: what does it take for a good team to become a Final 4 team, and how soon will we see you back in the Final 4? You need to have a strong team because the hardest game to win is the Elite 8. We have talent so we just need to keep building our consistency and continue to be dedicated both on and off the court. You also need strong leadership, which we are developing as well.