CLICK HERE for all of Jon's interviews, and the rest of our extensive and continuous preseason coverage
Georgia State had an up-and-down season last year: the Panthers started 8-7, then won 8 in a row, but lost 4 of 7 to finish the regular season with a 19-11 record.  They ended up making the CIT before losing to Texas A&M Corpus Christi.  Leading scorer Jeremy Hollowell and leading rebounder Willie Clayton have now graduated but Coach Ron Hunter will look to a new group of leaders including JR SF Malik Benlevi.  HoopsHD's Jon Teitel got to chat with Malik about being a great 3-PT shooter and the team's major goal this year.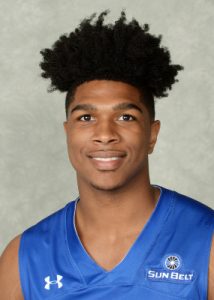 You grew up in Georgia: what made you choose the Panthers? I chose Georgia State because it was close to home and I wanted my family to be able to make it to a lot of my games. Coach Ron Hunter and his staff showed me the most love so it was only right that I came to Georgia State.
What makes Coach Hunter such a good coach, and what is the most important thing that you have learned from him? What makes him a great coach is his energy: he really wants you to be great both on/off the court. The most important thing I have learned from him is that life is much bigger than basketball.
In the 2016 Sun Belt tourney Bobby Conley made a 3-PT shot with 2.5 seconds left in a win by Texas State: did you think the shot was going in, and where does that rank among the most devastating losses of your career? That shot is in the top-3 most devastating of my basketball career. I can never really forget that shot because it hurt…but hopefully it has made both my team and I better.
SO SG D'Marcus Simonds was named conference ROY last season: how crucial will he be to your team's success this season? He is going to be a huge part of our success this year. He has a natural gift that not everybody has on the court: he was truly blessed with God-given talent.
In the 2017 CIT you had 15 PTS/4-7 3PM in a loss to Texas A&M CC: what did you learn from that game that can help you this year? I really have not learned anything from that game. Our minds were out of it after such a tough loss in the Sun Belt tournament (to Troy). We just have 1 goal this year and that is to FINISH: it is something we did not do a great job of last year.
You shot 43 3P% last year: what is the secret to making shots from behind the arc? I really do not have a secret recipe. I work hard on my outside shot and am fortunate that my teammates find me when I am open.
Your team shot 64.7 FT% last year, which was in the bottom-20 in the nation: how much has the team worked on FT shooting over the summer? We worked on free throws a lot in the summer, probably a lot more than normal. That is a part of finishing games. Free throws give us a chance to put the game away, which we did not do last year.
You lost your leading scorer (Jeremy Hollowell) and rebounder (Willie Clayton) from last year and only have 2 seniors on the roster: how much pressure is there on you to be a leader this year? There is not really that much pressure on me to be the leader. I was born a leader and have always embraced it. Every team that I was a leader on while growing up ended up winning a championship…and we plan on that being the case again this year.
You have 7 siblings: who is the best athlete in the family? The best athlete in the family is me of course (with a smile), but other than myself it would be my brother Carlos.
What are your goals for the upcoming season, and what are your expectations for the upcoming season? My individual goal is to become an all-conference player. As for as our team, we want to get back to the NCAA tournament, make a run to the Sweet 16, and have the best season in program history. We are going to do anything it takes to get there but it starts with our very 1st game.