CLICK HERE for all of Jon's interviews, and the rest of our extensive and continuous preseason coverage
After going 28-6 in 2016 and beating West Virginia in the NCAA tourney, Stephen F. Austin came back down to earth in 2017 but still finished with a winning record and made the CIT before losing to Idaho.  If they hope to make it back to the biggest of dances next March then the biggest of factors will be All-Southland Conference PF TJ Holyfield. Not only did he lead the the team in scoring and rebounding as a sophomore but also ranked 5th in the conference with 7 double-doubles.  HoopsHD's Jon Teitel got to chat with TJ about his team's strong senior class, and we wish him a happy early birthday next week!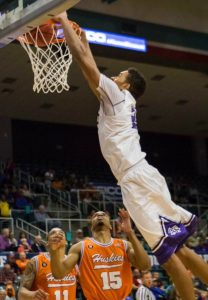 You grew up in Albuquerque: what made you choose Stephen F. Austin? I went to Florida after high school for a prep season and an SFA assistant was recruiting down there and saw me play. He recognized my last name because my brother Michael was in the Southland Conference (Sam Houston State): Michael had told me a lot about the school so I came to check it out.
Take me through the 2016 NCAA tourney:
You scored 4 PTS in a win over #3-seed West Virginia: what did it mean to you to pull off such a huge upset? It was my 1st time in the tourney so just being there was exciting but getting a win was even better. I did not play very well (I fouled out in 9 minutes) but Tom Walkup played really well for us (33 PTS/19-20 FT) and I did not want to go out like that.
You had 15 PTS/6-9 FG but Rex Plfueger tipped in a miss with 1.5 seconds left in a 1-PT win by Notre Dame: where does that rank among the most devastating losses of your career? That is definitely a loss that people talk about but I think the most devastating losses are against the teams that you prepare to beat for 2 weeks and then you just come out on the wrong end.
You play for Coach Kyle Keller: what makes him such a good coach, and what is the most important thing that you have learned from him? He is a relationship guy who wants to get to know you. He is invested in our lives/friends/families and shows us that he cares for us. I learned to value the ball and value possessions: he really stresses that to us.
Last March you had 21 PTS/16 REB/4 AST/3 STL/2 BLK in a loss to Northwestern State: where does that rank among the best all-around games of your career? If you look at the stats I guess it was. I had a different role as a freshman where I focused more on defense, but last year I was on the court more and got to crash the glass a lot. I took advantage of the opportunities I was given in that game.
In the 2017 CIT you scored 13 PTS in a loss to Idaho: what did you learn from that game that will help you this year? We just were not ready to play that night. We took a long flight and then a long bus ride so we could have been more locked in and prepped more and taken them more seriously. We might have looked down on the CIT after being in the NCAA tourney the year before, which we should not have done. You cannot play down to your opponent's level.
Your non-conference schedule includes games against Mississippi State/LSU/Missouri: when did your school join the SEC(!), and which of these games do you feel will present your biggest test? Coach Keller did a good job of getting us opportunities to show everyone else what we can do on TV. I feel like our next game is our biggest game because we can only focus on 1 game at a time.
Your team only had 1 senior on the roster last year but has a strong senior class this season (including Ty Charles/Leon Gilmore III/Ivan Canete): how crucial will all of that experience be to your team's success? The seniors have been through all the hardships and know what it takes to get where they want to be. They will help out the new recruits, the transfers, and even myself with stuff both on/off the court. They will be the right-hand men for Coach Keller.
Your team's 578 turnovers was 1 of the worst in the nation last year: how much has the team worked on holding onto the ball over the summer? We work on it daily and I feel we will do a better job this season. If we turn the ball over during practice it does not go unnoticed so we are getting better daily.
Your brother Michael was the 2015 Southland DPOY: who is the best athlete in the family? I cannot answer that!
What are your goals for the upcoming season, and what are your expectations for the upcoming season? My goal is to have a team that plays together and is selfless on the court. We will be tough individuals who are a bunch of hard-rocking cats on the court. We want to play faster and improve in the areas where we need to get better.