CLICK HERE for all of Jon's interviews, and the rest of our extensive and continuous preseason coverage
The Canadian takeover of college basketball started with Steve Nash at Santa Clara in the 1990s and has peaked recently with All-Americans like Andrew Wiggins (Kansas) and Jamal Murray (Kentucky), but there is even more talent heading to the US from the Great White North.  Toronto native Trae Bell-Haynes may have only been a 2-star recruit back in 2014 but he is blossoming in Vermont, where he made the America East All-Rookie team in 2015, the All-Tournament team in 2016, and was named conference POY in 2017 after helping the Catamounts reach the NCAA tourney before losing to Purdue.  HoopsHD's Jon Teitel got to chat with Trae about his jersey # and going undefeated in conference play.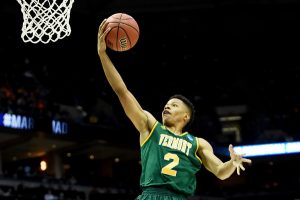 You were born in Canada: how did you 1st get into basketball? I just played in leagues when I was younger as something to do. I was not passionate about it at a young age but by high school I started to grow taller and began to like it more.
You allegedly wear #2 because it is #5 upside-down: is that true? It is true and everyone ridicules me for it. I was born on 9/5 so I liked wearing 5 for that reason, but when I got here 1 of our seniors wore #5 so I tried to do something else.
Last year your team went 16-0 in conference play: how was everyone able to stay focused for the entire season? We were a pretty experienced team with mostly juniors/seniors on the court so we had a lot of leaders who kept everyone in check. The previous season did not end well for us so we kept our heads on straight and just kept our focus on the next practice/next game.
In 2017 you were named conference POY/honorable mention All-American: what did it mean to you to receive such outstanding honors? I was obviously proud of it, since it puts me in the company of some of the greatest Vermont players ever, but had we not also made the NCAA tourney then it would not have mattered.
Your AST have gone up each season while your TO have gone down each season: what is the key to being a good PG? It is just about understanding the game and the offense you are running. I was thrown into the fire as a freshman and was too aggressive at times, but as you get older you learn how to pick and choose your spots. You have to be comfortable in your offense and the other players have made my job a lot easier when I find them for open shots because they can all score.
In the 2017 NCAA tourney you scored 15 PTS in a 10-PT loss to Purdue: what did you learn from that game that will help you this year? It taught me that we can play with anybody if we have the right mindset from the start. You have to be confident for all 40 minutes. We played Purdue the previous year and they broke all sorts of school records against us, but we were right with them last March.
In April you declared for the NBA draft but withdrew your name in May: why did you decide to declare, and what made you change your mind? The way the rules are now I figured why not give it a shot since I had a good year. We have a bunch of big games on our schedule this year so scouts will get to see me play against good competition.
Your non-conference schedule includes games against Kentucky/Marquette: which of these games do you feel will present your biggest test? We have a bunch of good teams on our schedule: Yale will be really good and Harvard has a lot of top-100 players. The biggest stretch will be the the tournament in the Bahamas with 3 games in 3 days against some good mid-major teams.
You turned 22 earlier this month: what did you do for the big day? I was in the gym during the morning/afternoon and then just hung out and relaxed with the guys afterward.
What are your goals for the upcoming season, and what are your expectations for the upcoming season? We obviously want to repeat and make it back to March Madness but our more immediate goal is to get better each day. I know it is a cliché but we have a hard schedule and we need to just try to take as many steps forward as we can.