CLICK HERE for all of Jon's interviews, and the rest of our extensive and continuous preseason coverage
Anytime you are mentioned in the same breath as coaches like Jim Boeheim/Mike Krzyzewski you know that you are doing something right, and when it comes to active guys who have spent 34+ years at their D-1 school the 3rd member of the trio is Oakland head coach Greg Kampe.  He also seems to be getting better with age like a fine bottle of wine: a Horizon League regular season title in 2017 and stands only 17 wins shy of 600 in his career.  Tonight he becomes 1 of 8 inductees into the Michigan Sports Hall of Fame and we congratulate him on this awesome accomplishment.  HoopsHD's Jon Teitel got to chat with Coach Kampe about his longevity and his health.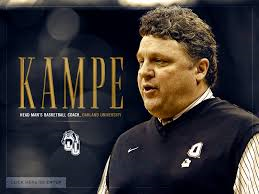 You are about to begin your 34th year as head coach at Oakland, which makes you the 3rd-longest-tenured head coach in D-1 (behind Jim Boeheim/Mike Krzyzewski): could you have ever imagined in the fall of 1984 that you would still hold the same job more than 3 decades later, and how long do you plan on sticking around for? Absolutely not: I thought that I would be here for a couple of years, win a couple of national championships, and then move on to UCLA! I became a head coach at age 28 as 1 of the youngest in the nation and am very fortunate to have survived. I still feel young and expect to be around for a long time.
Take me through the magical 2005 postseason:
Despite entering the Mid-Continent Conference tourney with a 9-18 record, Pierre Dukes made a 3-PT shot with 1.3 seconds left in the title game to clinch a 1-PT upset of #1-seed Oral Roberts and earn the school's 1st-ever NCAA tourney berth: did you think the shot was going in, and what was the feeling like in your locker room afterward? It is still 1 of the most euphoric moments of my basketball career. I have seen both sides of a game that is decided at the very end but that basket changed the face of Oakland basketball after we had moved from D-2 to D-1. That was supposed to be a rebuilding year but we turned a magical moment into a chance to make the NCAA tourney.
In the NCAA tourney play-in game Rawle Marshall scored 29 PTS in a 10-PT win over Alabama A&M: what did it mean to you to win a tourney game? We became Cinderella for a few days and the university got a taste of what the national media can do for you.  After that, we could start getting into homes and winning recruiting battles.
In the 2017 NIT you had a 4-PT loss to Richmond: what do you think your team learned from that game that will help them this year? We were the #1-seed after winning our league championship but had a devastating loss to Youngstown State in the conference tourney that still stings to this day. Kansas/Purdue can still make the NCAA tourney if they lose as #1-seeds but we cannot. We won at Clemson in the NIT and were leading Richmond but had a call that did not go our way late in the game.
You had 3 surgeries in July due to infected kidney stones: how close did you come to dying, and how is your health at the moment? I came as close as you can come and still live: I do not know how to put it any other way. We are still unsure about what a 106-degree temperature did to my organs, but I feel good and am on the path to a 100% recovery by the start of the season.
You have a brutal non-conference schedule featuring Syracuse/Kansas/Michigan State: which of these games do you feel will present your biggest test? Both Kansas/Michigan State might be #1 when we play them. We try to challenge ourselves year in and year out with the best teams we can play against, and if you want to get an at-large berth you have to play/win some of those games. We have 11 high-major wins, which is quite a few, and we want a couple more this year.
You have a strong senior class including Kendrick Nunn/Martez Walker/Jalen Hayes/Nick Daniels: how crucial will all of that experience be to your team's success? We have a chance for this to be a special year so we have very high expectations. I think that Kendrick will be a 1st-round pick eventually and Martez/Jalen might work their way onto draft boards. Nick has had a very solid career as well and you do not get a group of 4 guys like that at the mid-major level very often. When you have a veteran team you can handle pressure.
If you win 17 more games this year you could become the 100th men's coach ever with 600 career wins: do you just view it as a nice round number or a way to help cement your legacy as a great basketball coach or other? It is not something that I am focused on but it is a big # so it is being put in my face a lot. I have to give it its due without making it too important. The 4 players you mentioned will make it a heck of a lot easier to reach and if I get 17 wins I will be very proud of it. It is rare to win 600 games at 1 place so it would be a great reward, but it is a minor accomplishment that would come along with the major accomplishment of our team having a great year.
Your son Keith played on the Golden Grizzlies' baseball team, your son Branch played football at LSU, your father Kurt won a national championship on the Michigan football team, and your brother played football for the Wolverines: who is the best athlete in the family? Me by far! My youngest son is a drummer who is probably more talented in music than any of us were in sports. I will ask the family what they think when we are all together this weekend.
Tonight you will be inducted into the Michigan Sports Hall of Fame: where does that rank among the highlights of your career? It is probably far and away #1. Michigan is an unbelievable state in terms of both pro/college sports so there is an array of great players in our Hall of Fame. 1 of those was Al Kaline, who I wanted to be growing up: I wore #6 and when the basketball coach would not give me that # I pitched a fit! To enter a Hall of Fame that includes Al is unbelievable.  I talked to him after they made the announcement because I could not believe it and he told me I belonged, which is the greatest thing that has ever happened to me. I do not like to talk about awards but it is hard to downplay joining a Hall that has legends like Barry Sanders/Sparky Anderson.
What are your goals for the upcoming season, and what are your expectations for the upcoming season? I want to reach the Final 4 but my boss would say "how about you just win the conference tourney this year?"! At a place like Oakland we do not often have 4 good players who are all seniors at the same time (3 of whom are among the best players in our conference), so we are going after it, have very high expectations, and will not back down.